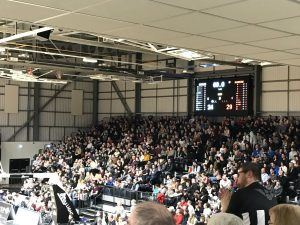 Newcastle Eagles' debut at their new arena was dampened as the Raiders ruined the celebrations and pulled the home side further away from potential silverware.
The Eagles first points at their new nest were scored fittingly by Darius Defoe, the 14-year servant hit the fade away to ease the nerves.
Despite Plymouth leading in the first quarter, the Tyneside team resumed to normality in the second quarter as they ended the half 50-49 up.
Devontavius Payne's three-point shot with 30 seconds to go left Newcastle with a slim chance of a comeback and Plymouth's late free throws ensured their victory.
Kyle Williams finished the top scorer of the game despite the loss with 23 points.
A back and forth start matched the atmosphere with a cagey beginning as the first five and a half minutes saw five lead changes, including Rashad Hassan's dunk early on followed by three's hit by Josh Wilcher before Rahmon Fletcher replied.
Defoe started to heat up in the second quarter hitting 12 points as he galvanised the Eagles to an improved performance including two three-pointers as the veteran power forward lead them to a 50-49 lead at the half.
The tables turned back in the away sides favour as the Eagles efficiency levels dropped as they missed 13 shots and turned the ball over four times allowing the Raiders many opportunities to regain the lead, they went into the final quarter 72-67 up.
The final quarter summed up the North-East sides season so far as they clawed back their opponents lead several times only to lose their momentum at the worst moments as Plymouth finished them off with their late free throws.