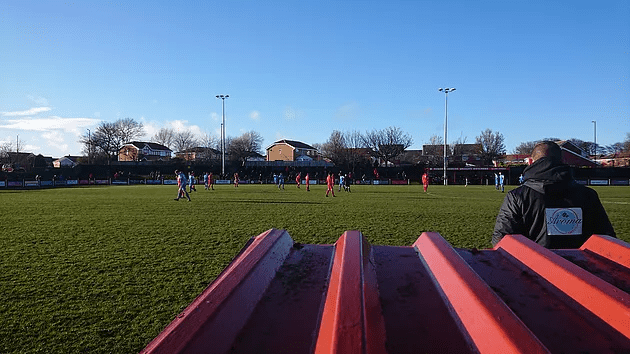 Two goals from Mark Fitzpatrick gave top of the table Dunston UTS a 2-0 win over North Shields; whose losing streak in the league now stretches to four.
After an evenly contested first half, the league leaders opened the scoring shortly before half time when Fitzpatrick broke the offside trap before firing home from close range.
The Robins almost levelled early in the second period when both Gary Day and Jordan Summerly struck the post in quick succession.
However, a late penalty converted by the league's top goalscorer ensured the Robins poor run of form in the league continued.
After a wind-affected opening to the game, Duston carved out the first chance on goal in the 10th mintue when forward Liam Brooks tried his luck from the edge of the box, only to see Michael Robinson make a comfortable save.
As the half wore on, the league leaders were beginning to dominate time in possession but still couldn't breach the hosts' defence. Jordan Nellis tried his hand in the 36th minute but his effort sailed harmlessly over and out of the stadium.
Chances were now starting to fall the visitors' way and in the 38th minute, a Fitzpatrick shot, following a cross from Nellis, skipped narrowly wide of the goal.
Unfazed by his miss, Fitzpatrick went one better only one minute later when he managed to beat the offside trap, from a cross, before hammering the ball past Robinson; giving Dunston their lead.
The pressure from the visitors wasn't relenting at the start of the second half as in the 48th minute, a Fitzpatrick effort struck the bar before Nellis somehow managed to put the rebound wide from about two yards out.
With their tails now up, the hosts came within a whisker of drawing level in the 58th minute. Both Day and Summerly struck the crossbar in a matter of seconds as the Robins chased an equaliser.
However, Dunston were awarded a late penalty, with Fitzpatrick sending Robinson the wrong way to double the lead and secure the win in the dying seconds.