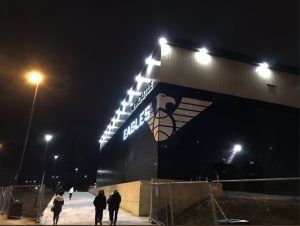 Newcastle Eagles point guard Rahmon Fletcher thought it was "a good first opening game" on Friday night despite losing 86-91 to Plymouth Raiders at a sold-out opening of the Eagles Community Arena.
Raiders had a five-point lead after the first quarter, but Newcastle fought back to lead 50-49 at half time.
By the end of the third quarter, Raiders had restored their five-point lead and the visitors maintained their advantage, in a level final quarter, to win.
Fletcher said: "It was a good first opening game. There were a couple of things defensively that we let get away from us, that we did good when we were down there, but to open the arena, the atmosphere was amazing. It was just unlucky we couldn't pull out the win.
"The crowd is going to be amazing if we win or lose, that's how Newcastle fans are. It's unfortunate we didn't get the win for them, but I'm pretty sure next time they come out we will play even harder.
"It's just something that we've got to build towards, we can't win every single game so now we've got to get our heads right and we've got a game on Sunday.
"That's the thing about the basketball season, you can't dwell on a loss, or a game, or a win, no matter what because there's a quick turnaround. We've got another game, another day to redeem ourselves and we've got to be ready to roll.
"I'm content, but I'm never too relaxed, I'm never too comfortable. If we were 30-0 or 0-30 I'm going to have the same mentality no matter what.
"That's our type of team and our leadership is the same with our coaching staff and our owner. No matter what, we've got to stay focused and ready to roll.
"Our focus is to just play the best that we can, we would love to win each and every game, but we've just got to be better than we were each and every day."
On the new arena, Fletcher added: "It means way more than words can even explain. It's something that we can call home, no disrespect to Sport Central, but this is our arena. It's just the beginning.
"It's amazing. Everybody knows this is one of the reasons I came back and it's everything I thought it was going to be."