Sunderland Futsal Club competed in their first ever National League campaign this season with the help of a couple of university students who also won the BUCS Cup.
Lewis Mckay and Ahmed Abdelraouf played vital parts in Pumas first campaign in one of Futsal's major leagues and have been called up to train with the national sides in recent weeks.
Mckay, captain of Sunderland University Men's Futsal trained with the Scottish national side whilst goalkeeper Abdelraouf has been called up by Egypt's Under-23 side.
Head of Futsal at Sunderland Futsal Club, Wayne McCann, commented on whether he will be looking at more talented players within the universities ranks, "100%. I think the lads have really stepped up. Lewis and Ahmed they have done absolutely fantastic.
"I would like to think the cup win that this (Sunderland Futsal Club) has had something to do with that as they have been exposed to a higher level of futsal, playing in the National League but it's a fantastic achievement by them guys and a fantastic achievement by Andy (coach of the university team) as well.
"We will certainly be looking to recruit more players from the uni because I think if we are to move forward in the new National futsal season that's going to be pivotal."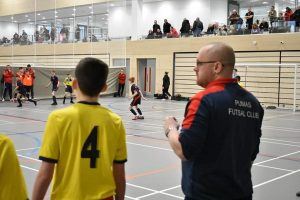 Wayne coaching Pumas
Listen to a teaser of my latest podcast where I chat with Wayne about how Sunderland Futsal Club came about: