Goalkeeper: Jon McLaughlin – The easiest choice in the list as of the amount of points he won for us last season after coming in as a virtual unknown and poor opinions from other clubs, McLaughlin easily proved himself as a very capable goalkeeper and if his distribution was better he could easily be a high-end championship goalkeeper
Right-Back: Conor McLaughlin – As the only proper right-back in the squad this is an obvious choice as it gives us natural width and more experience at full back at this level as for all Luke O'Nien did okay as a make-shift full back last season he was exposed several times mainly because him being out of position likely because of his lack of experience in that position. With McLaughlin was rated highly by many Millwall fans before joining us and seen as he has a league one team of the season appearance on his CV, he clearly knows what it takes at this level.
Centre-Back: Jordan Willis – Willis could be one of Sunderland's signings of the summer. Coming in after captaining League One rivals Coventry last season and rejecting many offers from Championship clubs to sign for the Black Cats. A strong and quick defender who is surprising good in the air for someone who is 5'11, Willis gives Sunderland exactly what they were missing as they couldn't deal with the physicality of many league one attacks Willis should play a big part in nullifying that threat this season.
Centre-Back: Alim Ozturk – Came in with a reputation last season as someone who Jack Ross knew from his time at Hearts. Ozturk had a shaky start to life on Wearside and was out of the team for the majority of last season however when called upon after Sunderland's 5-4 defeat at home to Coventry, Ozturk took his chance and made himself an ever-present for Sunderland's run-in and play-off campaign. Good on the ball, with good height at 6'4 and strength, he and Jordan Willis should make a very good partnership for Sunderland this upcoming season.
Left-Back: Bryan Oviedo – Easy choice for me as Oviedo is vastly experienced at higher levels including the Europa League and the Premier League, Oviedo has far more quality than other full-back Denver Hume who still has room to grow, however at the moment, as he is still likely to leave, Oviedo would be an easy starter for me.
Defensive Midfielder: Luke O'Nien – A fan favourite at the Stadium of Light, O'Nien would give Sunderland some much needed energy and physicality they were calling out for last season. O'Nien was an ever-present at full back last term with many fans calling for him to be played in his natural position and this seems likely to happen after Jack Ross has said he is open to playing O'Nien in the middle. This position however is also subject to change as Jack Ross has admitted he is looking to improve in this position with Walsall midfielder George Dobson seemingly top of his list and would likely take over this position if signed in my opinion
Defensive Midfielder: Max Power –  One of the few signings last season who people were excited by. Power wasn't exactly a star player last season but he consistently delivered 6-7 out of 10, and has shown himself as a great leader on the pitch with many fans expecting him to be captain this season and I believe he will be a very important player next season. Needs to avoid another spell of red cards, he will likely replace Cattermole's leadership in midfield.
Attacking Midfield: George Honeyman –  Likely the most controversial player in the XI, however he is the club captain and when he was out of the team last season you could tell, as there was a lack of forward runs from midfield and whether it was Wyke or Grigg upfront they were constantly isolated when Honeyman was not in the team. A lot of fans will want Chris Maguire in this position however he was so inconsistent whereas Honeyman will always give you great work ethic for the full 90. He may not be as good technically gifted as Maguire, he's not the only player to create chances and he has the ability to start moves with his constant hassling and can easily play in central midfield if needed to on defence.
Right-Wing: Lynden Gooch –  Gooch was largely a disappointment last season after he burst on to the league one scene proving a real threat and he was almost unstoppable with his pace and strength, after the 4-2 win over Barnsley at the end of November he just feel off the pace and just wasn't the same player, his touch became heavy and he just couldn't get past his full-back and he just seemed to lose confidence and many of the fans started turning against him, however he clearly has a real passion for the club after signing a new contract last season and I back him to have a key role next year and especially with Watmore coming back to fitness he will know he needs to stay consistent to keep his place in the team.
Left-Wing: Aiden McGeady – Sunderland's best signing of the summer and the only good thing to come out of the 2017/18 season, McGeady won Sunderland's Player of the Season and was nominated for League One Player of the Year. McGeady is a class above most players at this level and by tying him down to a new deal was a real statement of intent from Sunderland. McGeady was Sunderland's top scorer last season (excluding Josh Maja), and was the most creative player, without him in the team they just weren't the same as they had no-one who could consistently create chances for themselves or others.
Striker: Will Grigg – There was a lot of excitement when Will Grigg signed for what can turn into a record transfer in league one, Grigg was largely disappointing last season after getting off to a poor start missing an open goal on his debut. However Grigg has vast experience in League One, gaining promotion 4 times with Walsall, Brentford and Wigan respectively, scoring 75 goals in the league throughout his career. Bearing in mind he was unfit for most of the season with an ankle problem, he is now back to full fitness this season and can hopefully hit the ground running in pre-season and take that into the league season. However Grigg has stiff competition from Charlie Wyke and possibly another striker as it is known that Jack Ross is looking to bolster his squad ahead of the season.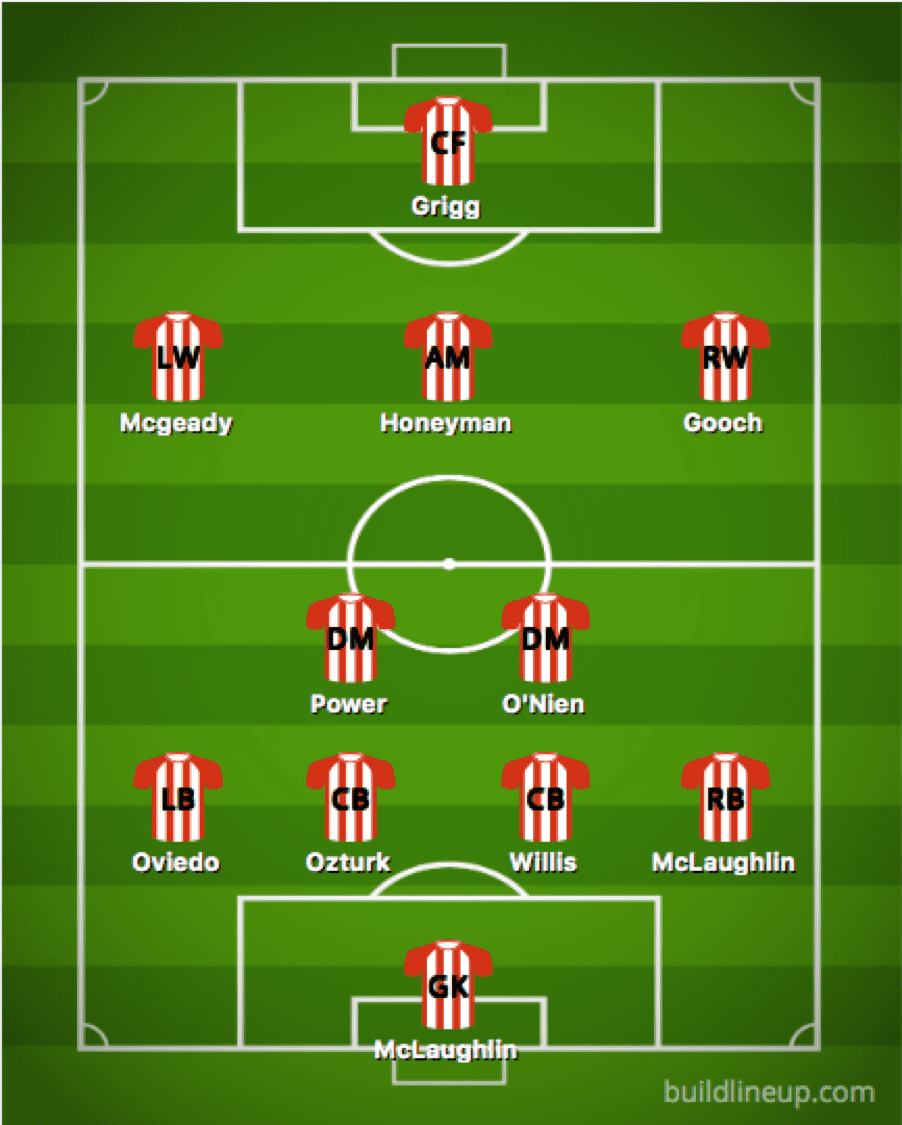 Words by Charlie Hodgson