The Anson is confirmed to finish bottom of the table after a disappointing loss to their nearest rivals The Mauretania.
They will however not be relegated this season as a change in format was introduced which saw the two divisions merged into one.
It has been a dismal campaign for The Anson who finished the season without a home win and only two away victories.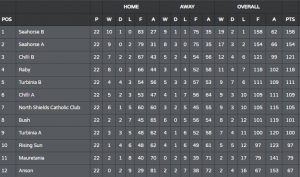 (Table on the final day)
The Anson captain Hamish Fields said, "We're extremely disappointed to not improve on last seasons bottom of the table finish."
"The league has been much tougher this year, however, given the merge, so I'm still proud of the lads and believe they have all improved individually, except for Peter Adamson who only turned up for two games all season"
"It's disappointing as he was our player of the season last year and he could have helped us turn a few of our draws into wins. I believe our new signings, in particular, Steve (Patterson) were terrific and give us hope for a better standing next season."
The new signings include Steve Patterson, Flavio Bettencourt Pereira, and Michael Patterson.
Hamish Fields finished on the most first victories this season with nine, Mark Bradley finished on eight and Steve Patterson on seven.
There is no data available to show how many total wins and how many cup game wins each player finished on and this is something that really disappointed player Daniel Stephenson.
"According to the stats I only finished on five wins all season but it's just not true. It only counts first wins, as in the first game I play on the day, but most matches I play at least two games and feel like I have won more second games than first games. I hope for next season the league organisers decide to track all games, instead of just the first one you play."
The Anson was also knocked out of the Cup in the group stage though can point to having a very difficult group that included the league winners The Seahorse B and Turbinia B team who finished 5th.
All in all this season has been a slight improvement in performance but not in terms of actual league or cup standings. The Anson will be hoping for a better finish next season.
Below is a half time interview with Steve Patterson during the game against The Mauretania.