Sunderland supporter starts petition to move away fans after flare incident
An issue is being investigated by police after a missile was launched into the disabled section at the Stadium of Light by Birmingham City supporters.
The object, a blue flare, was thrown from the stand above and landed between the wheels of a wheelchair.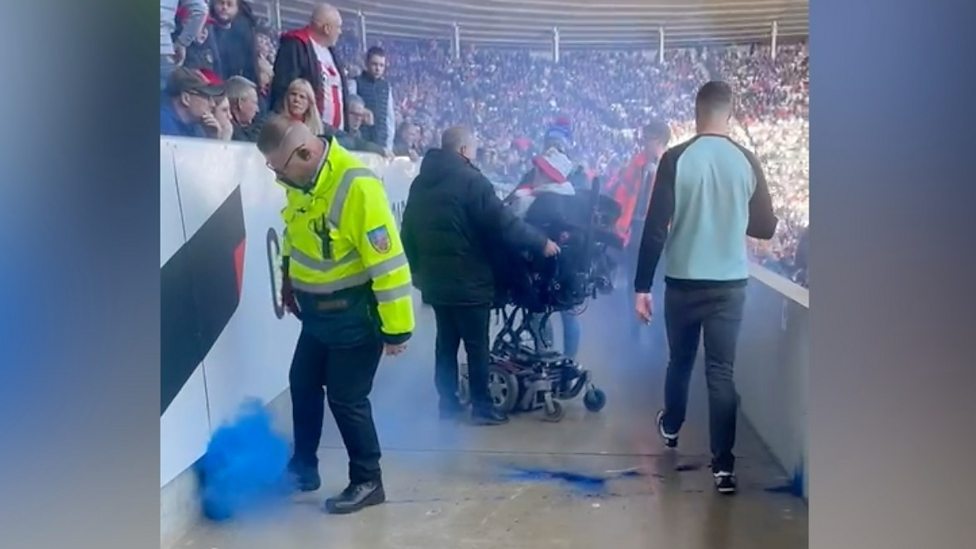 Sunderland AFC issued a statement on the club website following the incident.
"Sunderland AFC condemns the unacceptable conduct of a small minority of away supporters during Saturday's fixture at the Stadium of Light.
"A pyrotechnic device was discharged in the North Stand Upper after Birmingham City opened the scoring in the 29th minute and it was subsequently thrown into the North Stand Lower."
"The individual responsible for this abhorrent act has been identified by CCTV and all relevant information has now been handed over to West Midlands Police, with Club representatives continuing to directly support those impacted."
"Fans are reminded that it is a criminal offence to attempt to bring a pyrotechnic device into a football stadium, or to be in possession of a pyrotechnic device at a football match."
Sunderland supporters have set up a petition to move the away fans, which has received over 1,700 signatures in just three days.
Adam Fulwell started the petition to encourage further action to be taken to prevent problems such as this recurring.
"A message to Sunderland AFC to move the position of the current away fans in the Stadium of Light."
"It is now a regular occurrence at home games that missiles are thrown from the top tier north stand into the stand below."
"Sunderland AFC have tried to address this issue by making stricter searches to entering away fans, which is almost impossible to police."
"Please sign and share this petition to hopefully get a reaction from the club to finally appropriately acknowledge the issue before a serious injury or death is sustained from the thrown missiles."