Shogun MMA 3: Gustafsson impresses as hometown hero Close batters Paterson
After an exciting amateur card, the professionals took centre stage at Shogun MMA 3. The local fighters experienced a mixed bag of results. Spennymoor's own Alex Close electrified the hometown crowd with a blistering 1st round TKO of Martin Paterson, whilst Sunderland's Bailey Gilbert suffered a dominant decision loss to Cyprus' Cleovoulos Loukaidis.
Elsewhere on the card, Swedish fighter Andreas Gustafsson put on a powerful performance in the night's main event, smashing British legend Shaun Lomas with vicious ground and pound for a bloody TKO victory.
Fighting as a professional for the first time, the home support was strong for Spennymoor fighter Alex Close. The debutant had plenty of friends and family present, loudly cheering every punch, kick, knee and elbow thrown. The atmosphere quickly built to a fever pitch, as Close started strong, overwhelming Paterson with strong low kicks and solid combinations. After having his man retreating across the cage, Close initiated the clinch against the fence, executing a number of vicious knees in the Thai plum clinch. With Patterson covering up, Close executed a textbook body lock takedown, landing straight into full mount. From there, Paterson had no answer. Close swarmed his man with aggressive punches and elbow strikes, forcing the referee to put a stop to the contest after only 42 seconds of the very first round. The dream debut for Close, who looks set to make waves at the professional level after a tough 1-3 amateur run. Patterson drops to his ninth consecutive loss in nine professional fights.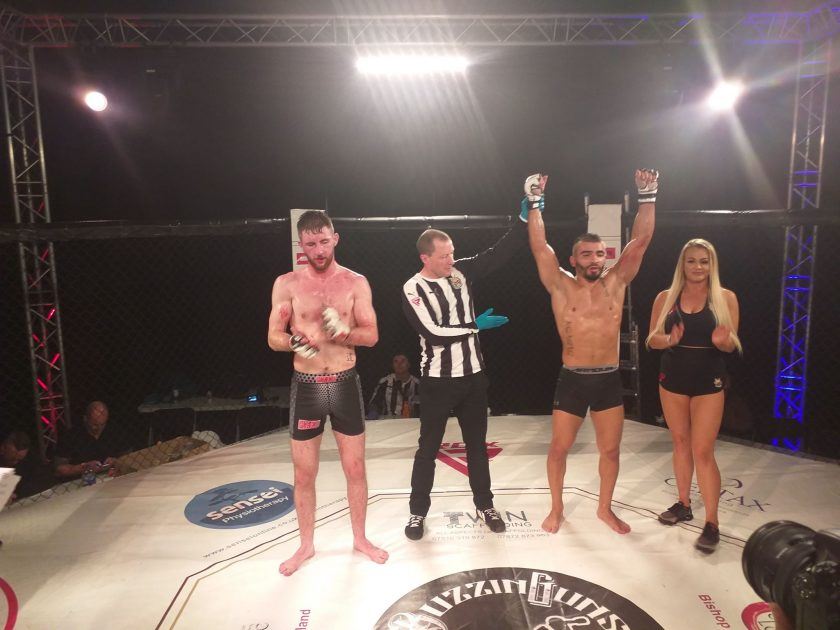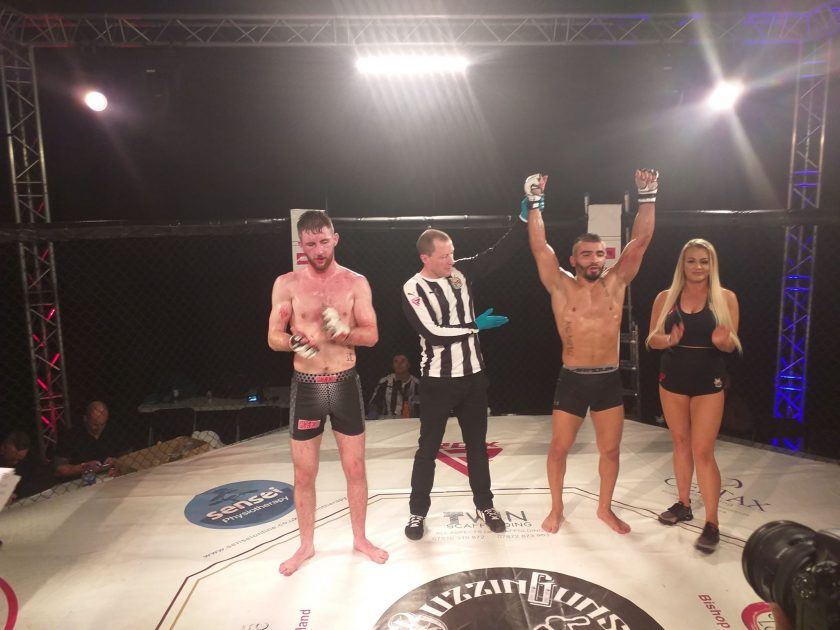 The hometown luck did not last, however. On the 3rd fight of the main card, Sunderland's Bailey Gilbert, fighting out of Ian Freeman's Machine MMA gym, suffered a dominant decision defeat to powerful Cypriot Cleovoulos Loukaidis. The only 5-round fight of the night, Gilbert was no match for Loukaidis' powerful punches and solid grappling. After a tentative opening, a huge left hook from Loukaidis dropped Gilbert, allowing the Cypriot to impose his smothering top game on his opponent. On the ground, Gilbert was simply out-muscled and out-grappled, showing heart in the face of relentless pressure from a powerful fighter well-prepared for a long night's work. The first three rounds were all Loukaidis, who displayed his strong wrestling game by executing a variety of takedowns, from body locks to blast doubles. When on top, Loukaidis was active and aggressive, always looking to improve position, and hurting his man with effective ground and pound. As the fight progressed, Loukaidis became visibly more tired, allowing the taller, rangier Gilbert to get more comfortable with his striking getting in some good inside leg kicks and right straights. However, by this time, the damage had already been done on both the scorecards and Gilbert's body, as he had neither the power nor the energy to take advantage of Loukaidis' tactical mistakes. The fifth saw the resumption of Loukaidis' dominant wrestling, snuffing out the improved striking of Gilbert with smothering pressure. By the time the final bell sounded, there was only one winner. Loukaidis picked up an impressive unanimous decision, extending his record to 7-1, with Gilbert dropping to 2-4.
In the main event, Sweden's Andreas "Bane" Gustafsson dominated, stopping British veteran Shaun Lomas late in the second round. Despite giving away a considerable experience disadvantage, having competed in 102 fewer pro fights than his opponent, the powerful Gustafsson made a big impression on the British crowd. Controlling every aspect of the fight from the opening bell, Gustafsson overpowered Lomas in the clinch, dragging his man to the ground with alarming ease. Once there, the Swede gave a clinic in effective ground and pound, using powerful elbow strikes to help pass guard and advance his position. Lomas was game, defending well and stifling his opponents' top game with a veteran's savvy. However, Lomas offered little in the way of offense, seemingly content to spoil rather than effectively compete. This overly-defensive approach eventually came back to haunt him, as late in the second round, Gustafsson finally broached Lomas defensive guard and transitioned to full mount. From here, the result was merely a formality, as Gustafsson rained down heavy elbows, cracking Lomas' skull and forcing the referee to intervene at 4:42 of the second round. "Bane" looks to be a top European prospect in the middleweight division, improving his record to 5-0, whilst the Lomas drops to 26-81.
Elsewhere on the main card, Andreas Roldan vs Youssef Tholel ended in a strange manner. After a tentative, grappling-heavy first round, Roldan notified the referee of a cut that was affecting his vision, though it appeared to be underneath his eye. The Doctor ruled him unable to continue, awarding Tholel a TKO victory. Later, lightweight PK Zadeh impressed on his professional debut, thoroughly out-grappling Richie Bonaille to a unanimous decision victory. Bonaille had no answer to the wrestling of Zadeh, getting taken down multiple times across all three rounds, and ending the fight with a nasty cut across his forehead. In the night's co-main event, "Hybrid Viking" Quinten DeVreught out-grappled Paul Bodnar in a largely uneventful fight, with the Norwegian DeVreught in total control for the majority of the contest.
Full main card results:
Andreas Gustafsson def. Shaun Lomas by TKO (elbows) at 4:42 of round 2
Quinten DeVreught def. Paul Bodnar by unanimous decision
PK Zadeh def. Richie Bonaille by unanimous decision
Cleovoulos Loukaidis def. Bailey Gilbert by unanimous decision
Youssef Tholel def. Adreas Roldan by TKO (Doctor's stoppage) at 4:49 of round 2
Alex Close def. Martin Paterson by TKO (punches) at 0:42 of round 1