Formula One Portuguese Grand Prix: Lewis Hamilton wins at Portimao to secure record-breaking 92nd win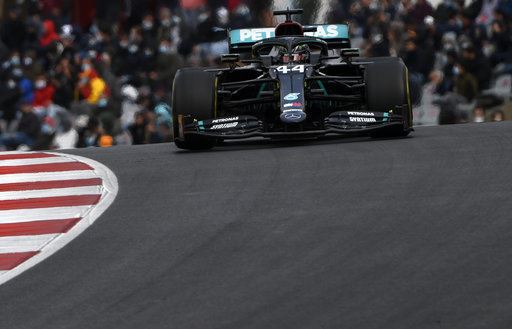 Lewis Hamilton broke Michael Schumacher's all-time win record as he secured his 92nd F1 career win at the Portuguese Grand Prix.
Hamilton seemed to get a fine get away once the lights went out as he defended against his teammate, Valtteri Bottas, into turn one.
Max Verstappen managed to pip the following Mercedes into second place. However, as he went into turn three, he was forced wide as the Silver Arrow's Finn regained the position.
As Verstappen relocated back onto the track, going into turn four, he tagged the rear-left tyre of Sergio Perez's Racing Point. This caused the Mexican to be spun around and run last in the field after an early trip to the Pits.
On the second lap, Carlos Sainz, McLaren, overtook Bottas into the turn five hairpin. The leading McLaren managed to get himself out of the DRS (Drag Reduction System) zone by lap four.
However, it wasn't long before Bottas fought Sainz for the lead as he rocketed past at turn one, on lap six.
But the turmoil didn't stop there for the Spainard as Hamilton overtook the leading McLaren on the pit-straight at the end of the sixth lap.
Lance Stroll was forced to go wide and onto the kerb as he tried to overtake Lando Norris, who attempted to defend his position, into turn one on lap 18. As both drivers went into the apex, the Brit connected with Strolls rear-right tyres and spun the Canadian around – which damaged both driver's cars.
The stewards, after they investigated the incident, applied a five-second time penalty onto the Canadian.
On lap 20, Hamilton regained the lead of the Portuguese GP after he followed his teammate onto the far-right side of the pit-straight. With assistance from the DRS system, it allowed the defending world champion to overtake with ease.
Double-trouble for Stroll, after his five-second penalty earlier on, he was given another five-second penalty for exceeding track limits.
Despite Bottas' call for the Soft compound tyres, after Hamilton pitted for the hard tyres – after spending half the race on Mediums, the Finn was also placed onto the hard compound when he came in.
On lap 52, Alexander Albon was painfully lapped by his teammate, Verstappen, as the London-born Thai struggled to get himself into the points.
Because of vehicle damage, Stroll was forced to retire on lap 54 as he dived head-first into the Racing Point garage. 
There was a close-encounter between Pierre Gasly and Perez as three laps remained as the Mexican defended the inside-line by the tightest of margins at the first corner..
However, the Frenchman fought Perez once more the following lap and overtook the Racing Point on the outside at turn one, before Sainz successfully followed suit later on.
Podium:
Lewis Hamilton (Mercedes)
Valtteri Bottas (Mercedes)
Max Verstappen (Red Bull)