FIA release statement regarding Romain Grosjean crash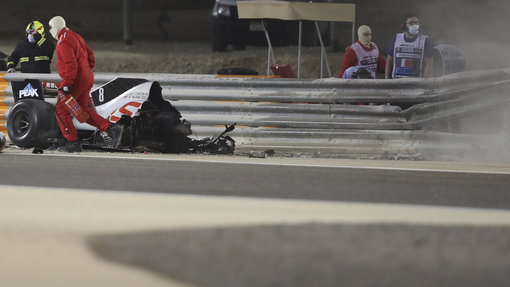 In the opening lap of the Bahrain 2020 Grand Prix, Romain Grosjean collided head first into a barrier along one of the straights at the Bahrain International Circuit.
The race only survived three corners once lights went out.
As a fight intensified in the middle of the pack, just after turn three, Grosjean aimed for a part of the second straight that was fairly free of slower traffic.
Unfortunately, the French driver made contact with Alpha Tauri's Daniil Kvyat's front left tyre which sent the Haas VF-20 on a high-speed collision course with the barrier.
The FIA, Formula One's governing body, said:
"The FIA advises that an incident occurred during the opening lap of the 2020 FIA Formula 1 Bahrain Grand Prix today, 29/11/2020, involving car #8, Romain Grosjean.
"The driver was immediately attended to by emergency and medical crews. The driver self-extricated, and was conscious at all times.
"He was taken to the medical centre before being transferred to Bahrain Defence Force (BDF) Hospital by helicopter where he is undergoing further evaluation."
The FIA also confirmed the medical condition of Grosjean and said:
"Following medical evaluation by doctors at the Bahrain Defence Force (BDF) Hospital Haas F1 Team driver Romain Grosjean will remain in hospital overnight to be treated for burns sustained on the back of both hands after his opening lap incident at the Bahrain Grand Prix. All X-rays performed on Grosjean came back clear of fractures.
"Updates will be given when further information is available."
The VF-20 split into two pieces when it made contact with the barrier, with one half embedded into the metal railing – where Grosjean scrambled out of the wreckage
Luckily, the Halo did its job as it punched a hole into the metal barrier, saving Grosjean's life.
The Frenchman suffered burns on his hands and ankles from the blaze.