Eddie Howe to Newcastle: "Detailed in every aspect of his management"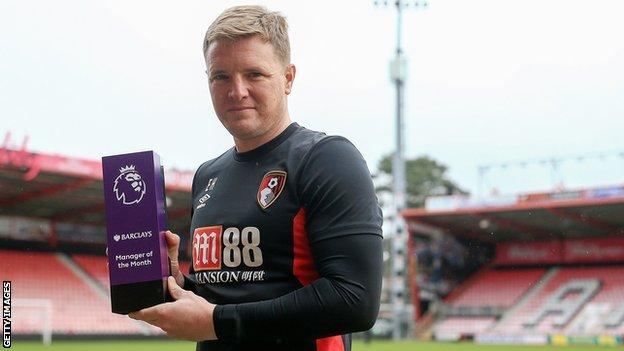 Eddie Howe has been appointed Newcastle head coach on a two-and-a-half year contract lasting until the summer of 2024.
And while Newcastle fans have had to come to terms with the appointment, some perhaps seeing it as a downgrade compared to the more continental Unai Emery, fans living in Bournemouth couldn't be more happy with Howe's spell in Dorset.
Bournemouth fan Alex Candy told SportsByte that Howe was "a great man manager" who got "a lout of less talented players and improves them" expecting "everyone in the team to be hard-working going forward and defensively."
Howe managed Bournemouth in two spells, the first from January 2009 when he saved the club from relegation to non-league that could have killed the football club, to 2011.
An ill-fated spell at Burnley followed (2011 to 2012) though the decision to move back near his family was accelerated by the death of his mother, Anne, in early 2012.
As a result Candy believes that he "is sometimes very over loyal to the players that have done well in the past" at the expense of those who can suit the team today.
An overreliance on the old guard presents a different challenge when a team composed from League 1 or Championship defenders at Bournemouth pairs alongside a uniquely Premier League-made defence with Newcastle.
Despite that, Candy assures Newcastle fans that "he was very detailed in every aspect of his management", adding that he was a "very stat-driven manager: if a player isn't giving 100% or if they aren't playing the way he wants, he will make it known."
"From what I know," Candy added, "I know he's very stern when he needs to be."
And NUFC_Scouting, a Newcastle fan who watched Howe's Bournemouth first-hand in the Championship, couldn't be more pleased.
"He is a progressive coach," he said in a Twitter thread recently, "He looks to dominate the ball against the right opposition and sit and counter against the big clubs."
"We will live and die by the results against the bottom 6 teams. We've already dropped a few points so will need to beat them home and away when we play. There's no alternative.
"If we do go down, it will be horrendous. But Eddie Howe is the best possible man to get us back at the first time of asking. For that I've no doubt.
"Bizarre for me seeing him at NUFC as he was the man who inspired me to do my coaching badges!"
NUFC_Scouting added that Howe's "style of play stood out" using the adjectives "fearless" and "fast" to describe them. And to finish "mid-table in the PL four years on the trot" according to him, "was completely underappreciated. Had no right to be anywhere near."
But it was relegation that ended Howe's tenure with the Cherries, though Candy mostly argues it was more to do with bad luck than a limitation on Howe's part.
"We had 6/7 first-team players out for a few weeks/months at a crucial part of the season and just didn't seem to click after that.
"The COVID situation didn't help things at all and performances just didn't seem to recover. Didn't help with Fraser not playing for the club again during that period.
"Just couldn't recover from the position we put ourselves in."
Howe's first game as Newcastle head coach will be against Brentford at home following the international break, in two weeks' time.
The Magpies are second-from-bottom in the Premier League, joint with Norwich on five points but are currently winless in 11 this campaign.