NFL Weekly Round-up: Week 13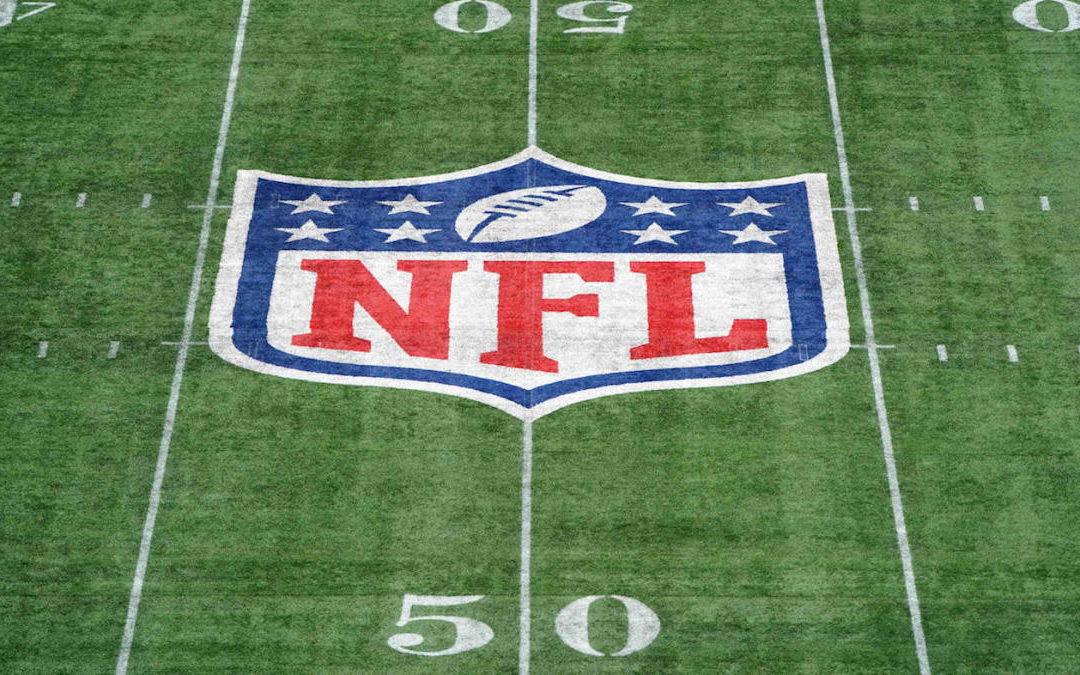 Week 13 Results:
Dallas Cowboys 27 – 17 New Orleans Saints
New York Giants 9 – 20 Miami Dolphins
Indianapolis Colts 31 – 0 Houston Texans
Minnesota Vikings 27 – 29 Detroit Lions
Philadelphia Eagles 33 – 18 New York Jets
Arizona Cardinals 33 – 22 Chicago Bears
Los Angeles Chargers 41 – 22 Cincinnati Bengals
Tampa Bay Buccaneers 30 – 17 Atlanta Falcons
Washington Football Team 17 – 15 Las Vegas Raiders
Jacksonville Jaguars 7 – 37 Los Angeles Rams
Baltimore Ravens 19 – 20 Pittsburgh Steelers
San Francisco 49ers 23 – 30 Seattle Seahawks
Denver Broncos 9 – 22 Kansas City Chiefs
New England Patriots 14 – 10 Buffalo Bills
Teams on bye week: Cleveland Browns, Green Bay Packers, Carolina Panthers, Tennessee Titans.
Week 14 power rankings top five:
Arizona Cardinals (10-2) – The came back off their bye week and put on a dominant performance against the Bears. The best team in the NFL had Kyler Murray and Deandre Hopkins back on the field for the first time since week eight and the two connected on a 20-yard touchdown pass to give the Cardinals the first score of the game.
Green Bay Packers (9-3) – The Packers had a chance to rest up last week due to their bye week and Aaron Rodgers said his fractured toe is feeling a lot better and the Packers have also designated star cornerback Jaire Alexander to return from injured reserve. Great news for green bay as the business end of the season approaches.
New England Patriots (9-4) – The Patriots saw off the Bills in a divisional game where the weather conditions were horrendous, with snow, wind and rain all playing a part. Despite the conditions it was plain sailing for the Patriots, running the ball over 40 times with rookie quarterback Mac Jones only attempting three passes. The Patriots are now the number one seed in the AFC and have a bye week to rest up before a showdown with the Colts.
Tampa Bay Buccaneers (9-3) – The Bucs are sitting comfortably in their division with all three of the other teams in the NFC South sitting on five wins, all of which are four wins off the Bucs with only five games remaining in the regular season. The Bucs can clinch their play-off berth with a win over the struggling Bills on Sunday.
Kansas City Chiefs (8-4) – Once again the Chiefs offense struggled to impress with Patrick Mahomes failing to reach 200 passing yards and failing to throw a touchdown pass, he also threw his 12th interception of the season. Tyreek Hill and Travis Kelce with both being held under 50 yards, the first time this hasn't happened all season. It's the Chiefs defence that is now stepping up claiming another two interceptions against the Broncos holding them to nine points.
Week 13 fantasy player of the week: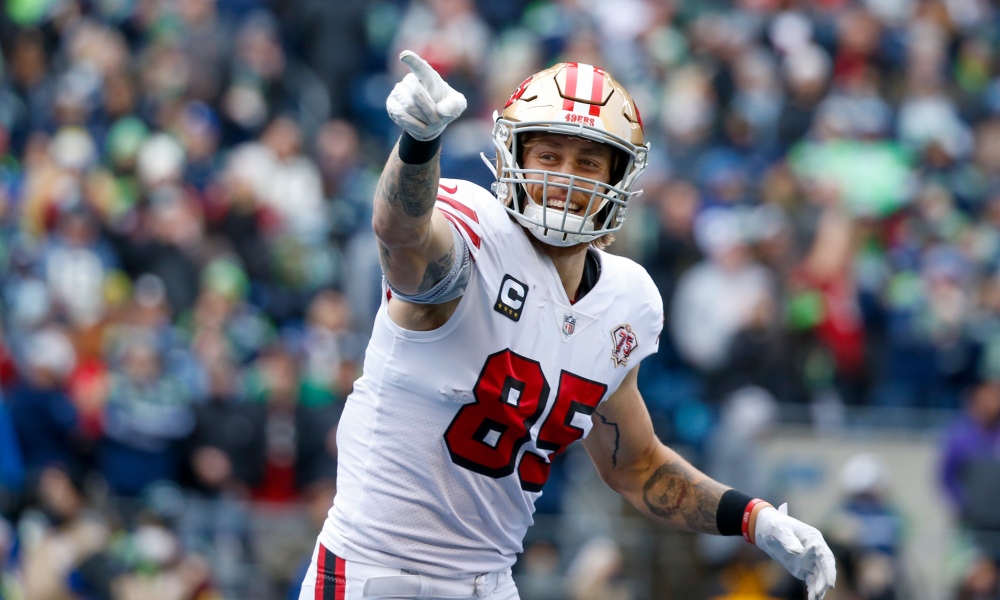 George Kittle (Tight End – San Francisco 49ers) – 39.60 points: Despite the 49ers loss to the Seahawks, Kittle had his best game of the season. The tight end had nine receptions off 12 targets, 181 receiving yards and two receiving touchdowns and a rushing attempt of five yards. Recording season bests in touchdowns, receiving yards and receptions.
Week 13 offensive player of the week:
Diontae Johnson (Wide Receiver – Pittsburgh Steelers) – In his teams close 20-19-win Johnson had eight receptions of 105 yards and two receiving touchdowns. Johnson led the league last season in dropped passes with 15 on 144 targets, so far this season Johnson only has 2 drops on 120 targets.
Week 13 defensive player of the week: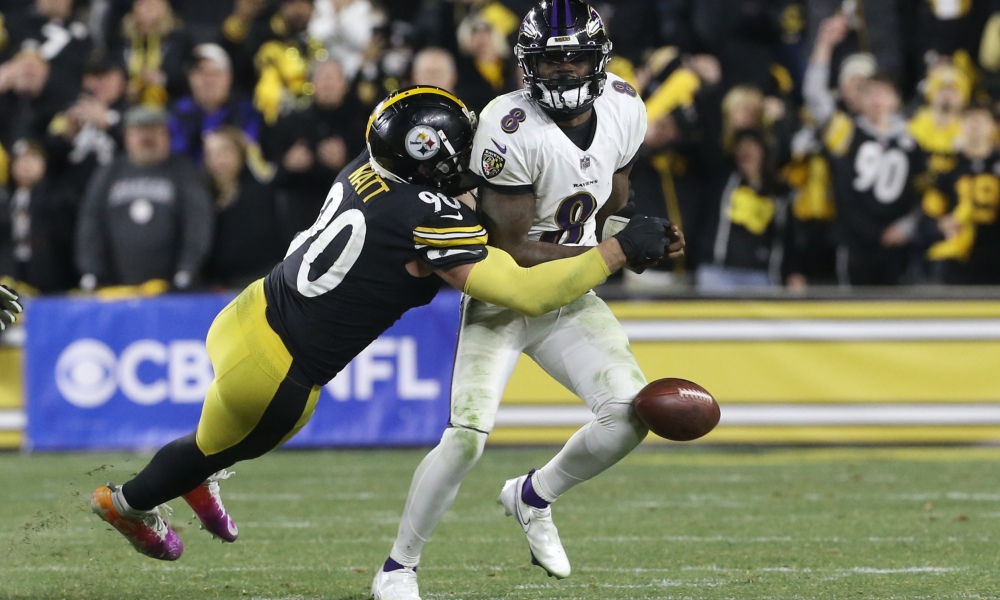 T.J Watt (Linebacker – Pittsburgh Steelers) – In the same game as Diontae Johnson but on the other side of the ball Watt was just as impressive. Watt had five tackles, three tackles for loss, three and a half sacks and a forced fumble against the Ravens. It's the most sacks Watt has got in a game this season and as a result now leads the league in sacks with 16. Watt is now the frontrunner for defensive player of the year, an award that he was pipped to by Aaron Donald last year.
Week 13 bust of the week:
Andy Dalton (quarterback- Chicago Bears) – The bust of the week will go to a Bears quarterback for the second time this season, back in week seven it was given to Justin Fields for lacklustre performances. Dalton was brought back in due to an injury to Fields and did not make a case to win the starting job back from Fields when he returns from injury. It was a far from impressive performance from the veteran quarterback completing 26 of his 41 throws (63.4%) for 229 yards and two touchdowns but Dalton also threw four interceptions, with the first two coming on the bears opening two drives.
Week 13 play-off picture:
AFC
New England Patriots 9-4
Tennessee Titans 8-4
Baltimore Ravens 8-4
Kansas City Chiefs 8-4
Los Angeles Chargers 7-5
Cincinnati Bengals 7-5
Buffalo Bills 7-5
NFC
Arizona Cardinals 10-2
Green Bay Packers 9-3
Tampa Bay Buccaneers 9-3
Dallas Cowboys 8-4
Los Angeles Rams 8-4
San Francisco 49ers 6-6
Washington Football Team 6-6
Week 14 spotlight-
Game of the week:
Buffalo Bills @ Tampa Bay Buccaneers
Following a third loss in five games the Bills are on the verge of falling out of the play-off places with Colts and the Steelers hot on their tail. The only opponents standing in the way of the Bills in this must win game, none other than Tom Brady and the Buccaneers. The Bucs have won their last three games since losing to Washington in week 10, scoring over 30 points in each of those wins. The Bills couldn't stop the run against the Patriots this past week, something which must improve against the Super Bowl champions with Leonard Fournette in red hot form with five touchdowns in his last two games.
Prediction: Buffalo Bills 17 – 28 Tampa Bay Buccaneers