Whickham 2-1 Seaham Red Star – Match Report
By Chris Mills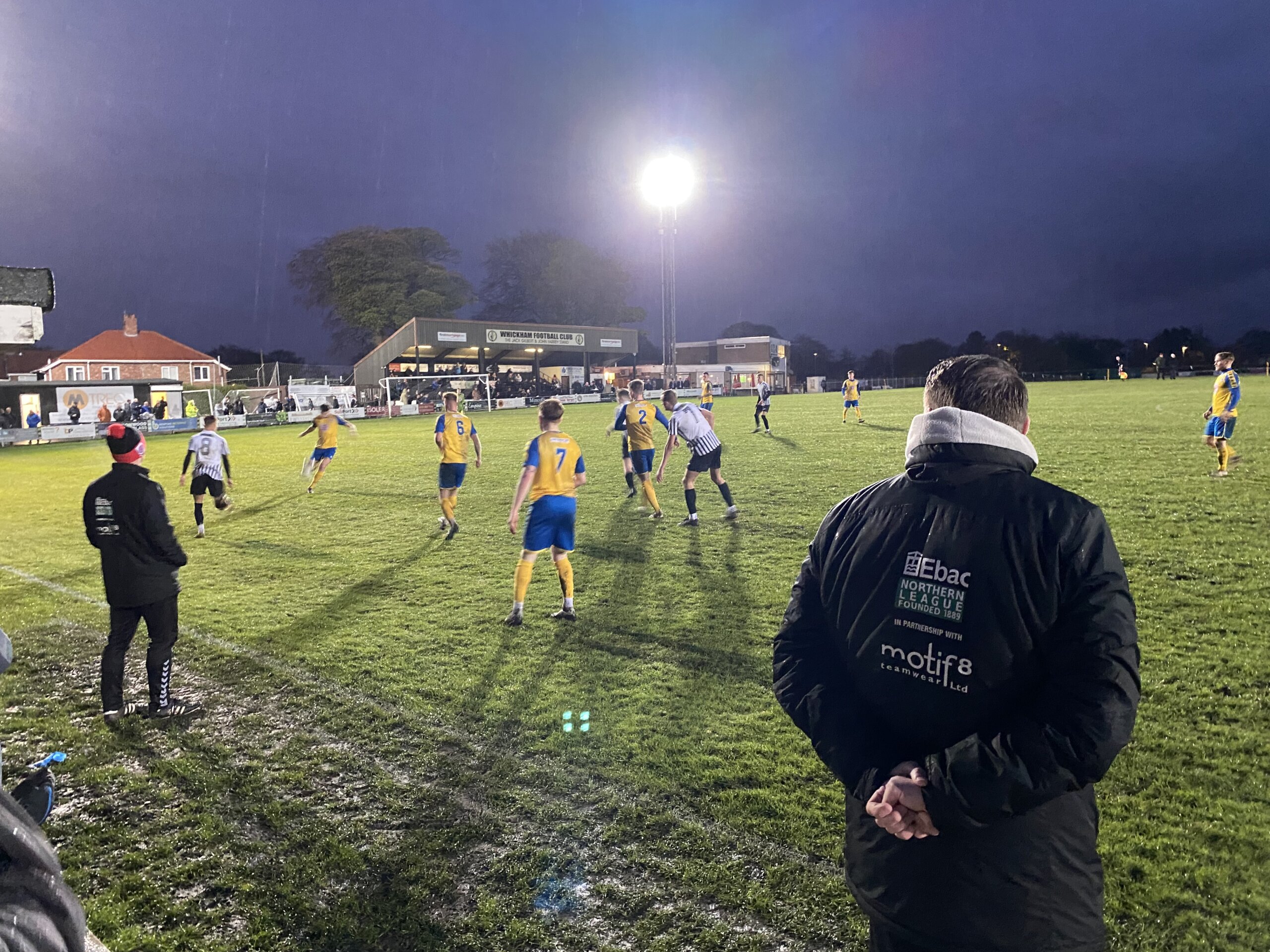 Whickham came from behind to beat Seaham Red Star at The Glebe on Friday evening.
Tom Lawson opened the scoring for Red Star in the first half before it was cancelled out by a Scott Robson penalty.
The Whickham winner was scored by Tom Romano deep into the second half.
The victory for Whickham allows for the chance to secure a highest ever Northern League finish of sixth if defeat is avoided against Redcar next week.
The match was played to a high intensity from the off as Seaham played the better football in the early stages.
Fifteen minutes in Alex Nelson sold Kyle Seymour short with a pass back to goal which Lawson almost intercepted but the young goalkeeper got there first and just about cleared the ball.
Seaham took the lead 10 minutes later as early substitute Morgan Dart crossed from the left which went low into the six yard box and Lawson tapped in.
Three minutes later The Lang Jacks were awarded a penalty as Robson was adjudged to have been fouled inside the area however there were no appeals from anyone.
Robson stepped up and dispatched it down the middle to score his 49th goal in Whickham colours.
Whickham began to up the ante and minutes later Romano dribbled into the box before having a go which struck the post.
After the break Seaham almost found an equaliser as Mark Robinson fed through Lawson, as Whickham were appealing for a handball, but Kyle Seymour made a tremendous one-on-one stop with his leg to keep his side ahead.
Seaham then hit the bar as Mark Robsinson caused problems once again by dribbling through a couple of players and striking from outside the box.
Two minutes later Craig Hennis found a yard of space to shoot inside the Whickham penalty area but Alex Nelson remarkably dived in front to block the ball and deny a dangerous opportunity.
Red Star kept on pushing and this time Bryan Taylor carried the ball from left back to a position outside the box where he shot and forced a tremendous athletic save from Seymour who tipped it over the bar – all round quality from both South Shields youngsters.
The bar was struck again shortly after as Mark Robinson delivered a corner which Max Nelson met and his looping header hit the upside of the bar.
The winner was found five minutes from time and went the way of Whickham as Romano drove at tremendous pace, beating a man, and into the box where he hit a shot at some velocity into the bottom corner for his fourth goal in eight matches.
Robson nearly got his second with the last kick of the game as he latched onto a long ball, which Matthew Bateman had come out for, but his lob went wide.