Scott McTominay vs Sean Longstaff: Would it be a mistake for Newcastle United to sign the Scotsman this summer?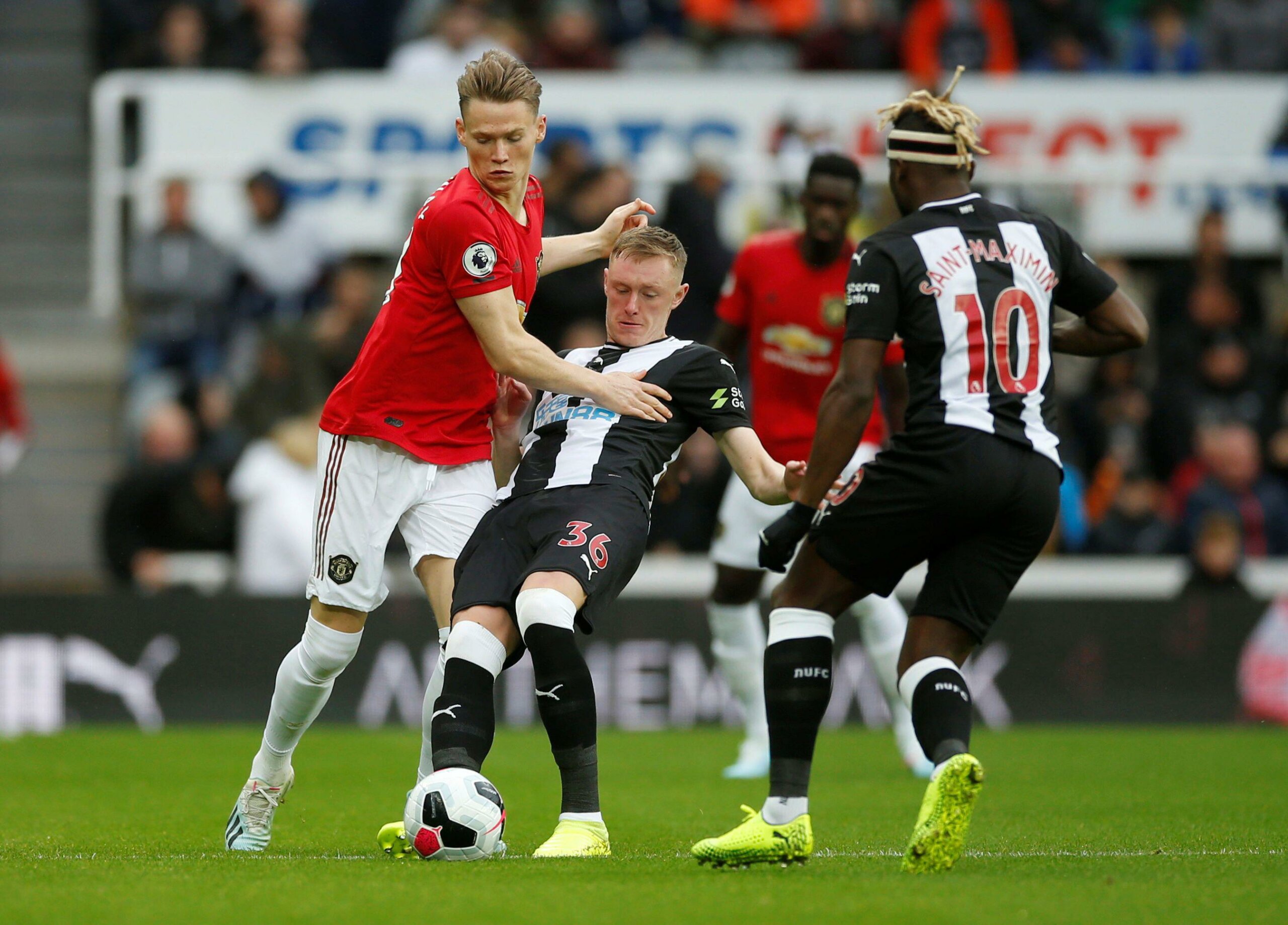 Newcastle United will no doubt strengthen their squad in the upcoming summer transfer window as they look towards consolidating themselves as a team near the top of the table in future seasons and take on the added challenge of European football.
Rumours have already begun to spread about all the different players that Newcastle might have on their radar for the summer, one such player is Manchester United midfielder Scott McTominay. Newcastle reportedly want to bring the 26-year-old to Tyneside to bolster their midfield options. £50 million is the reported price tag being set by Manchester United, but with financial fair play as big a talking point as ever, it's unlikely Newcastle would spend this much on someone who is an upgrade on what they already have.
Joelinton's new physical side to his game and his huge resurgence as a footballer under Eddie Howe coupled with Bruno Guimaraes being one of the top midfielders in the Premier League it's reasonable to assume that Sean Longstaff would be fighting for his place should Newcastle make the move for McTominay. Longstaff has been a key feature of Howe's side this season but given Joelinton's ability to play as a winger or a forward when needed Longstaff seems the more likely to lose his spot. Therefore, the question needs to be asked – is Scott McTominay a £50 million upgrade on Sean Longstaff? Let's take a look at their stats for some insight.
Attacking
Neither player blows the other away when it comes to their attacking stats. In their Premier League careers, Longstaff has 10 goal contributions in 108 appearances, and McTominay has 15 in 141.
This season Longstaff has three goals and three assists across all of his 38 competitive matches. Comparatively, McTominay has three goals and one assist having played 37 games showing both players produce very similar numbers for goal involvement.
Their stats per 90 minutes over the last year show that Longstaff produces more shot-creating actions, these are actions such as a pass or a take-on that lead to a shot, producing 2.07 of these per 90 to McTominay's 1.79. Longstaff also has a higher amount of touches in the attacking penalty area per 90 with 3.6, while McTominay has 1.94. McTominay averages more non-penalty goals and shots per 90 than Longstaff. Taking a look just this current Premier League season Longstaff has a shooting accuracy of 37.5% to McTominay's 44.44% and has missed five big chances, McTominay has missed just one. McTominay's minute per goal is better this season at 1,120 but he has played nine games fewer.
The graph below shows the attacking stats per 90 minutes over the last 365 days: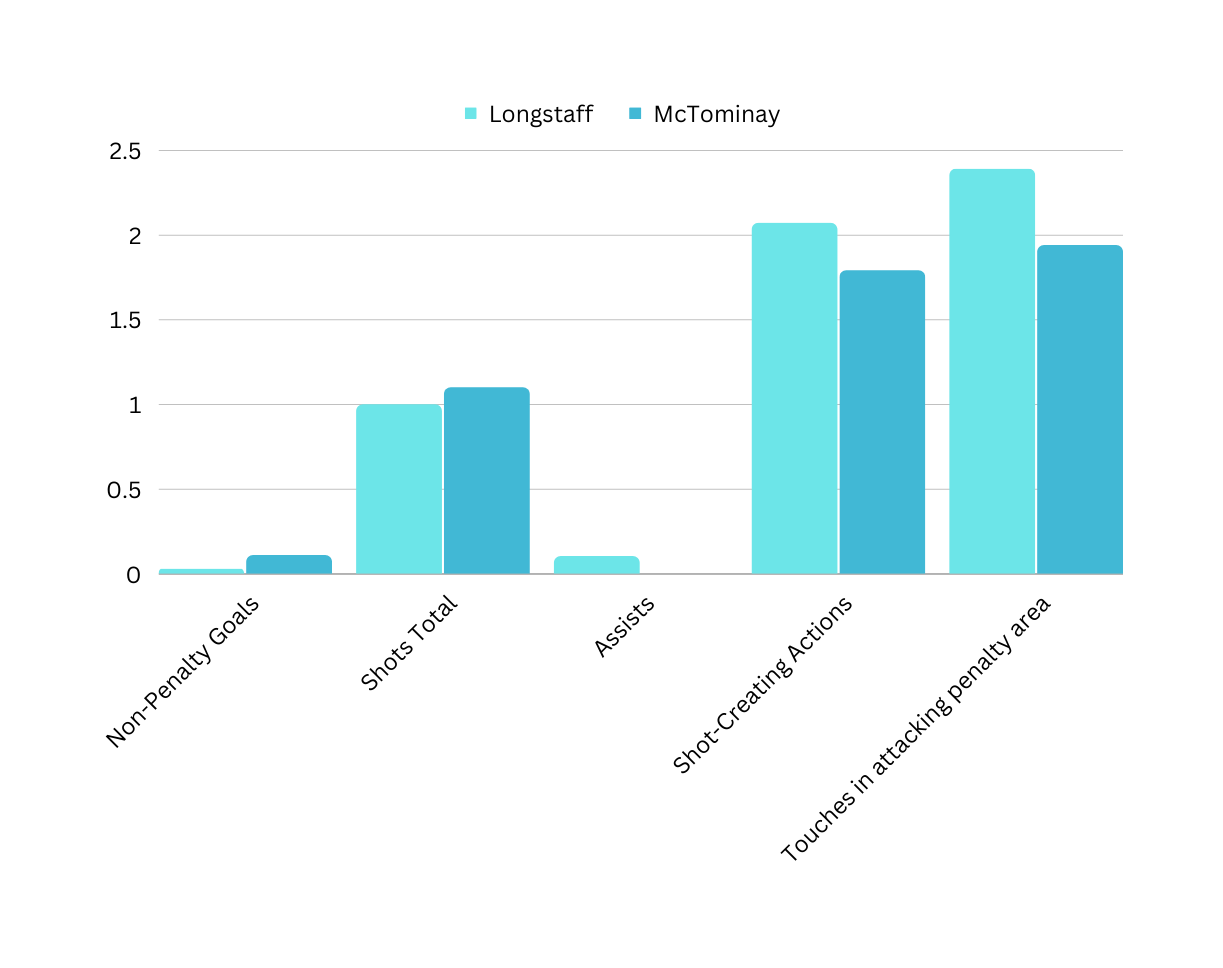 Defending
The defensive stats show more of a divide between the players McTominay has a higher average in all of the main defensive areas, especially aerials won and clearances. He is the bigger of the two players so it makes sense that he would win more aerial engagements. Over the last year, Longstaff has averaged 1.68 tackles per 90 and 0.58 interceptions, compared to McTominay who has 2.31 tackles per 90 with 0.84 interceptions. Showing that McTominay over the last year has been putting in more accurate challenges and winning the ball back more consistently for his team.
Focusing on just this season's Premier League campaign, Longstaff has made 38 tackles with 21 of them being successful, meaning he won the ball, McTominay has made 32 tackles with 19 being successful. McTominay has made more than double the number of clearances and headed clearances, also winning more aerial battles out of the two, despite playing nine games less than Longstaff. Neither man has made a direct error that led to a goal this season but McTominay has given away one penalty, something Longstaff is yet to do.
The defensive stats of both players this season and over the last year show that McTominay is a lot better in the air than Longstaff, he is also more likely to clear the ball instead of trying to play out shown by his higher number of clearances and his lower number of progressive passes something we will come onto. They also show that McTominay is more successful at winning the ball back and that he puts more blocks in meaning he is in the correct positions more often than Longstaff.
The graph below shows the defensive stats per 90 minutes over the last 365 days: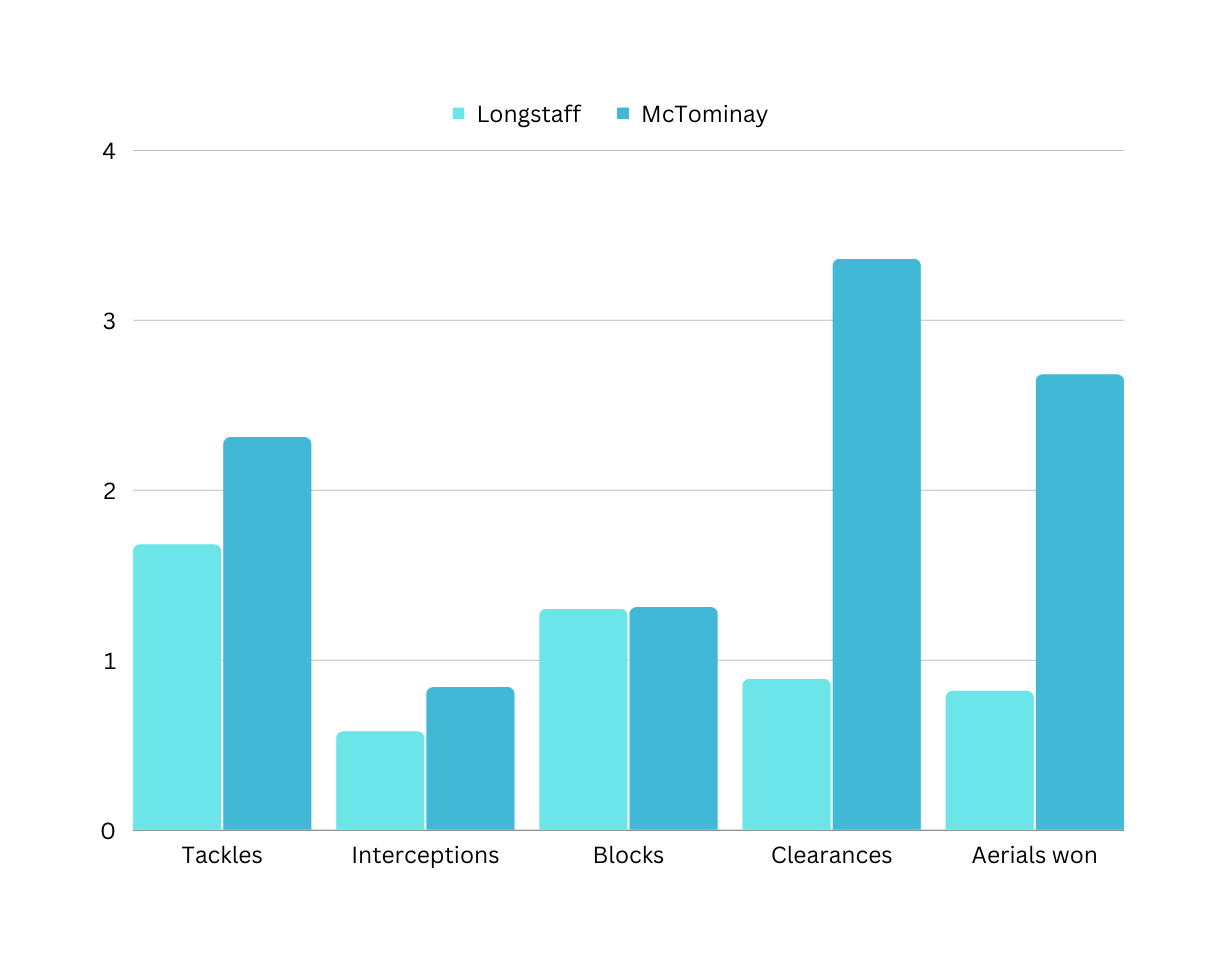 Possession and progressing the team
Newcastle's improved style of play under Howe sees the team with much more possession than under previous coaches. This season they have averaged 51.2% possession the next highest in the previous five seasons for a Newcastle side was 43.8%. So, it's clear that in this new system, players need to be comfortable in possession of the ball. Newcastle have also improved in forward areas, this season they've averaged 14 shots per game their highest in the previous five seasons had been 11.8 shots per game showing that as a team they are progressing up into shooting areas more often.
When comparing Longstaff and McTominay to these areas of Newcastles game it's Longstaff that has the slightly higher passes attempted per 90 at 40.41 with McTominay at 39.49, but McTominay has the higher pass completion percentage at 83.2% Longstaff averaging 80.5%. This means that although McTominay takes marginally fewer passes per 90 he is making more of those passes successfully when compared to Longstaff.
The graph below shows the passing stats per 90 minutes over the last 365 days: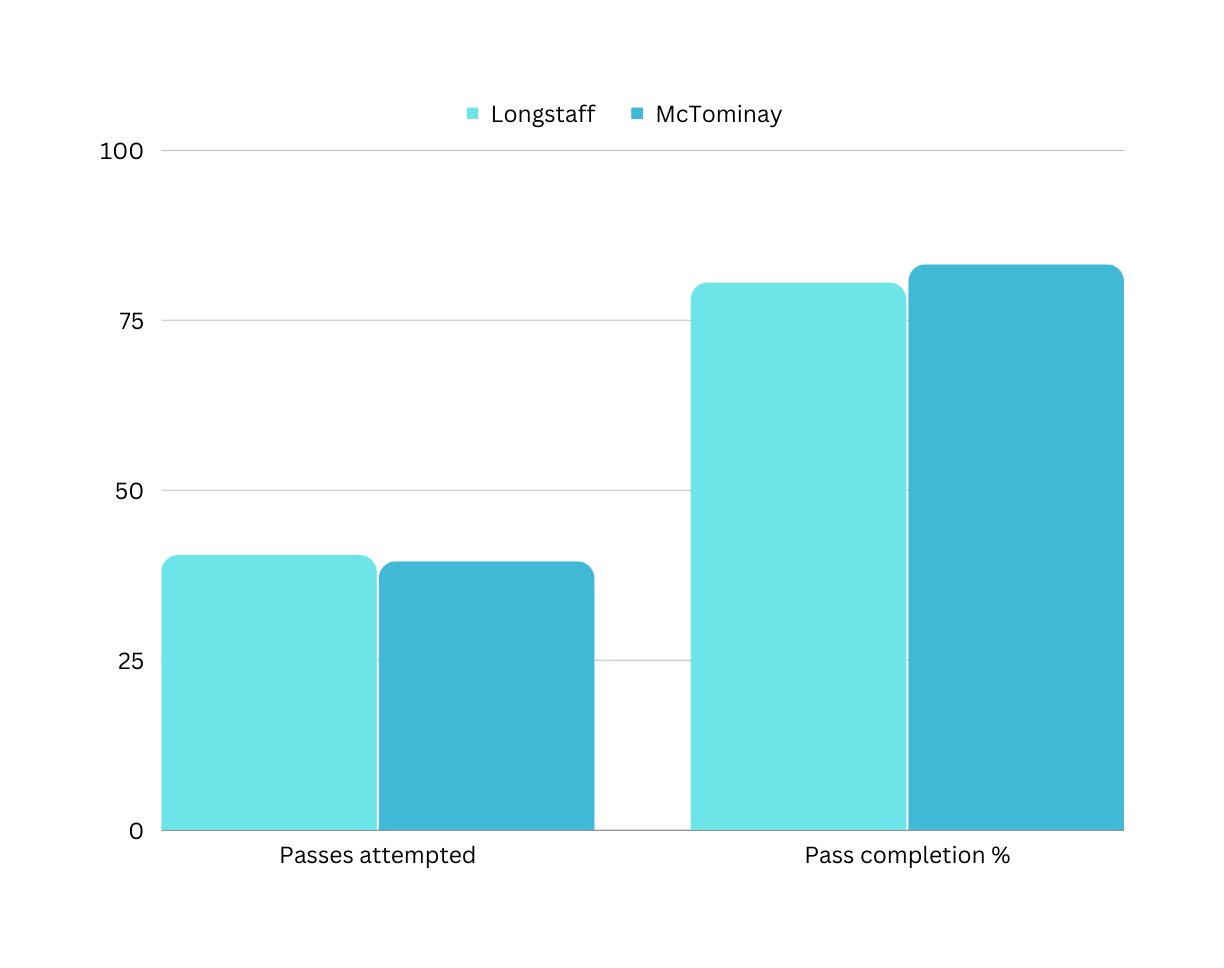 Progressing the team up the pitch is another area highlighted that is key for Newcastle players. Longstaff attempts more progressive passes per 90 than McTominay, 4.08 compared to 2.99, he also has a higher number of touches in the attacking penalty area and recovers more progressive passes, these are passes that move the ball towards an opponents goal line at least 10 yards from its furthest point in the last six passes. These stats being higher would indicate that Longstaff likes to make passes into forward areas and then follow the ball to receive a pass higher up the pitch or even in the attacking penalty area. McTominay's stats show a different style of player, he averages more progressive carries and successful take-ons than Longstaff showing he likes to carry the ball up the pitch himself into attacking areas before releasing the ball for a pass or taking a shot on.
The graph below shows the progressive stats per 90 minutes over the last 365 days: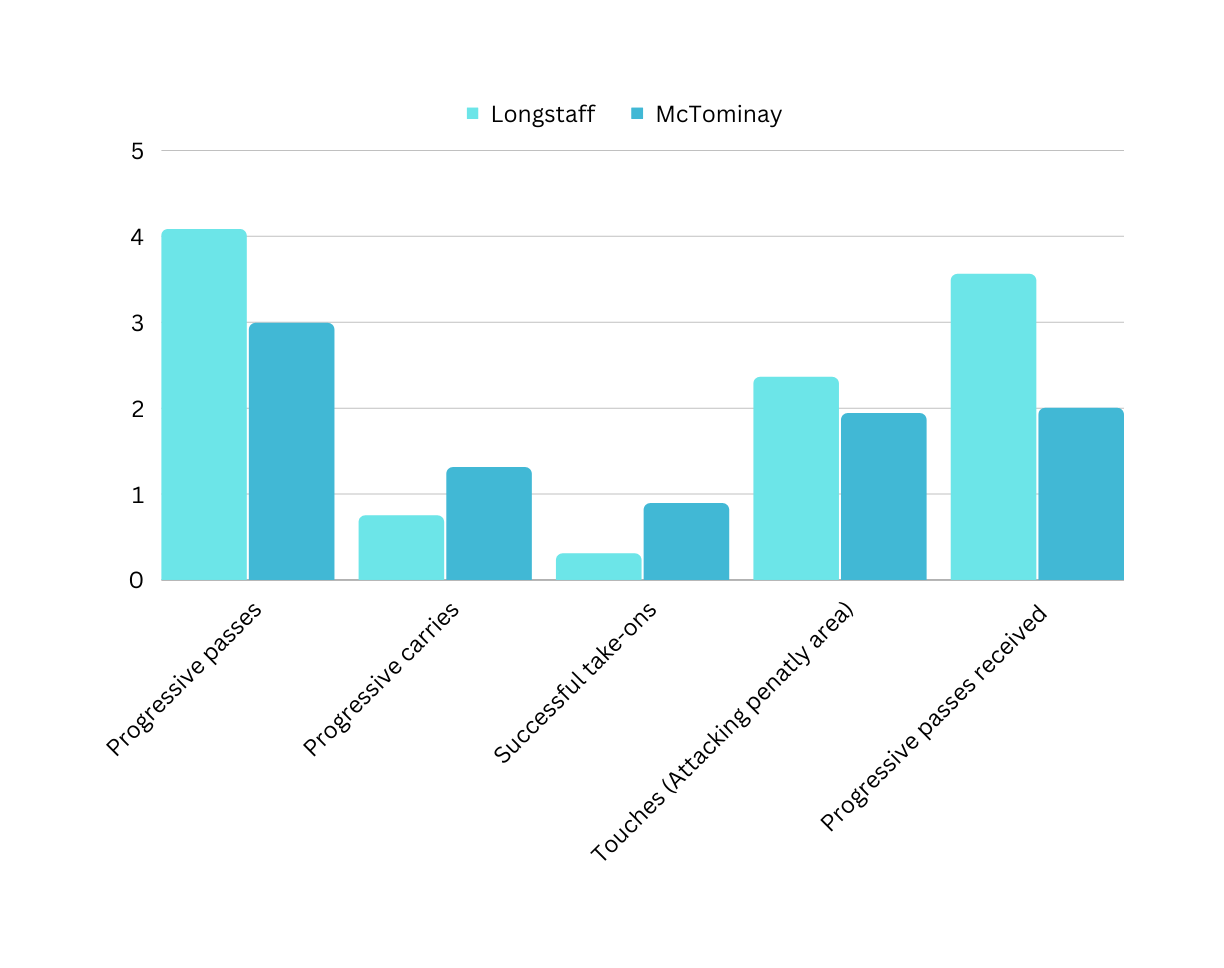 Summary
The question is Scott McTominay a £50 million upgrade on Sean Longstaff has a simple answer, no. While McTominay is better than Longstaff in certain areas such as his aerial ability and his defensive work it would be absurd for Newcastle to spend anywhere near £50 million on him. The differences are so marginal and the money it would seemingly take could be better invested into a younger player with potential or used to top up a larger bid for a player who would vastly improve the Newcastle midfield unit. Certainly, stats don't tell the full story of a player as there are things they simply can't measure but there is enough evidence from what is shown in the stats here to say that Newcastle should simply avoid this transfer unless the fee is significantly lower than what has been speculated.