Formula E- Rounds 7&8: Barmy Berlin
Formula E arrived in Berlin this weekend for an earlier than usual Tempelhof airport double header. What was served up over the two days of competition was the traditional pure chaos we expect from the championship.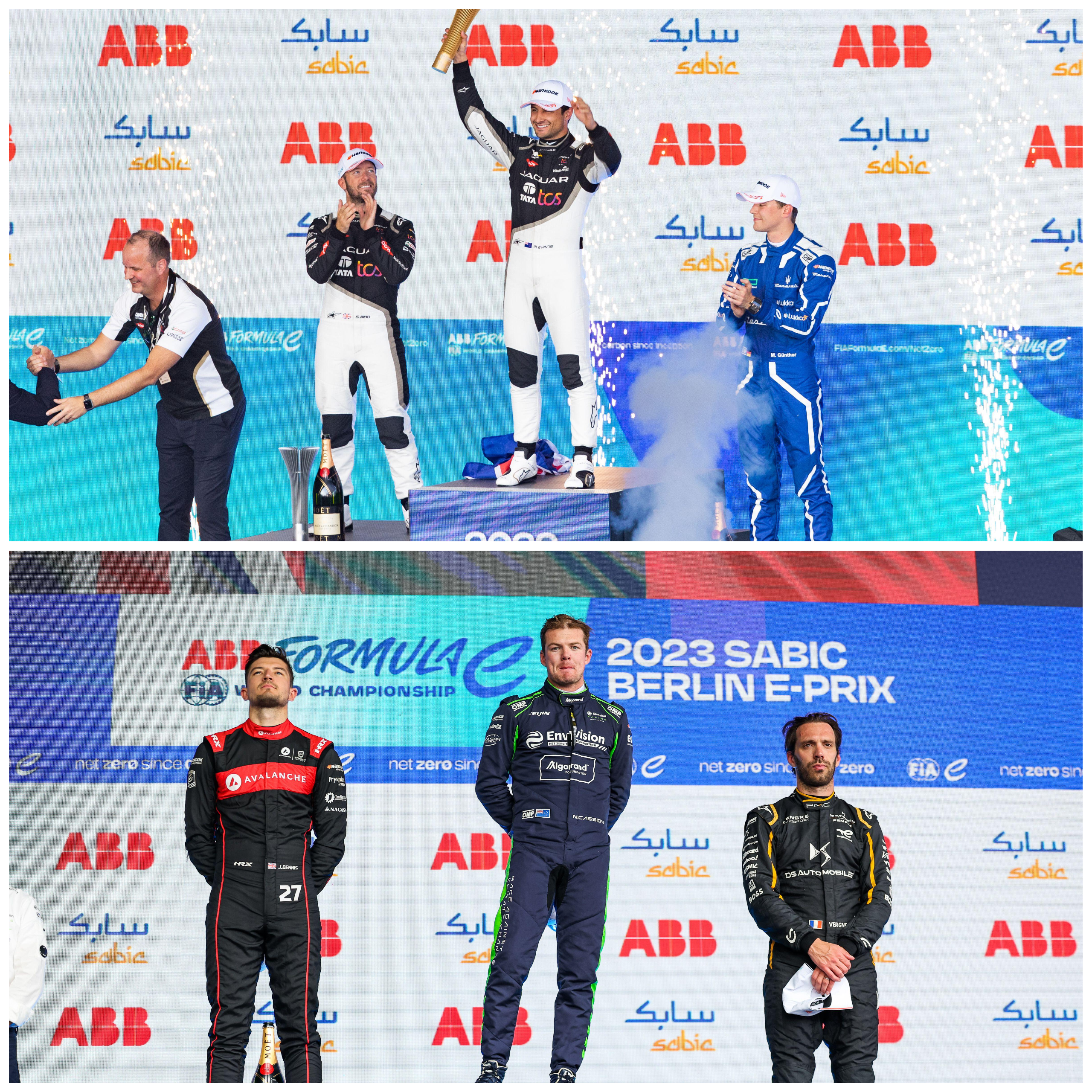 Practice
Day one's practice sessions were subdued affairs with your standard basic running and initial weekend prep, practice one and practice two were topped by the DS Penske of Stoffel Vandoorne and Maxi Gunther respectively.
However, practice three was not a normal affair due to morning rain in Berlin however the result was pretty normal with the Jaguar of Mitch Evans taking top spot on the time sheets.
Qualifying
Day one's qualifying took place early on Saturday morning with the result as follows:
Group A's four qualifiers were Stoffel Vandoorne, Sebastian Buemi, Nick Cassidy and Sergio Sette Camara.
Group B's qualifiers were Sam Bird, Maxi Gunther, Dan Ticktum and Jake Dennis.
Therefore, the Knockouts were Buemi v Cassidy, Vandoorne v Camara, Ticktum v Gunther and Bird V Dennis.
This became Buemi v Vandoorne and Ticktum V Bird with Buemi beating Bird in the final to take pole.
Day two's qualifying was a chaotic-wet affair:
Group A's four qualifiers were Jean Èric Vergne, Pascal Wehrlein, Nico Muller and Jake Dennis.
Group B's qualifiers were Buemi, Robin Frijns, Mitch Evans and Nick Cassidy.
Therefore, the Knockouts were Muller v Wehrlein, Vergne v Dennis, Buemi v Cassidy and Evans v Frijns.
This became Muller v Vergne and Frjins v Buemi this became surprisingly Muller v Frijns with perennial backmarkers ABT Cupra taking a front row grid lockout.
The Races
Both races were overtake fests with a combined 362 overtakes over both 40 lap races. This was mainly due to the unnatural high energy consuming nature of the Berlin track. This turned the race into a peloton with no one wanting to lead the races until the last few laps.
Race one's winner was Evans followed by Bird for a Jaguar one two and race two's winner was Nick Cassidy who is now seen as a championship contender for Envision Racing.
Apart from the winners both races were full of accidents with drivers such as Ticktum and Vandoorne failing to finish race one and drivers such as Andre Lotterer having to pit in race 2 due to large accidents. It also must be said the start of race two was delayed by protestors who were swiftly removed.

Results
Race one
Cla
#
Driver
Team
Laps
Time
Gap
Interval
km/h
Retirement
Points
1
9
Mitch Evans
Jaguar Racing
43
55'10.391
110.1
25
2
10
Sam Bird
Jaguar Racing
43
55'12.241
1.850
1.850
110.1
18
3
7
Mitch Evans
Maserati Racing
43
55'13.129
2.738
0.888
110.0
15
4
16
Sébastien Buemi
Envision Racing
43
55'13.240
2.849
0.111
110.0
15
5
37
Nick Cassidy
Envision Racing
43
55'15.178
4.787
1.938
110.0
10
6
94
Pascal Wehrlein
Porsche Team
43
55'19.502
9.111
4.324
109.8
8
7
25
Jean-Eric Vergne
DS Penske
43
55'19.582
9.191
0.080
109.8
6
8
36
Andre Lotterer
Andretti Autosport
43
55'19.895
9.504
0.313
109.8
5
9
48
Edoardo Mortara
Maserati Racing
43
55'20.550
10.159
0.655
109.8
2
10
8
Oliver Rowland
Mahindra Racing
43
55'20.699
10.308
0.149
109.8
1
11
11
Lucas di Grassi
Mahindra Racing
43
55'29.840
19.449
9.141
109.5
12
23
Sacha Fenestraz
Nissan e.dams
43
55'31.940
21.549
2.100
109.4
13
17
Norman Nato
Nissan e.dams
43
55'34.952
24.561
3.012
109.3
14
4
Robin Frijns
Team Abt
43
55'36.018
25.627
1.066
109.3
15
51
Nico Müller
Team Abt
43
55'37.971
27.580
1.953
109.2
16
3
Sergio Sette Camara
NIO Formula E Team
43
55'45.238
34.847
7.267
109.0
17
58
René Rast
McLaren
42
56'00.591
1 Lap
1 Lap
106.0
18
27
Jake Dennis
Andretti Autosport
38
56'18.983
5 Laps
4 Laps
95.3
13
Antonio Felix da Costa
Porsche Team
30
40'27.369
13 Laps
8 Laps
Retirement
5
Jake Hughes
McLaren
19
24'27.579
24 Laps
11 Laps
Retirement
1
Stoffel Vandoorne
DS Penske
19
24'27.012
24 Laps
Retirement
33
Dan Ticktum
NIO Formula E Team
19
24'26.653
24 Laps
Retirement
Race two
Cla
#
Driver
Team
Laps
Time
Gap
Interval
km/h
Retirement
Points
1
37
Nick Cassidy
Envision Racing
40
46'34.509
25
2
27
Jake Dennis
Andretti Autosport
40
46'34.951
0.442
0.442
18
3
25
Jean-Eric Vergne
DS Penske
40
46'35.801
1.292
0.850
15
4
9
Mitch Evans
Jaguar Racing
40
46'36.278
1.769
0.477
12
5
13
Antonio Felix da Costa
Porsche Team
40
46'36.969
2.460
0.691
10
6
7
Maximilian Gunther
Maserati Racing
40
46'37.490
2.981
0.521
9
7
94
Pascal Wehrlein
Porsche Team
40
46'38.054
3.545
0.564
6
8
1
Stoffel Vandoorne
DS Penske
40
46'39.360
4.851
1.306
4
9
51
Nico Müller
Team Abt
40
46'41.121
6.612
1.761
2
10
33
Dan Ticktum
NIO Formula E Team
40
46'42.331
7.822
1.210
1
11
23
Sacha Fenestraz
Nissan e.dams
40
46'43.970
9.461
1.639
12
11
Lucas di Grassi
Mahindra Racing
40
46'43.971
9.462
0.001
13
58
René Rast
McLaren
40
46'44.187
9.678
0.216
14
8
Oliver Rowland
Mahindra Racing
40
46'46.289
11.780
2.102
15
3
Sergio Sette Camara
NIO Formula E Team
40
46'48.196
13.687
1.907
16
17
Norman Nato
Nissan e.dams
40
46'48.258
13.749
0.062
17
4
Robin Frijns
Team Abt
40
46'57.446
22.937
9.188
3
18
5
Jake Hughes
McLaren
40
47'04.089
29.580
6.643
19
10
Sam Bird
Jaguar Racing
40
47'08.890
34.381
4.801
20
16
Sébastien Buemi
Envision Racing
40
47'38.041
1'03.532
29.151
21
36
Andre Lotterer
Andretti Autosport
40
47'38.611
1'04.102
0.570
22
48
Edoardo Mortara
Maserati Racing
37
44'18.077
3 Laps
3 Laps
What did you think of the Berlin weekend tweet us @SportsByte