Eagles WBBL at the double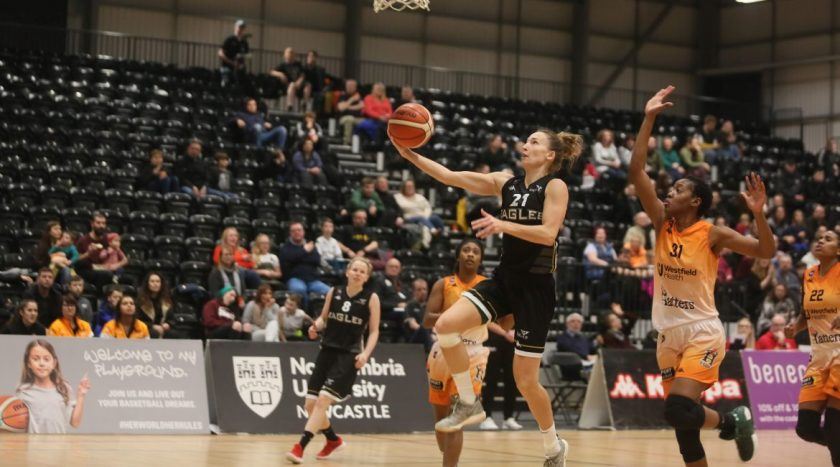 Wins against Manchester Mystics and The City of Sheffield Hatters over the weekend move the Eagles Women on to a 4-1 record for the season.
In their first double header of the WBBL Championship season, Chris Bunten's side would travel to Manchester on Saturday before hosting The Hatters on Sunday at the Eagles Community Arena.
On Saturday, Sara Djassi and Orieoma Chukwa-Etu traded threes to get the game underway before a tight opening 10 would see The Mystics lead by three.
The Mystics would begin to pull away in the second, leading by as much as nine at the midpoint of Q2. Four consecutive scores from Anja Fuchs-Robetin, Mante Kvederaviciute and Lisa Koop saw the Eagles cut the deficit back to one.
The hosts would push again though, and a Kvederaviciute buzzer beater was needed to cut the Mystics' lead to six at half-time, and a tight third quarter set up a blockbuster fourth with the game at 60-57.
And The Eagles turned the game on it's head in the final quarter. 19 unanswered points in eight minutes saw the three point deficit turn into a 16 point lead as Aussie Georgia Ohrdorf lit up with 11 in the final quarter. She would lead the game in scoring with 25.
Win number three of the season with the game ending 68-83.
It was a slow start as the Eagles hosted Sheffield on Sunday, Koop opening Newcastle's scoring three minutes in before Giulia Simioni tied things at 4-4 at the mid-point of Q1. The Eagles would need to do it the hard way again, nine down at the end of the first.
The game would be all Kvederaviciute's though, leading the game in points, assists and second in rebounds. The Lithuanian would end the weekend with 49 points, 18 rebounds and 14 assists, and missed a Triple-Double by just three assists on Sunday.
Her scoring prowess, along with regular points from Koop, Fuchs-Robetin, Ohrdorf and Simioni saw the hosts win the second quarter by 12, leading 38-33 at the break.
The Eagles would add to that in the third, Kvederaviciute hitting three consecutive twos to start the second half as her side would add three to the lead.
A 43-point fourth quarter, split 21-22 in favour of the visitors, would close down a great weekend for the Eagles as Bunten's ladies sit third with a game in hand on the top two.