Tale of two halves disappoints Hunters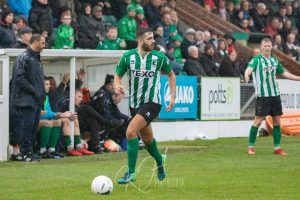 Blyth Spartans had to settle for a replay away to Alfreton Town where Jack Hunter wants to 'put it right'.
Spartans dominated the first-half but 'tried to go long too much' after the restart which allowed the visitors back in the game.
However, Hunter is eyeing a place at Wembley admitting 'there's not many better' than the biggest stadium in England.
Hunter has enjoyed a run of games in Lee Clark's side which has seen them lose just twice in the league since September 14.
He again dominated the midfield alongside Lewis Hawkins as they launched attacks and battled hard to win the ball back in midfield.
The home side took a deserved lead through Michael Sweet and should have added more which makes the defeat tougher to take.
Sloppiness crept into their game in the second half which left Hunter disappointed and frustrated.
He said: "Especially the first half we played really well and I think that's where we want to be at. We've set really high standards the last six weeks.
"It's disappointing as the second half we didn't play as well I think the pitch did play a part in that but we look to put that right on Tuesday in the replay."
The Blyth fans were left frustrated with the referee as a number of tough challenges only receiving yellow cards.
Hunter added: "I think there was a few naughty challenges in the first half but that's down to the ref to try and get hold of the game which is disappointing.
"Players like Cal (Roberts) are main men and if people are trying to do them it's not ideal but we look to get on with our own game and let the referee sort that out."
It was obvious to Hunter what changed in the second-half as Spartans did not play their own game.
He added: "I think we tried to go long too much in the second half.
"It is hard in those conditions but we will try and put it right on Tuesday we're confident that we can."
The final of the FA Trophy will be played at Wembley which is a huge incentive for Spartans to showcase their talent on a huge stage.
Hunter said: "The aim is to go as far as we can, the gaffer was saying the final is at Wembley and that's got to be where we're aiming to play.
"As a footballer, you want to play at the best stadiums and there's not many better than Wembley."