An interview with Oli Bell: "Take every opportunity that comes your way. No matter how big, small or important you think it is"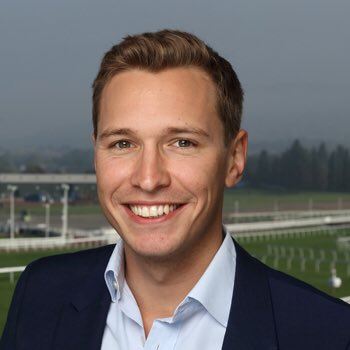 – Oli, growing up with a father who works in the media side of the racing industry, and obviously your uncle is a successful flat trainer, did you only ever want to work in racing?
Not really, I grew up with my Mum actually in Somerset so I was away from the horses. My Dad and his side of the family were massively involved in it, but it wasn't like I grew up around horses or racing. I was well aware of it, but I was quite open minded and then when I got a bit older the media side of things was something I was always quite interested in. I had always had a passion for racing and followed it from afar, but I thought as I got a bit older it would make sense to combine the two passions I had: media and racing.
– Surprisingly, you didn't go to University and gain a degree. Can you briefly explain how you went about getting your foot into the media side of racing?
From school I just worked my way up, I was never one for the studies. When I was at school everyone was expected to go off to university. You did UCAS applications, and I just never really wanted to go. So what I did was just work experience from the age of about 15 onwards, just whatever I could get my hands on essentially. Behind the scenes at sporting events, making coffees, if I'm completely honest just putting myself in a position where ultimately by the time I'd left school I had enough on the CV which sounded relatively impressive just from the amount of work I'd done in covering sporting events.
The reality is that I didn't actually have an awful lot of experience, and I couldn't just walk straight into presenting so what I did was sent off a load of CV's when I left school to various different organizations like the Racing Post, Racing UK, Attheraces. Racing UK gave me a screen test and a job interview, and both went pretty well I thought but I didn't hear anything back from them for a while so I went off travelling. It was getting to a point where I was thinking I would have to go off to university because I didn't have a job. Then just at the point where I was about to submit my application to university, Racing UK said there was a job available and would I like to take it. It was at the bottom of the ladder as an 'Editorial Assistant' but I thought if I know what I want to do there's no point going to university. So I took it and worked my way up.
– You've been involved with RacingUK/Racing TV from the age of 18, can you remember your first ever live broadcast and the emotions you felt leading up to it?
The first time I did a live was at Salisbury, I'm guessing back in 2008. I couldn't sleep the night before, I was absolutely buzzing, terrified, excited trying to think of what to say. I'd done the form for each horse extensively from about three days out so I knew the racecard, but I think when you're young you try and get knowledge across and prove a point.
What I've found from being in the position of a first timer to having some more experience under my belt is that the production teams I've worked with have been absolutely first class at guiding relatively inexperienced people through. You can be made to look a lot more experienced than you actually are because of good production and good producers. I was terrible to be honest, absolutely awful. I remember blinking lots, talking too quickly and you almost forgot to breathe in a way. You forget the basics, and it was eye opening. I got in the car thinking I'd absolutely nailed it, when actually I was awful.
– You landed the ITV Racing gig back in 2016. Can you describe the differences between broadcasting for a racing channel and on national television?
The main one is that you're presenting to everyone on terrestrial television compared to presenting to a racing audience on RacingUK. You know that if you're paying money to subscribe to RacingUK that the level of passion and knowledge is slightly more advanced than if you've stumbled across racing on a Saturday afternoon. I think you just have to be more aware that some of the things you might say on RacingUK may need more explaining to summarize for an audience that may be new to it, and it's quite a hard balance because whilst there is that audience on ITV, there is also that audience who are experienced racing fans. It's always a constant battle between not patronising the audience that know about racing, but educating those that don't. As long as you have an awareness that not everyone knows what you know in anything you present, and actually you should be asking the questions to the pundits as if you don't know anything. The pundits are there to talk. You've just got to have an open mind about your audience.
– Out of the countless shows you have broadcasted over the years, which has given you the greatest adrenaline rush and made you think 'that's why I love this job'?
I think it would be the Grand National last year. 'The Opening Show' we did for that was a real buzz. I remember going to the races, and with Tiger Roll there was a feeling that something special could happen, and it's a real shame that's not the case this year. I think we got the morning right, we covered enough of the horses but also focused on Tiger Roll enough. I think any of the big festivals make you go up a gear and realise how lucky we are to do the job we do.
– We've recently had the Cheltenham Festival, and seen yourself present 'The Opening Show' every morning. Are you still able to fully enjoy the big occasions, despite there being such huge pressure and demand on yourself? Is it not draining? How do you unwind after going off air?
How do I unwind? You don't really have time to because by the time you finish you're into the next show. Do I enjoy it? Massively, I'm a racing fan like anyone else, the only difference is I don't get to go the bars and watch it. I watch it from a position like in the 'Social Stable'. I think the feeling I get on the morning of those big festivals is exactly like anyone else. I wake up on the Tuesday of the Cheltenham Festival, and I'm buzzing to get to the track, take in the atmosphere and see the horses walk round in the morning. I'm in a very fortunate position where I get to present right by the stables and see Willie Mullins' string and just get right into the mix of it all.
I feel the same as everybody else watching and I'm so fortunate to be in that position. I don't take it for granted at all. Unwinding is slightly more difficult, because what I find is that my brain is always thinking about the show the next day. Things such as what to say, questions to ask, form of horses. During the big festivals, it may look like a lot of fun and glamour, but I do The Opening Show, then there's a quick turnaround, afternoon programme, back to the hotel, production meeting for the morning, production meeting for the afternoon. By then you're knackered, before you know it, it's 9.30pm and you're up at 5.00am the next day to do it all again. It's a lot of work but I can't complain.
– With racing cancelled for the foreseeable future due to the outbreak of COVID-19, can you describe your day-to-day routine has altered? What are you doing to fill your time?
I'm playing a lot of poker at the moment, I used to play it quite seriously when I was younger. Just doing anything to fill my time really. Painting, going for runs, and trying to use the brain really. It's very easy for us in this time to sit on our hands and say this is rubbish, but actually it's a great opportunity for people to do the things they say they'd want to do but don't actually have the time do it. Whether that's read books, painting, doing a puzzle, whatever floats your boat.
The thing is for most people they have a nine to five routine, and this has massively taken a lot of people out of their routine but because of my job, I could have Monday, Tuesday, Wednesday off anyway. So it's not a massive culture shock to me as I can sometimes have a lot of time on my hands.
– What would be the one 'golden' piece of advice you would offer to people like myself, whose dream is to work in broadcast media, particularly in racing?
Take every opportunity that comes your way. No matter how big, small, or important you think it is. I know that it's a bit of a cliché, but when I was doing work experience at loads of different events, I would say yes to everything. You just don't know at that event who you've said yes to could be someone in years to come who offers you a job as a reporter or a presenter.
A lot of young people expect to be given the lot straight away. They expect to be given a job as a presenter on day one. That just simply doesn't happen, so what you need to do is go into every job whether it's tea boy or whatever thinking that it's an audition for a job as a presenter. If you work hard, are diligent, polite, attentive, on time look smart you'll get noticed if you're in the room. But you won't get noticed if you're not in the room.
Talent will always win, I truly believe that.
– Finally, I'd like you to make one bold prediction to do with racing this year?
Two For Gold will win the Ladbrokes Trophy.