Westend Manager Darren Liddle one of many disheartened as FA "expunge" clubs efforts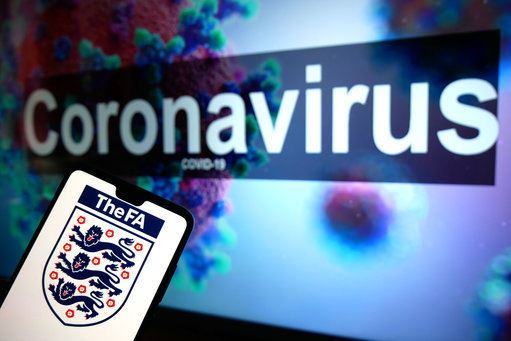 Amid the Coronavirus pandemic and world football at a standstill, the English Football Association announced Thursday that they would be cancelling the 2019/20 season for all leagues step three and below, and that there would be no promotion or relegation for any team affected.
Such news has received widespread backlash for disheartened clubs up and down the country, who are disappointed that their season has been cut short , with no reward for those who have excelled in their campaign.
According to Sky Sports today, the FA are under pressure from more than 60 non-league clubs, who have united to send a joint letter expressing "profound concern and displeasure" at the decision.
A few clubs who have been hit harder than most are Northern League Premier Division South Shields -who were favorites to win the league sporting a 12 point lead over second place – as well as Channel based Jersey Bulls, who had won all 27 of their competitive league games this season.
Sunderland Westend were one of the many Wearside based sides who were effected by this decision, and manager Darren Liddle expressed how disheartened he was to hear the news.
"For me as a manager its quite disappointing to have the season cut short especially with this being the clubs first season in the Northern League, but its completely justified by the situation the world finds itself in."
However, a silver lining for all clubs in the EBAC Northern Football League is that Chairman Glenn Youngman has revealed in a statement that the board will not be charging clubs membership fees for the 2020/21 campaign, in light of the current situation.
You can read the full statement below:
"This will be a huge disappointment to clubs, players and fans across our league.
"Our preferred option was that we should try and finish the current season, but if that was not possible then determine final positions on a points per game basis.
"However, it must have been a very difficult decision for the FA to make and whatever the outcome was, they were never going to keep everyone happy.
"Clubs and players in particular will feel frustrated that months of hard work and commitment will count for nothing. I'd like to thank everyone for all the work they have put in.
"We announced yesterday that we will be waiving membership fees for our clubs for next season and have cancelled the annual dinner. Both these measures will help our clubs meet the bills they are facing in the coming weeks and months.
"We hope everyone connected with the EBAC Northern League stays safe and well."
The dropping of membership fees now frees up money for clubs to spend on other things such as kits, training and resources.
"It's been a great gesture from the northern league to give all member clubs free league fees next season and it gives some of the smaller clubs like ourselves a real boost," said Liddle, adding: "To know we've got a little extra money to invest into better training kit is massive for us, especially now during a public health crisis when sponsorship could become quite difficult to come by."
When the 20/21 season will begin is still unknown, and it highly depends on how long self isolation measures which have recently been adapted need to stay in place. However many teams like Westend will be raring to get into it and make up for a season that has been robbed of them this year.