NBA Play-offs summary – Game 1: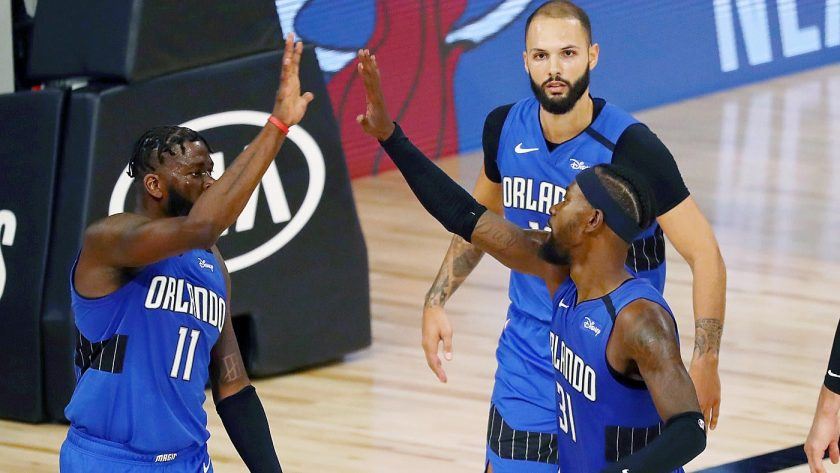 The NBA Play-offs began with eight exciting games over the first two days. History was made, tight games went down to the wire, and both conferences top seeds fell.
Here is a brief summary of how each of the first round first games went:
(The letter and numbers indicate the teams conference and seeding e.g. W1 = Western Conference first seed)
(W6) Utah Jazz 125 – 135 Denver Nuggets (W3) (Denver lead series 1-0)
The play-offs kicked off in incredible fashion as Jamal Murray's career high 36 points and Nikola Jokic's 29 points helped the Nuggets overcome the Jazz in an overtime win, despite Donovan Mitchell notching the third highest points tally in play-off history.
Mitchell (57 points), who is only third to Elgin Baylor (61 points) and Michael Jordan (63 points), will feel disappointment that his team couldn't close out their late lead to prevent an overtime period in which the Jazz collapsed.
(E7) Brooklyn Nets 110 – 134 Toronto Raptors (E2) (Toronto lead 1-0)
Fred VanVleet became the first Raptor to score 30 points and have 10+ assists in a play-off game, as Toronto eased past the Nets to take Game 1.
The Raptors took a large early lead and maintained it to lead 73-51 going into the halftime break. Brooklyn fought back in the second half but the closest they cut the deficit to was nine points.
Toronto had seven players score double digit points while Brooklyn's leading scorer Timothe Luwawu-Cabarrot (26 points), came from their bench.
(E6) Philadelphia 76ers 101 – 109 Boston Celtics (E3) (Boston lead 1-0)
The most played out match-up in play-off history ended in a victory for Boston in a close Game 1.
The game itself was a back and forth affair where both teams traded buckets and were equally matched until the Celtics took off and closed the game out in the final stretch.
Celtics' Jayson Tatum top scored with 29 points and 13 rebounds, the last of which effectively secured the victory, Jalen Brown chipped in with 22 while Joel Embiid contributed in keeping the game tight with 26 points and 16 rebounds for the 76ers.
(W7) Dallas Mavericks – LA Clippers (W2) (Clippers lead 1-0)
Luka Doncic made history scoring 42 points on his play-off debut, however that wasn't enough to secure a Game 1 victory against the Clippers.
The Slovenian neared a triple double with nine assists and seven rebounds in a game that was tightly fought and at half time looked like either team could snatch the win.
The third quarter proved to be decisive however as the Dallas were held to 13 points and saw forward Kristaps Porzingis ejected for a second technical foul.
The Clippers held on thanks to Kawhi Leonard (29 points, 12 rebounds) and Paul George (27 points) take the first game.
(E8) Orlando Magic – Milwaukee Bucks (E1) (Orlando lead 1-0)
The first shock of the play-offs came courtesy of the one team that could technically call this a 'home' game.
Orlando took a healthy lead early on and never looked back. Nikola Vucevic (35 points, 14 rebounds) finished as the games top scorer, he was one of six Magic players to score double digit points.
Reigning league MVP Giannis Antetokounmpo score did 31 points in a lackluster Bucks side, but only one of those points came in the final quarter.
(E5) Miami Heat – Indiana Pacers (E4) (Miami lead 1-0)
Jimmy Butler (28 points) and Goran Dragic (24 points) came up with key buckets in the final quarter to keep a spirited Indiana side at bay to go 1-0 up in this series.
The two were backed up by Bam Adebayo's 17 point, 10 assist double double in a game that saw Miami trail by six after the first quarter, lead by eight going into the half and then have that lead cut down to just one going into the fourth.
Malcom Brogdon and T.J. Warren led the scoring for the Pacers with both scoring 22 points.
(W5) Oklahoma City Thunder – Houston Rockets (W4) (Houston lead 1-0)
The Houston Rockets took Game 1 despite missing Russell Westbrook.
James Harden (37 points, 11 assists), was one of five Rockets to score double digit points, and one of three to score more than 20. Jeff Green came up big off the bench with 22 points.
Danilo Galinari top scored for the thunder with 29 points while Chris Paul scored 20 against his former club but Shai Gilgeous-Alexander, who has often been a bright spark for OKC, only scored 9 on a poor shooting night for the youngster.
(W8) Portland Trail Blazers – LA Lakers (W1) (Portland lead 1-0)
The final Game 1 of the first round saw the second big shock as Portland inflicted defeat on the LA Lakers.
It was the first time since 2003 that both conferences top seeds were defeated by the eight seed, and the first time ever that it occurred on the very same day.
Damian Lillard led the way with 34 points and was given a helping hand by C.J. McCollum (21 points), Jusuf Nurkic (16 points, 15 rebounds) and Carmelo Anthony (11 points, 10 rebounds) as Portland took an first quarter 36-25 lead to set the tone of the game.
LeBron James (23 points, 16 assists, 17 rebounds) made history by scoring the first ever 20/15/15 triple double in play-off history. Anthony Davis scored 28 points and 11 rebounds and Kyle Kuzma scored 14 off the bench, but they weren't helped by the likes of Kentavious Caldwell-Pope, who had started the game at point guard and finished it with a lowly 1 point in 29 minutes with a 0% (0-14) shooting record.