NBA Play-off summary – Game 3: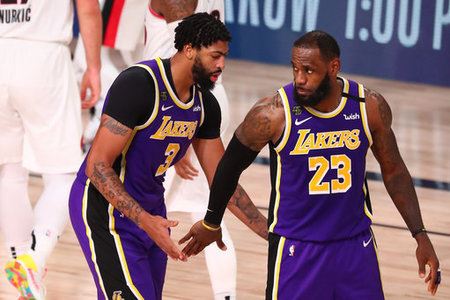 (E2) Toronto Raptors 117 – 92 Brooklyn Nets (E7) (Toronto lead 3-0)
The Toronto Raptors once again won comfortably to take a 3-0 lead and move within one win of sweeping the series.
Toronto won every quarter en route to a 25-point win, they were led by Pascal Siakam (26 points, 8 rebounds) accompanied by the inputs of Fred VanVleet (22 points) and Serge Ibaka (20 points, 13 rebounds).
Tyler Johnson top scored with 23 points, but the Nets as a team shot 33% from the field, in contrast to Toronto's 50% shooting.
(W3) Denver Nuggets 87 – 124 Utah Jazz (W6) (Utah lead 2-1)
Utah won big to turn the series around and lead 2-1 over their Western Conference rivals.
Mike Conley (27 points), made his play-off debut for the Jazz and didn't disappoint in his 25 minute showing. Rudy Gobert (24 points, 14 rebounds) and Donovan Mitchell (20 points) ensured that the points were shared out on the offensive end.
Denver in comparison never had a player score more than Nikola Jokic's 15 points. Three players scored above 10 points which shows what a great defensive shift the Jazz put in.
(E3) Boston Celtics 102 – 94 Philadelphia 76ers (E6) (Boston lead 3-0)
The Sixers will have to dig deep to avoid a first series sweep in 31 years as they lost again to trail the series 3-0.
The game was actually a close contest; there were 10 lead changes, the score was tied 11 times and neither team led by more that 10 points.
Kemba Walker (24 points, 8 rebounds) and Jaylen Brown (21 points, 7 rebounds) led the scoring as four of Boston's starting five scored double digit points.
The same could be said for the 76ers who were led by Joel Embiid's 30 points and 13 rebounds, but their bench only contributed nine points while Boston's bench contributed with 20.
(W2) LA Clippers 130 – 112 Dallas Mavericks (W7) (Clippers lead 2-1)
Kawhi Leonard (34 points, 9 rebounds, 8 assists) helped the Clippers regain the series lead over a Mavericks side that lost Luka Doncic to a third quarter ankle injury.
After a deadlocked first quarter, the Clippers took control of the game outscoring Dallas 79-62 in the two middle quarters, all while shooting 52% as a team from the field.
Kristaps Porzingis stepped up with 34 points and 13 assists to keep the game close even after the injury to Doncic, who himself managed a 13/10/10 triple double before exiting the field.
With news that Doncic may be a doubt for Game 4, Dallas may feel that this series is slipping away from them.
(W4) Houston Rockets 107 – 119 Oklahoma City Thunder (W5) (Houston lead 2-1)
The Thunder needed overtime to defeat the Rockets and claw their way back into this first round series.
Dennis Schroder (29 points), was one of four Thunder players to score 20+ point with the other three being Chris Paul (26 points), Shai Gilgeous-Alexander (23 points) and Danilo Gallinari (20 points).
James Harden top scored in the game with 38 points but fouled out just 53 seconds into the overtime period and OKC took the game from there.
(E1) Milwaukee Bucks 121 – 107 Orlando Magic (E8) (Milwaukee lead 2-1)
Giannis Antetokounmpo once again led the Bucks to another win as they turned their 1-0 deficit to a 2-1 series lead.
The reigning MVP put up another majestic stat line boasting 35 points, 11 rebounds, seven assists, two steals and a block as his side held onto a 27 point first half lead to run out comfortable winners.
D.J. Augustin (24 points) and Terrence Ross (20 points) provided scoring off the bench that their starting five couldn't, apart from Orlando's best player once again was Nikola Vucevic, who scored 20.
(E4) Indiana Pacers 115 – Miami Heat (E5) (Miami lead 3-0)
Indiana were within two and a half minutes of forcing their way back into the series, but instead thanks to an 8-0 scoring run by the Heat, are now one loss away from elimination.
Seven players; four from Miami and three from Indiana finished the night with 20+ points in a back and forth affair that saw the Heat gain and then lose a big lead.
Jimmy Butler (27 points, 8 rebounds & a huge block with 1:17 left in the game), Goran Dragic (24 points), Bam Adebayo (22 points, 11 rebounds) and Tyler Herro (20 points) contributed big for Miami
Malcom Brogdon (34 points, 14 assists, 7 rebounds), T.J Warren (23 points, 5 steals) and Victor Oladipo (20 points) helped keep Indiana in the game.
(W1) LA Lakers 116 – 108 Portland Trail Blazers (W8) (Lakers lead 2-1)
A decisive third quarter put the Lakers in the driving seat in this game and this series as they now lead 2-1 over the Portland Trail Blazers.
LeBron James (38 points, 12 rebounds, 8 assists) and Anthony Davis (29 points, 11 rebounds, 8 assists) combined for 67 of the Lakers' 116 points in an otherwise close game between the two sides.
Damian Lillard bounced back with 34 points and seven assists, C.J. McCollum scored 28 points and Carmelo Anthony got 20 points and four steals. However, that wasn't enough for a Portland side that as a team were out rebounded and out assisted by the West's top seed.