NBA Play-offs summary – Game 4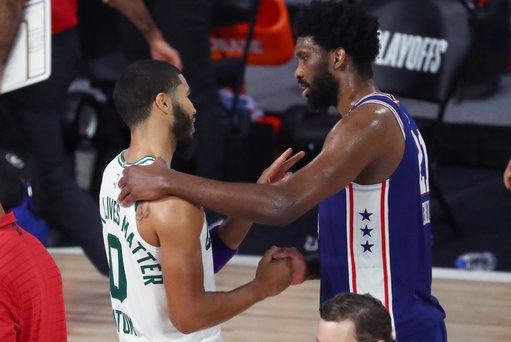 (E3) Boston Celtics 110 – 106 Philadelphia 76ers (E6) (Boston win series 4-0)
Philadelphia's failure to build on, or even hold onto their one point halftime lead cost them both the match and the series as the Boston Celtics completed a 4-0 series sweep over the Philadelphia 76ers who fired head coach Brett Brown as a result.
The Celtics progressed to the Semi-Finals of the Eastern Conference play-offs as the Sixers suffered a first round series sweep for the first time since 1989.
As a result of their third quarter collapse, Philadelphia weren't able to get within 10 points until the final 20 seconds of the game, and by then it was too late.
The Celtics' offensive was led by Kemba Walker (32 points) and Jayson Tatum (28 points, 15 rebounds) as they saw out the series. Joel Embiid capped an impressive personal series despite the loss, tallying 30 points and 10 rebounds.
(W2) LA Clippers 133 – 135 Dallas Mavericks (W7) (Series tied 2-2)
Luka Doncic bounced back from his Game 3 injury with an overtime buzzer beater to clinch the victory for the Mavericks and level the series once again.
In winning the match, Dallas had to overturn a 21 point deficit in regular time, mostly thanks to a vital 35-19 third quarter. The overtime period was just as exciting as what was proceeded with eight lead changes in that five minute period.
Doncic finished with 43 points, 17 rebounds and 13 assists, a performance for the ages which he capped with a step-back three for the win.
Lou Williams top scored for the Clippers with 36 points, all from the bench, while on the field Kawhi Leonard led with 32 points and 9 rebounds.
(E2) Toronto Raptors 150 – 122 Brooklyn Nets (E7) (Toronto win 4-0)
The second settled tie of the first round saw Toronto win big as they swept the Brooklyn Nets to set up a Conference Semi-Final match up with the Boston Celtics
Like the previous three games in the series, the Raptors controlled the game throughout and took over thanks to a 39-19 third quarter. Norman Powell (29 points) and Serge Ibaka (27 points) both top scored for Toronto from the bench.
Caris LeVert led the games scoring with 35 points but no other Brooklyn's second top scorer only managed 13 points, and that's what cost them the game.
(W3) Denver Nuggets 127 – 129 Utah Jazz (W6) (Utah lead series 3-1)
Utah, against all odds, are now within one win of advancing to the next round of the Western Conference play-offs following their win in Game 4.
A down to the wire game saw Donovan Mitchell score 51 points for the Jazz while Denver's Jamal Murray matched with a career high 50 points in an affair that saw the team separated by a single point going into the final minute of play.
Mitchell was backed up by Mike Conley (26 points), Jordan Clarkson (24 points) and Rudy Gobert (17 points, 11 rebounds). While for the Nuggets only Nikola Jokic (29 points) managed more than Utah's third highest point scorer.
(W4) Houston Rockets 114 – 117 Oklahoma City Thunder (W5) (Series tied 2-2)
Dennis Schroder (30 points) once again led scoring for a Thunder side that battled back from a 2-0 deficit to level the series at two apiece after four games.
Chris Paul scored 26 for the second game running and Shai Gilgeous-Alexander added a nifty 18 points and 12 rebounds to help the cause.
James Harden put up an impressive 32 points, 15 assists, 8 rebounds and 4 steals. However, it was their commitment to the three ball that was their downfall, converting 23 of their 58 attempted three pointers.
(E1) Milwaukee Bucks 121 – 106 Orlando Magic (E8) (Milwaukee lead 3-1)
Giannis Antetokoumnpo continued his spectacular form with 31 points, 15 rebounds and 8 assists as the Magic once again struggled with answers for the Greek Freak.
With Orlando threatening a late comeback after closing the gap down to five going into the final quarter, the Bucks turned on the style to win the final quarter 37-25 leaving them a victory away from progression.
Khris Middleton helped out his fellow Buck with 21 points and 10 rebounds, while Orlando was once again led in scoring by the Montenegrin Nikola Vucevic who tallied 31 points, 11 rebounds and 7 assists.
(E4) Indiana Pacers 87 – 99 Miami Heat (E5) (Miami win 4-0)
The Miami Heat avenged their 4-0 regular season series loss to the Pacers by completing a 4-0 sweep of their own in the play-offs to advance to the Conference Semi-Finals.
Trailing after the first quarter, Miami went on to turn that into a 6 point lead, and went on to win the remaining two quarters and defeat the Pacers once and for all.
While Indiana did have three of the games five highest scorer in Victor Oladipo (25 points), Myles Turner (22 points, 14 assists) and T.J. Warren (21 points) along with Malcolm Brogdon scoring 13 points, no other Pacer managed to score more than three.
Miami shared out their points with Goran Dragic (23 points), Bam Adebayo (14 points, 19 rebounds) and Tyler Herro (16 points) holding up on the offensive end.
(W1) LA Lakers 135 – 115 Portland Trail Blazers (W8) (Lakers lead 3-1)
Once again the Lakers took an early lead and were out of sight from then on. Portland weren't able to close the deficit to less than 10 points after the first five minutes and trailed by a minimum of 20 points for the entire second half.
LeBron James managed 30 points and 10 assists, and was backed up by Kyle Kuzma's and Anthony Davis' 18 points, they were part of 6 Lakers to finish in double digit points.
And while the Trail Blazers had 8 players score double digit points, and Jusuf Nurkic top scoring with 20 points, their main threat of Damian Lillard was held to another quiet night. He finished with 11 points on 33% shooting from the field.