Drinks boss's alleged interest in SAFC 'a fakeover'
SOURCES at for-sale Sunderland AFC have labelled a reported takeover bid as a "fakeover".
Rich Energy drinks company boss William Storey has insisted on his social media that he is in talks to take over the club, but this has been met with scepticism by club insiders.
Sources at Sunderland today denied any knowledge of a takeover by Storey. One went as far as to label the supposed takeover as a "fakeover", and said they suspected it was a way to gain publicity for Mr Storey's energy drink brand.
Sources who spoke to SR News expressed bewilderment at Mr Storey's claim, and said he is yet to provide any information on who he is working with.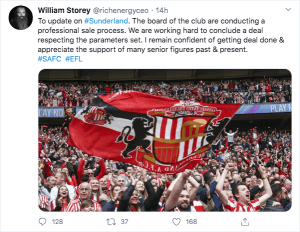 Mr Storey has a history of working in sport, and in 2018 was involved for a short period in a controversial sponsorship deal with Formula 1 team Haas
This is also not the first time that Mr Storey has linked himself with a takeover of a sporting organisation, and his alleged £100million bid was denied by Sahara Force India.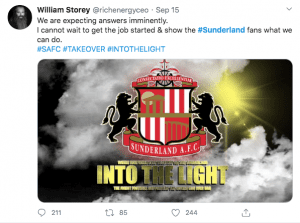 As recently as yesterday (September 21), Mr Storey tweeted again to say he was conducting a professional sales process and was confident a deal would be done.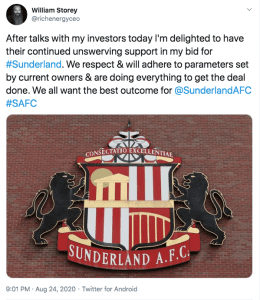 No details have been announced by Mr Storey himself about who his backers are, but he has claimed that they are substantial. He has also so far declined to publicly provide proof of his ability to buy SAFC, citing a non-disclosure agreement with his backers.
Sunderland is currently for sale, and the owners are looking for prospective buyers.
SR News was awaiting comment from Mr Storey today.