NBA Play-off summary – Game 7: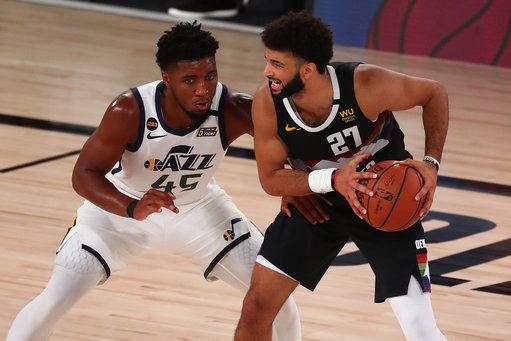 (W6) Utah Jazz 78 – 80 Denver Nuggets (W3) (Denver win 4-3)
A heart-stopping final possession fittingly ended the most entertaining series of the first round play-off match-ups.
Nuggets' Torrey Craig failed to convert a breakaway lay-up that would've put his team up by four points with seven seconds left on the clock. Utah's Rudy Gobert collected the rebound and found Mike Conley who raced up the court to take the final shot of the game.
His three point attempt would've won the series for the Jazz but it rattled the inside of the rim and bounced out as he and his teammates looked on in agony.
Jamal Murray wasn't in the same form as his last three games but he was still able to contribute a steady 17 points. Nikola Jokic led the Nuggets in scoring with 30 points and 14 rebounds.
Donovan Mitchell finished his play-off campaign with 22 points and nine rebounds and Rudy Gobert put up 19 points and 18 rebounds, but the Jazz will be thinking for days on end what could've been if Conley's shot had dropped.
(W5) Oklahoma City Thunder 102 – 104 Houston Rockets (W4) (Houston win 4-3)
The Houston Rockets avoided a big scare and beat the Oklahoma City Thunder thanks to huge defensive play by James Harden in the final moments of the series.
Harden's block on Lu Dort's three-point attempt with 4.8 seconds left in the game preserved the Rockets' lead and helped them get through a tough Game 7.
Harden (17 points, 26% shooting) admitted that he 'couldn't hit a shot' on what was a poor night for him, but Robert Covington (21 rebounds, 10 assists), Eric Gordon (21 points) and Russell Westbrook (20 points, nine rebounds) all played their part in ensuring the Rockets progress.
OKC rookie Dort almost created the story of the round, he led all scorers with 30 points and almost topped it off with a potential game winner if not for Harden's block.
Meanwhile Chris Paul (19 points, 11 rebounds, 12 assists) became the oldest player to record a triple-double in a play-off Game 7.
Houston will now face the Lakers in the Western Conference Semi-Final.