Hat-Trick hero Garner runs rampant as Gateshead notch biggest win of the season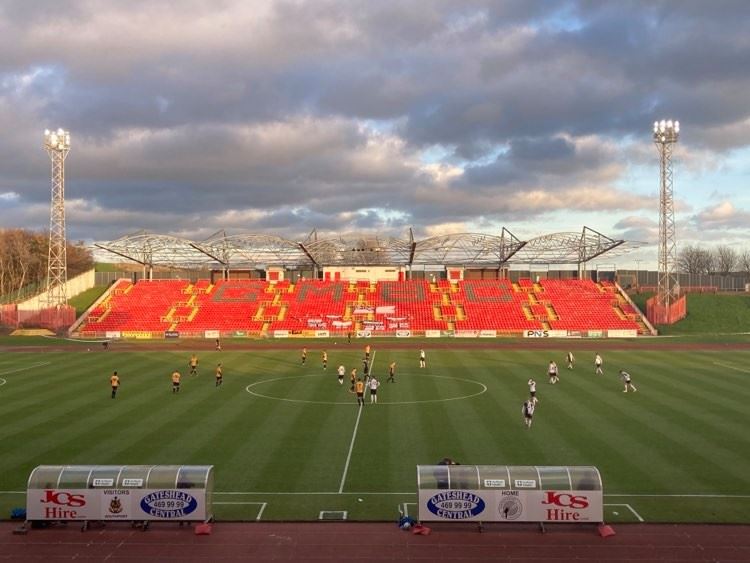 Gateshead FC 4-1 Southport FC
Hat-trick hero Ged Garner was on fire as Gateshead thrashed Southport in a five-goal thriller.
Garner, on loan from Fleetwood Town, took home the match ball and the man of the match award. Not only did he score three goals- each with their own special quality, he won a penalty to let team-mate Nicholson get in on the scoring.
By 90 minutes, Gateshead were out of sight and had dropped deep to protect a clean sheet, but Southport did finally find an answer through Jordan Archer's late headed goal. But at least Gateshead were able to put behind their nightmare in mid-week having shipped two very late goals to give up two points.
The pace was set in the opening minute when Southport played a long ball over the Gateshead defence. But Jake Cooper did well to win the foot race and shepherd the ball out of play.
In the sixth minute, Niall Watson's looping ball was falling invitingly for Marcus Carver but Harrison Male commanded his box well. It was his first start between the sticks with James Montgomery's injury. Again, a minute later he swept up well, quick off his line.
On 12 minutes, a flowing move began through Male's pinpoint throw out to the right touchline to Olley in a six-man move- which resulted in Griffiths finding Cook in the box. He was upended but the referee did not take any notice.
Southport's best chance of the first half came after a scramble in the box. Captain David Morgan kept his cool to steel himself and clip a ball to Carver in the box, who headed over from close range in the 41st minute.
But it was Gateshead that snatched a goal before half-time through Ged Garner. In the 46th minute, Olley found Garner, who made his space on the edge of the box, on the left-hand side, before picking his spot in the bottom right corner with a strong left-footed finish.
In the second half, Garner ran rampant.
His second goal of the match came in the 49th minute, receiving the ball from Jordan Preston, again on the edge of the box, left side, before smashing a shot to Hanford's left. This time the keeper got a hand to it, but the powerful strike could not be stopped.
It took Garner another four minutes to net his third. There was some great build-up play from Gateshead, with some rapid 1-2 play, Garner was played through on goal, central, in the box by Olley, where he kept a calm head to make it 3-0.
Garner was still not finished. Mohamud Ali fouled Garner in the box, with the referee pointing straight to the spot. Up stepped Alex Nicholson who rocketed the resulting penalty into the top left corner in the 55th minute.
But at 3-0, Southport were still not beaten. As Vassallo's corner came in it was headed narrowly wide by Ali, who could not make up for his previous defensive mistake in the 67th minute.
In fact, they even had a penalty call in the 71st minute. Carver went down under a challenge in the box with a Gateshead defender. The referee was not interested in his protests.
Finally, the breakthrough came for Southport in the 90th minute. Jordan Archer pounced on a cross on the back post to head home for no more than a consolation. Gateshead had dropped deeper and deeper to protect their then clean sheet, and Southport were throwing all they had at the defence.
FULL TIME 4-1 Gateshead.
Gateshead: Male, Nicholson, Smith (O'Donnell, 38), Hunter, Olley, Garner (Langstaff, 71), Griffiths, Cooper, Cook (Dale, 59), Greenfield, Preston. Subs unused: Cameron, Aplin.
Southport: Hanford, Oliver, Doyle, Anson, Morgan, Woods (Archer, 72), Carver, Challonor, Ali (Winnard, 71), Watson, Bainbridge (Vassallo, 57). Subs unused: McMillan, Newell.
Goals: Garner (45+1, 49, 53), Nicholson (56)
Archer (90 minutes)