NFL Weekly Round-up: Week 10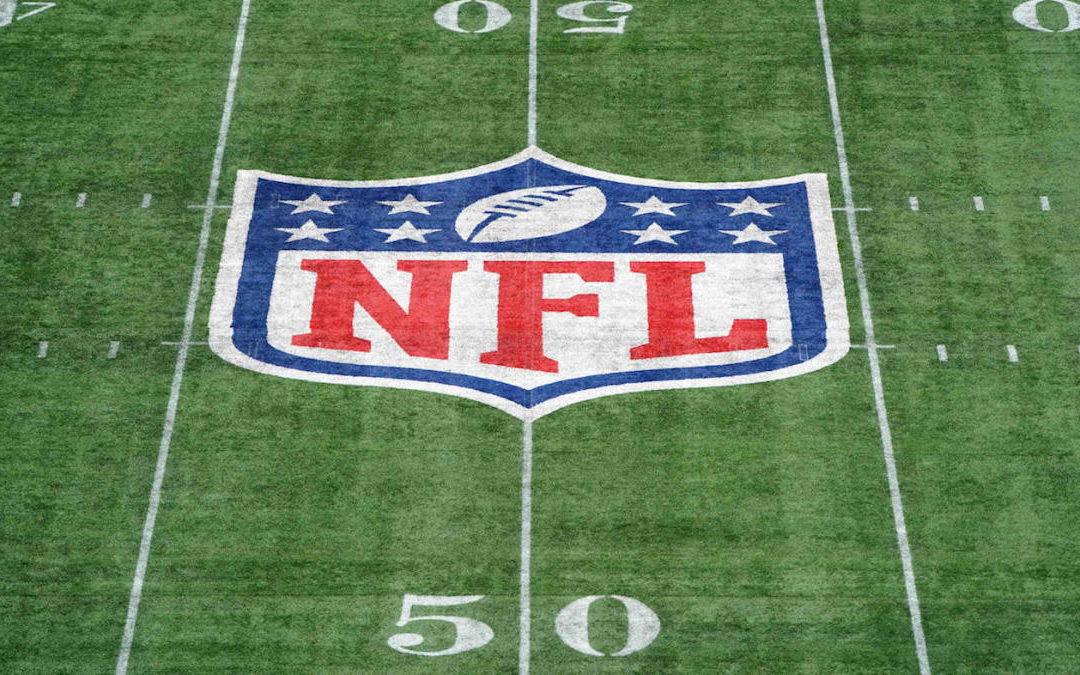 Week 10 results:
Baltimore Ravens 10 – 22 Miami Dolphins
Buffalo Bills 45 – 17 New York Jets
Tampa Bay Buccaneers 19 – 29 Washington Football Team
Atlanta Falcons 3 – 43 Dallas Cowboys
New Orleans Saints 21 – 23 Tennessee Titans
Jacksonville Jaguars 17 – 23 Indianapolis Colts
Detroit Lions 16 – 16 Pittsburgh Steelers
Cleveland Browns 7 – 45 New England Patriots
Minnesota Vikings 27 – 20 Los Angeles Chargers
Carolina Panthers 34 – 10 Arizona Cardinals
Philadelphia Eagles 30 – 13 Denver Broncos
Seattle Seahawks 0 – 17 Green Bay Packers
Kansas City Chiefs 41 – 14 Las Vegas Raiders
Los Angeles Rams 10 – 31 San Francisco 49ers
Teams on bye week: Chicago Bears, Cincinnati Bengals, New York Giants, Houston Texans.
Week 10 power rankings top 5:
1. Green Bay Packers (8-2) – The Packers had Aaron Rodgers back at quarterback this week but struggled to put up many points on the Seahawks defense. On the other side of the ball though the Packers defense was playing the best it has played all season, limiting Russell Wilson to 193 total yards, and intercepting him twice with no touchdowns.
2. Tennessee Titans (8-2) – The Titans keep rolling on without Derrick Henry. Seeing off the Saints this week in a close contest where both teams were missing their star running backs (Alvin Kamara for the Saints). The Titans face the 1-8 Texans next hoping to extend their winning streak to seven games.
3. Arizona Cardinals (8-2) – Despite the Cardinals losing two of their last three games they are still one of the best teams in the NFL. The last two games have been tough without numerous key players due to injury, but the Cardinals are being smart by keeping their key players out for now, so they can come back more refreshed with less chance of re-injuring their best players. Head Coach Kliff Kingsbury will be hoping Kyler Murray is fit enough to play this weekend against divisional rivals, the Seattle Seahawks.
4. Dallas Cowboys (7-2) – One week on from their surprise loss to the Broncos, the Cowboys came back this week with a bang, blowing out the Falcons 43-3, the score was 36-3 at half time and the Cowboys didn't really have to keep their starters on the field because it was game over at half time.
5. Buffalo Bills (6-3) – The Bills, like the Cowboys suffered an upset defeat last week and like the Cowboys bounced back in style with a 45-17 dismantling of the Jets. Intercepting Jets quarterback Mike White four times, the Bills defense were on top in this one with 14 of the Jets 17 points coming in the fourth quarter when the game was over.
Week 10 fantasy player of the week:
Patrick Mahomes (Quarterback – Kansas City Chiefs) – 36.24 points: After a rough start to the season Mahomes finally found his rhythm against the Raiders. Completing 70% of his passes for 406 yards and five touchdowns and no interceptions. Only the third time this season that Mahomes hasn't threw an interception (week one v Browns, week nine v Packers).
Week 10 offensive player of the week: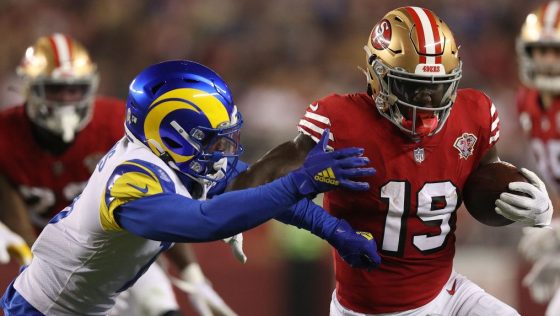 Deebo Samuel (Wide Receiver – San Francisco 49ers) – In the 49ers blow out win over the LA Rams Samuel had five receptions of 97 yards and a touchdown and rushed five times for 36 yards and a touchdown, totaling 133 yards and two touchdowns. For the season Samuel now has 54 receptions, 979 receiving yards, 58 rushing yards and seven total touchdowns. Samuel is averaging 109 receiving yards per game which is second in the NFL.
Week 10 defensive player of the week: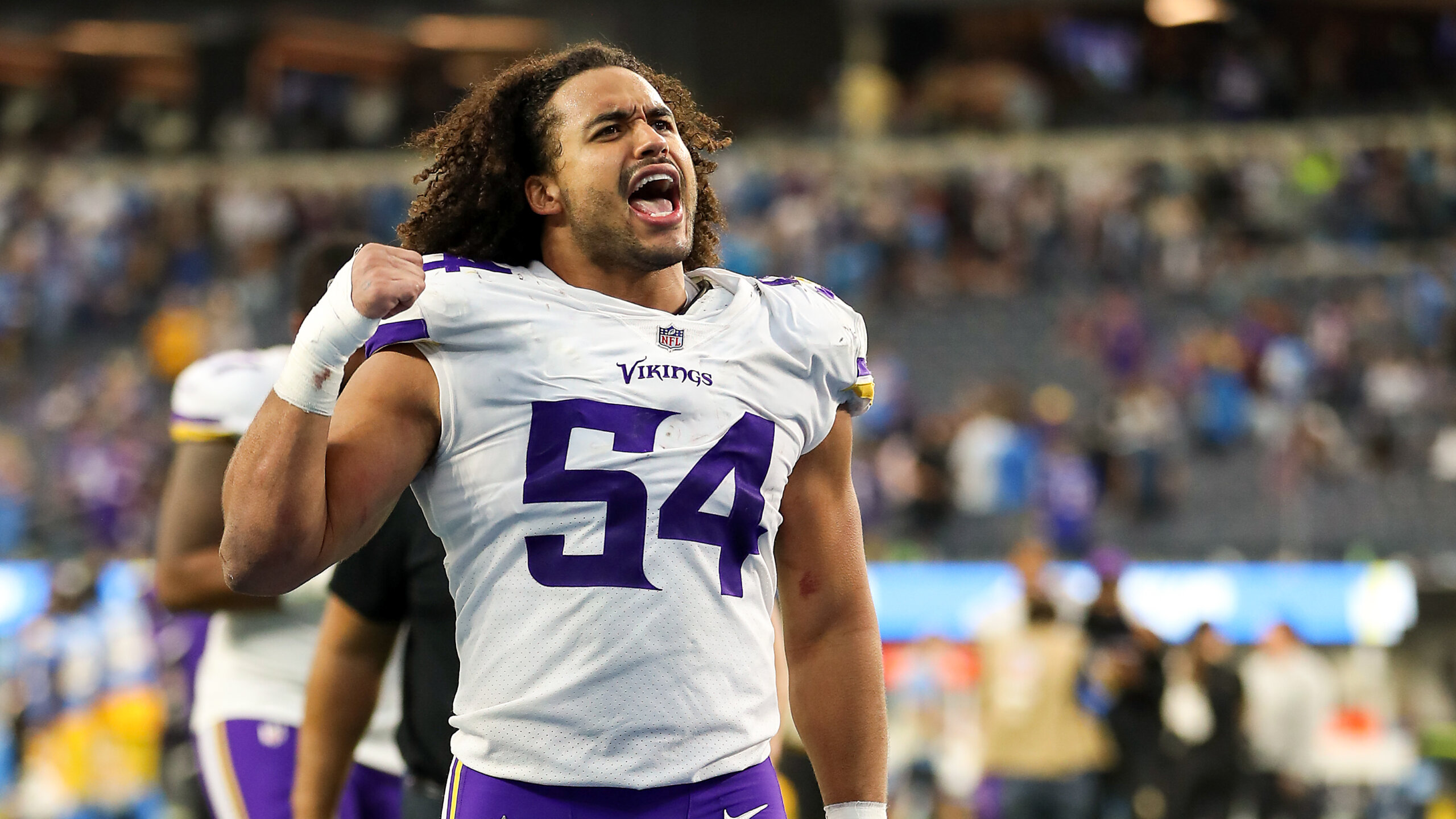 Eric Kendricks (Linebacker – Minnesota Vikings) – Kendricks made a big play in yet another tight game for the Vikings. Mid-way through the second quarter Kendricks intercepted Chargers quarterback Justin Herbert to set up a short field for the Vikings offense, which they took advantage of by scoring a touchdown to make the score 13-3. Kendricks had seven tackles, one sack, a tackle for loss and an interception.
Week 10 bust of the week:
Matt Ryan (Quarterback – Atlanta Falcons) – A week after a stellar display against the Saints, Matt Ryan failed to impress against the relentless Cowboys defence. Last week Ryan threw for 343 yards completing 23 of his 30 throws (76.7%), throwing two touchdowns and no interceptions, in comparison to this week where he only completed nine of 21 throws (42.9%) for 117 yards, threw two interceptions and no touchdowns. Ryan had a passer rating of 135.8 against the Saints whereas against the Cowboys he had a rating of 21.4.
Week 10 play-off picture:
AFC
1. Tennessee Titans 8-2
2. Buffalo Bills 6-3
3. Baltimore Ravens 6-3
4. Kansas City Chiefs 6-4
5. Pitsburgh Steelers 5-3-1
6. New England Patriots 6-4
7. Los Angeles Chargers 5-4
NFC
1. Green Bay Packers 8-2
2. Arizona Cardinals 8-2
3. Dallas Cowboys 7-2
4. Tampa Bay Buccaneers 6-3
5. Los Angeles Rams 7-3
6. New Orleans Saints 5-4
7. Carolina Panthers 5-5
Week 10 spotlight –
Game of the week:
Dallas Cowboys (7-2) @ Kansas City Chiefs (6-4)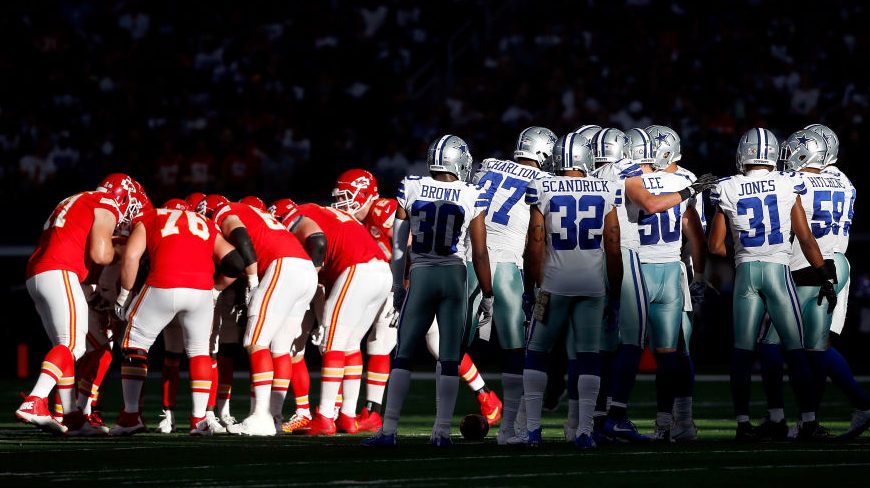 One of the best teams in the AFC goes head-to-head with one of the best teams in the NFC this weekend when the Dallas Cowboys go on the road to play the Kansas City Chiefs at Arrowhead Stadium. Both teams come into this game after scoring over 40 points in their last game, it took some time, but Patrick Mahomes is finding his rhythm, the same rhythm that Dak Prescott has had throughout most of the season. This game has potential to be a game of the season contender and will be two red hot offenses going toe to toe.
Prediction: Dallas Cowboys 27 – 34 Kansas City Chiefs