North Shields 2-0 Seaham Red Star – Match Report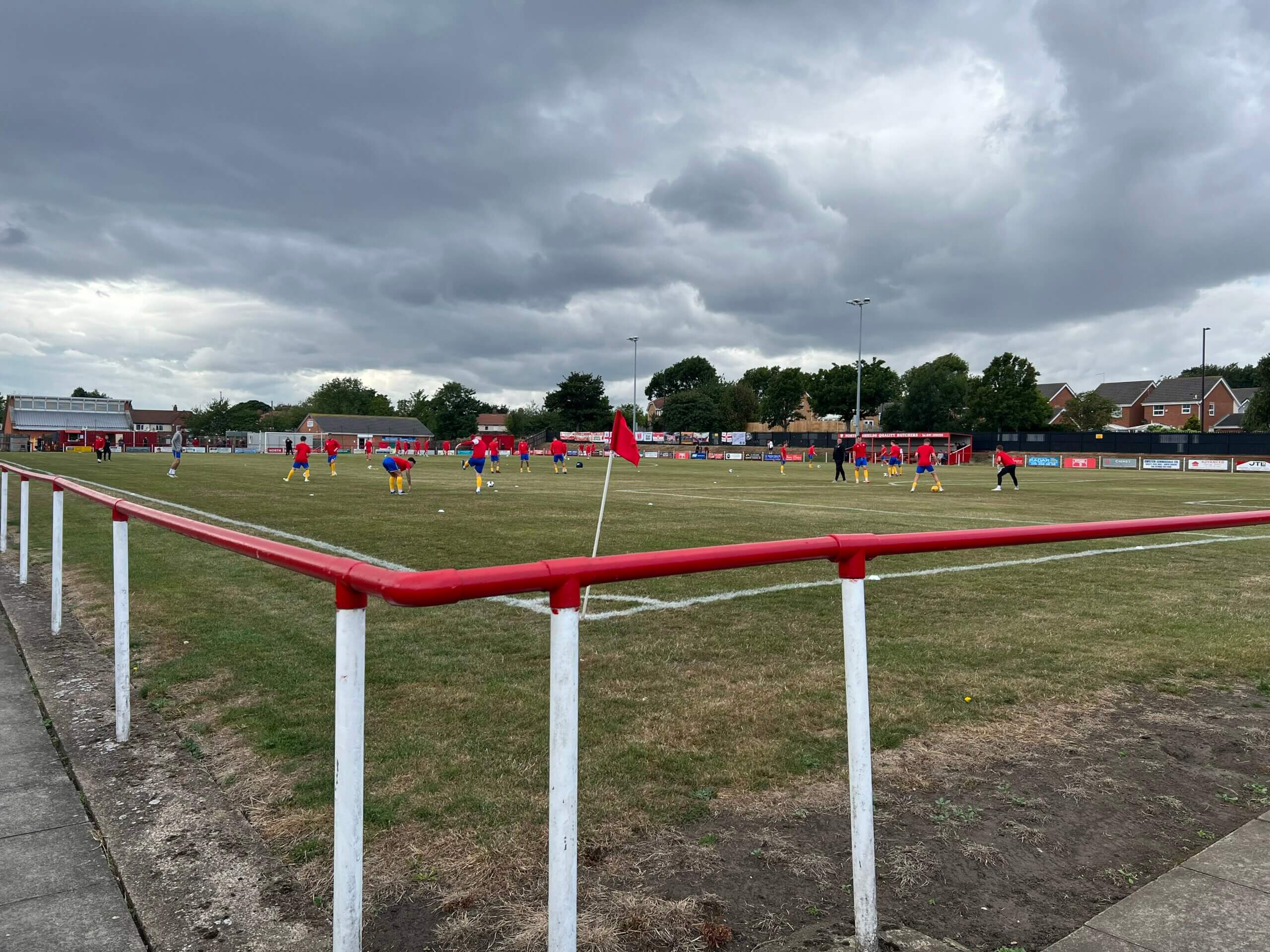 A Cameron Cunningham brace for North Shields saw off a spirited Seaham Red Star in the FA Cup preliminary round.
The Robins first struck close from range in the 45th minute before Cunningham followed up on the cusp of full-time, slotting coolly past keeper Andrew Jenson.
It's fair to say the weather played its part as the worsening weather conditions intermittently dampened the quality of chances either side produced.
But the first real chance for North Shields came in the 12th minute when Cunningham set up talisman Dan Wilson, who nodded the ball off the crossbar.
Brad Hird made himself known to Jenson, meanwhile, with follow-ups in the 24th and 33rd minute denied.
But the real moment of quality came on the brink of half-time, when, following a tight scramble in the box, Cunningham gave the home crowd of 304 something to cheer about.
North Shields carried on in the second half with quiet confidence, at times withholding Seaham's increasingly urgent display.
Even an injury to North Shields keeper, Finlay Hodgson, in the 52nd minute couldn't stop the Robins this afternoon.
Substitute keeper, Callum Elliott proved himself to be an excellent stand-in.
Thomas Bott headed the ball down in the 63rd minute in the six-yard box believing an equaliser could be found but Elliott reacted superbly and got a hand to it.
Moments later the same situation happened but reversed – Wilson closed in for North Shields in the 65th minute but Jenson blocked the resulting effort.
Elliott prevented surefire attempts in the next 10 minutes from Bradley Chisholm and Mark Robinson earning himself some plaudits for sure.
The defining moment in the second-half, besides Cunningham's winner, must be David Robinson's red card in the 79th minute, following a booking only one minute earlier.
North Shields' Twitter noted that it was a "controversial decision as Robinson gets sent off for something he didn't do…" but the referee's (Jordan Nicholson) decision stood unprotested.
However, the game petered out while the rain picked up again, but not before Cunningham doubled the lead for the Robins in virtually the last kick of the match.
Robins manager, Marc Nash, told the club's website: "Cup football is always about the result and conditions were really tough.
"Cup football can bring up these little scenarios [Elliott replacing Hodgson and his performance] and he's come off the bench and probably won the game for us."
North Shields: Finlay Hodgson (Callum Elliott), Liam Doyle, JJ Chrisp (Chris McDonald), Connor Oliver, Jack Walker, Tom Bexton, David Robinson, Cameron Cunningham, Dan Wilson, Brad Hird, Regan Paterson ( Paul Van-Zandvliet).
Subs: Anthony Myers, David Palmer, Josh Walker, Rio Joisce.
Seaham Red Star: Andrew Jenson, Joshua Baggs (Morgan Dart), Daniel Sayer, Darryll Donnelly, Max Nelson, Thomas Bott, Carl Lawson, Bryan Taylor (Kevin Pearn), Bradley Chisholm, Mark Robinson, Joseph Hailes.
Subs: James Robinson, Thomas Lawson, Jack Patton, Daniel Hailes.