Japanese Grand Prix: Why was it such an embarrassing mess of a title decider?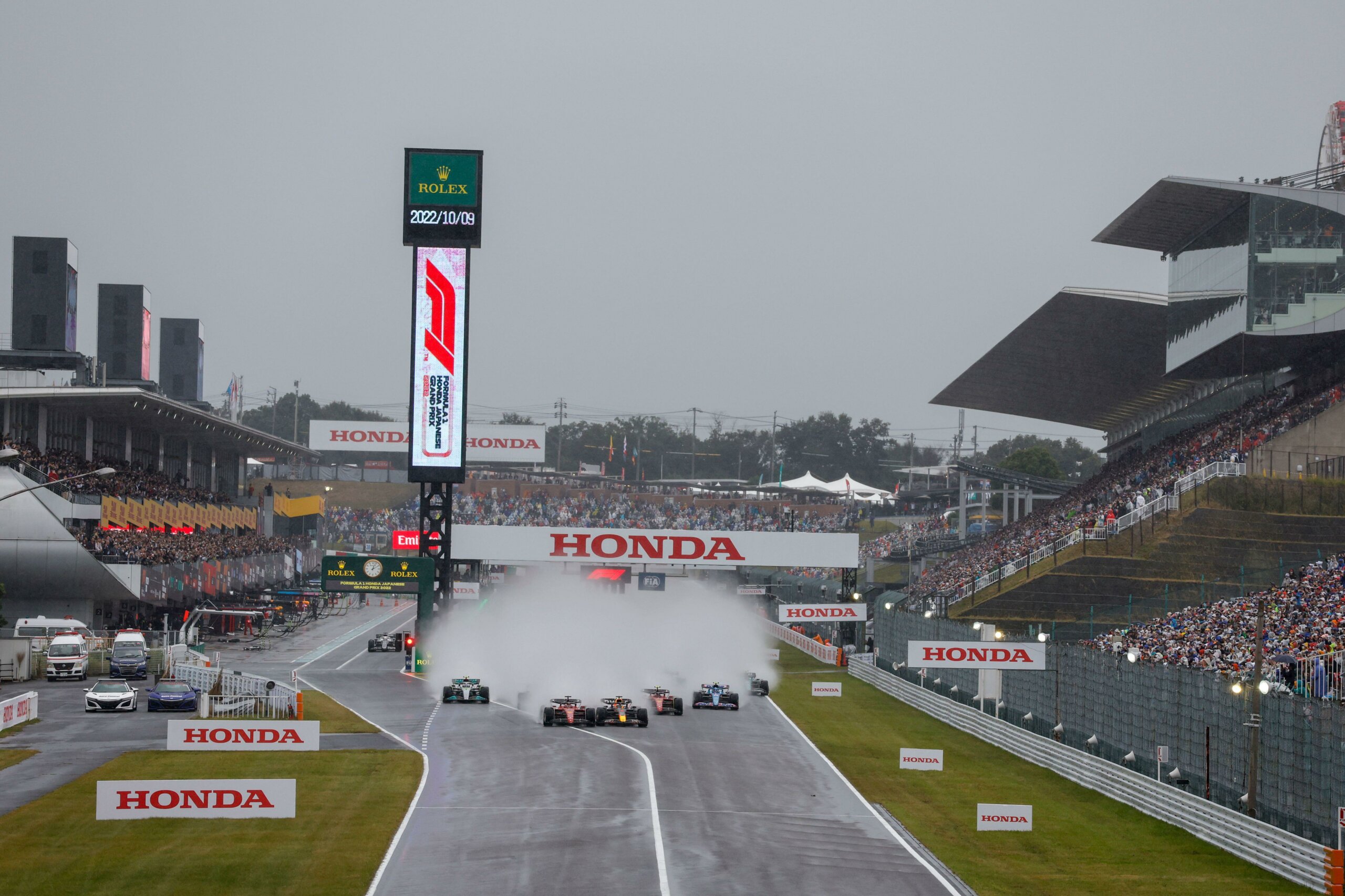 F1 left Japan with them having created a Dai chaban geki (big farce in Japanese) over how the title was decided and how we almost repeated an F1 tragedy.  
Most F1 fans awoke at 4.25 am on Sunday expecting a simple race, Max Verstappen was expected to win, and Charles Leclerc as well expected to finish in second and the title was seemingly going onto the next round at COTA.  
However, just as Sky Sports finished their initial introductions. Heavy Rain arrived. This led to excitement amongst the grid and fans. F1 was going to crown a new winner today perhaps or could the rain spice up what already was seen to be a done deal of a championship? So came the start. Max got away well, and Charles followed behind. However, conditions were bleak, visibility was poor, and inevitably Carlos Sainz spun out of turn 11 and ended up in the wall on lap one.  
The race was of course red flagged. This is where the first controversy arose. Pierre Gasly was speeding under the caution to catch up after a previous incident. However, due to visibility being poor he almost crashed into a tractor placed on the circuit to recover Sainz's car. 
 This led to during the red flag (which lasted for 90 minutes) Gasly, Sergio Perez and Lando Norris having to voice their anger as Pierre could have been killed in an equivalent manner as to how Jules Bianchi was killed in 2014 again at Suzuka. This incident angered drivers, fans, and media alike which has now led to an inquiry about the incident and how the clerk of the course allowed a tractor to enter the circuit without taking note of the various other cars on the track. 
The other controversy that arose leaving people asking as to why the Japanese grand prix was such another huge mess was how the race points were distributed after the race was resumed following the red flag pause for track and weather clearance.
After last year's diabolical events at the spa, the points rules were mended under Article 6.5 to allow for points to be distributed depending on how far the race was run. This therefore led to Sky's David croft disagreeing with the world feed points graphics live on air and saying Max can't  win the title due to the amount of points given as in his mind the field had only completed half the distance which  while he was correct he (did not like a lot of people) read the clause which stated if only the race can't be resumed article 6.5 comes into effect however the race was resumed therefore allowing max to win the title confusingly due to a five second penalty given to Leclerc (the penalty was given for a corner cut which dropped Charles to third). 
This was only confirmed post the race interviews which lead to max, not realising he won the title until F1 invited him into a special "champions room" and gave him a throne to sit on.  
These two incidents marred what was meant to be a jubilant return for one F1s classic races however f1 fans media and teams were left with a bad taste in their mouths as not for the first time in the last two years the FIA had angered the community with their decision making and overall governance. This has now led to calls for heavy reform within the FIA which is struggling to keep its competency when it comes to decisions now having in the last two seasons, decided a title by applying safety car rules incorrectly, allowing racing to take place less than two miles from a missile strike area in Saudi Arabia and now almost repeating one of F1s greatest tragedies and giving us the most anti-climactic title finale in recent memory. 
This leaves us asking the question will Formula One become a World Championship and not a FIA governed and sanctioned World Championship?