Formula E Round 4- Hyderabad Hysterics lead to Vergne and DS-Penske taking shock win
Another crazy weekend in Formula E's debut race in India left fans more than satisfied as Jean-Eric-Vergne took his first win in two years with Nick Cassidy and Antonio Felix Da Costa joining him on the podium.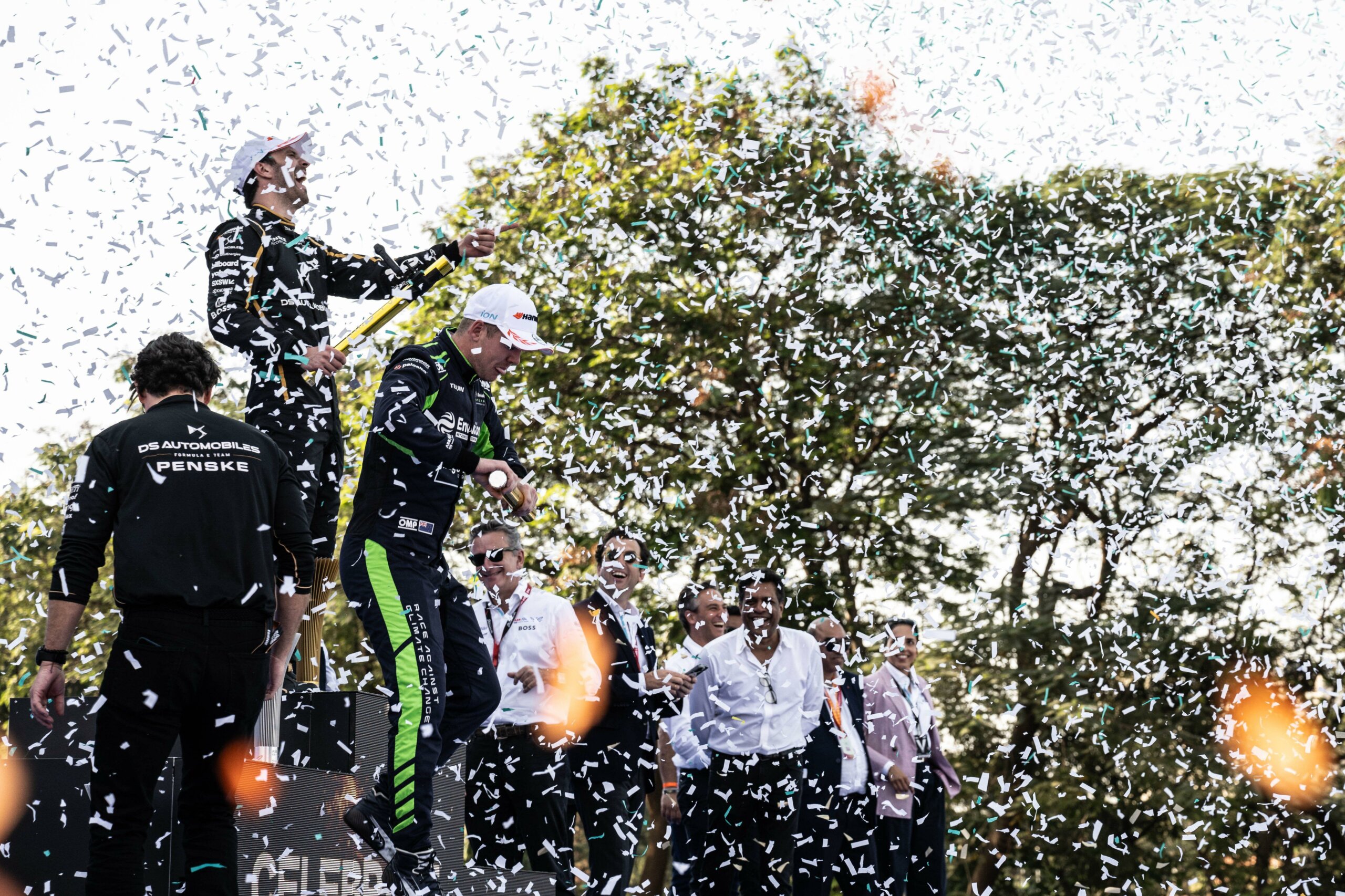 Practice
FP1 took place on Friday lunchtime (UK) and was a relatively quiet affair for most teams with Sebastian Buemi taking the top spot with a time of 1:15:088. However, the biggest story of the session was Porsche having a software glitch which caused Pascal Wherlein to crash heavily into the wall and while he was sent to hospital, he was seen to be ok.
This huge crash still meant Porsche and its customer team Andretti had to sit out the session while Porsche's engineers checked the codes of all cars to ensure safety. This set all Porsche's teams back in terms of track time and strategy development which would come back to bite them as the round progressed.
FP2 showed a glimpse of what was to come for the British fan who was pulling an all nighter (session was at 2am UK time). This was due to the fact Sam Bird finished ahead of Vergne with a time of 1:13:631. The Porsche's struggled again during the session with Wherlein being the quickest of the German cars in that he finished in P7 with a time of 1:14:036.
Qualifying
In what was a complicated qualifying which is unusual for Formula E, Mitch Evans topped Group A after Jake Hughes had his times deleted due to a minimum pit stop time infringement. However, in Group B it was a much more normal affair with Rene Rast topping the group. The eight cars into the duels were as follows Sebastian Buemi, Sacha Fenestraz, Mitch Evans, Maximilian Gunther, Jean Èric Vergne, Sam Bird, Edoardo Mortara and Rene Rast.
The major complication however was still yet to come as Fenestraz, Gunther, Bird, Rast and Mortara all had lap times deleted .
This therefore meant Vergne did his semi final duel on his own and then Vergne fought Evans for a place in the final duel for pole with Evans coming out on top and eventually beating Vergne to pole in the final duel.
The race
The race started calmly that has been the norm so far in the GEN3 era with Evans leading the way until lap seven when he took attack mode and slipped down to P4 giving Buemi the lead. However, as is often the case with Formula E, Buemi did not hold his lead for long with him giving the lead away to Vergne after he took attack mode.
The attack mode leapfrog continued for a few laps until lap 13 when Sam Bird lost control of his car and hit Mitch Evans taking both cars out of the race. After this the race really hotted up as on lap 15 Vergne took Buemi for the lead and started to consolidate a lead. Buemi then began to slip down the pack with him fighting Jake Dennis for P3.
The next major moment was Jake Hughes in his McLaren crashing out which caused a safety car. The big benefiter of this was Nick Cassidy as he gained energy through good management and was able to challenge Vergne for the win in the closing stages. However, Vergne was able to hold Cassidy off and gained Penske their first win with DS and Vergne his first in two years.
My thoughts
After a ten-year break of major racing in India this race surely delivered and will be memorable for many moments. Hopefully this isn't a false dawn for the Penske team, and they can now push on to challenge what until this weekend looked to be a Porsche dominated title race. The result also shows the firepower and resource Penske has gained from the DS partnership in that how they have come back from a rather weak start to the season to a second place on the grid and a win this weekend.
The standings
The drivers
Pos
Driver
Points
BER
POR
VAL
1
Pascal Wehrlein
80
18/2
25/1
25/1
12/4
–
–
–
–
–
–
–
–
–
–
–
–
–
2
Jake Dennis
62
26/1
18/2
18/2
–
–
–
–
–
–
–
–
–
–
–
–
–
–
3
Jean-Eric Vergne
31
–
6/7
–
25/1
–
–
–
–
–
–
–
–
–
–
–
–
–
4
Sébastien Buemi
31
8/6
15/4
8/6
–
–
–
–
–
–
–
–
–
–
–
–
–
–
5
Nick Cassidy
28
2/9
8/6
–
18/2
–
–
–
–
–
–
–
–
–
–
–
–
–
6
Sam Bird
28
–
15/3
13/4
–
–
–
–
–
–
–
–
–
–
–
–
–
–
7
Jake Hughes
27
10/5
4/8
13/5
–
–
–
–
–
–
–
–
–
–
–
–
–
–
8
René Rast
26
–
11/5
15/3
–
–
–
–
–
–
–
–
–
–
–
–
–
–
9
Antonio Felix da Costa
21
6/7
–
–
15/3
–
–
–
–
–
–
–
–
–
–
–
–
–
10
Lucas di Grassi
18
18/3
–
–
–
–
–
–
–
–
–
–
–
–
–
–
–
–
11
Andre Lotterer
16
12/4
2/9
–
2/9
–
–
–
–
–
–
–
–
–
–
–
–
–
12
Mitch Evans
14
4/8
1/10
6/7
3
–
–
–
–
–
–
–
–
–
–
–
–
–
13
Sergio Sette Camara
10
–
–
–
10/5
–
–
–
–
–
–
–
–
–
–
–
–
–
14
Oliver Rowland
8
–
–
–
8/6
–
–
–
–
–
–
–
–
–
–
–
–
–
15
Norman Nato
7
–
–
–
7/7
–
–
–
–
–
–
–
–
–
–
–
–
–
16
Stoffel Vandoorne
5
1/10
–
–
4/8
–
–
–
–
–
–
–
–
–
–
–
–
–
17
Sacha Fenestraz
4
–
–
4/8
–
–
–
–
–
–
–
–
–
–
–
–
–
–
18
Edoardo Mortara
3
–
–
2/9
1/10
–
–
–
–
–
–
–
–
–
–
–
–
–
19
Dan Ticktum
1
–
–
1/10
–
–
–
–
–
–
–
–
–
–
–
–
–
–
20
Maximilian Gunther
–
–
–
–
–
–
–
–
–
–
–
–
–
–
–
–
–
21
Nico Müller
–
–
–
–
–
–
–
–
–
–
–
–
–
–
–
–
–
22
Kelvin van der Linde
–
–
–
–
–
–
–
–
–
–
–
The teams
Pos
Teams
Points
BER
POR
VAL
1
Porsche Team
101
24
25
25
27
–
–
–
–
–
–
–
–
–
–
–
–
–
2
Andretti Autosport
78
38
20
18
2
–
–
–
–
–
–
–
–
–
–
–
–
–
3
Envision Racing
59
10
23
8
18
–
–
–
–
–
–
–
–
–
–
–
–
–
4
McLaren
53
10
15
28
–
–
–
–
–
–
–
–
–
–
–
–
–
–
5
Jaguar Racing
42
4
16
19
3
–
–
–
–
–
–
–
–
–
–
–
–
–
6
DS Penske
36
1
6
–
29
–
–
–
–
–
–
–
–
–
–
–
–
–
7
Mahindra Racing
26
18
–
–
8
–
–
–
–
–
–
–
–
–
–
–
–
–
8
NIO Formula E Team
11
–
–
1
10
–
–
–
–
–
–
–
–
–
–
–
–
–
9
Nissan
11
–
–
4
7
–
–
–
–
–
–
–
–
–
–
–
–
–
10
Maserati Racing
3
–
–
2
1
–
–
–
–
–
–
–
–
–
–
–
–
–
11
Team Abt
–
–
–
–
–
–
–
–
–
–
–