F1 Launch season: Alpine launch their A523
In the last of what has felt like a long and often at times laborious launch season, Alpine were the final team to launch their 2023 challenger.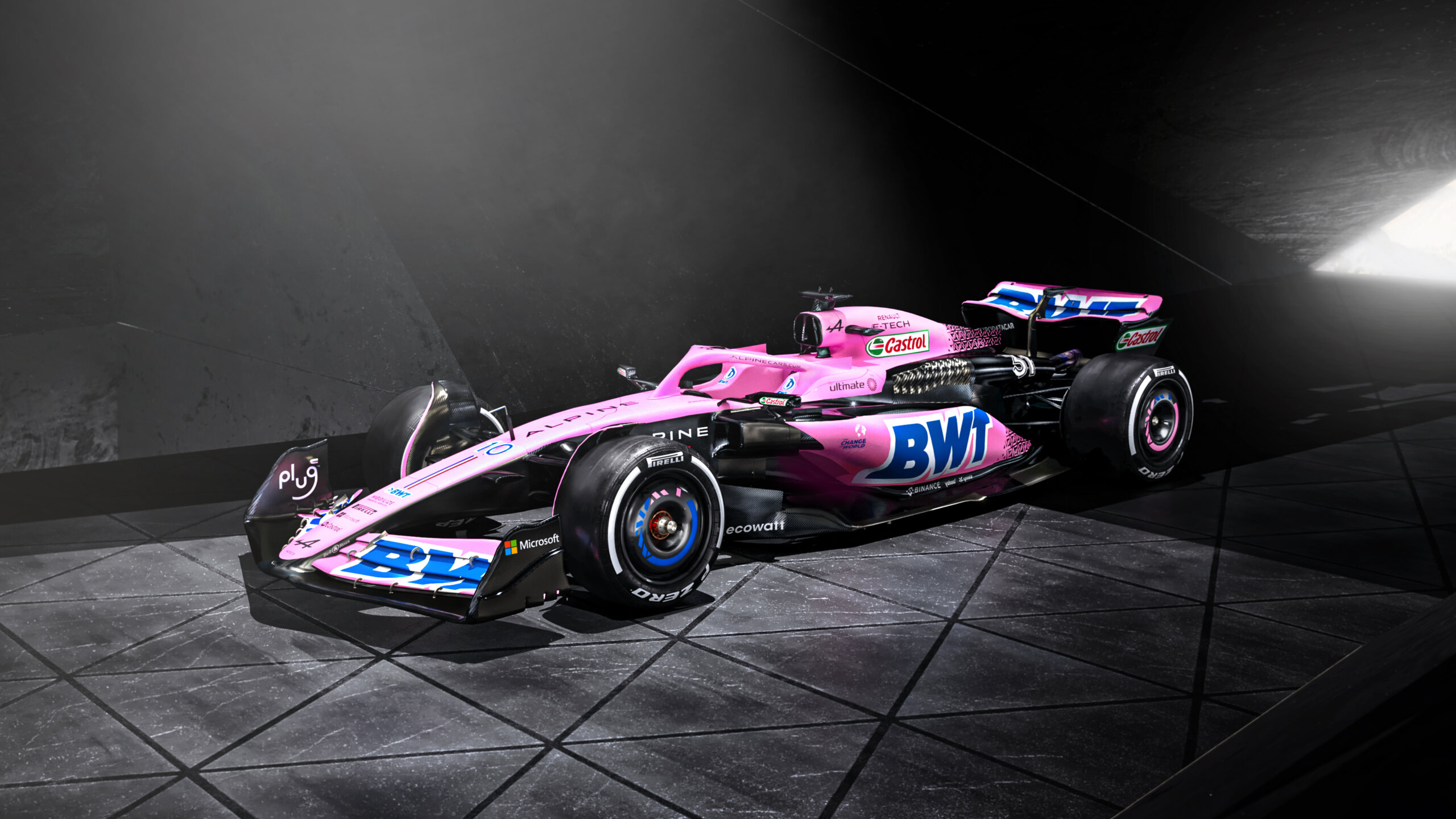 In what felt like a mixture between a F1 launch and one giant car advert, as the first 10 minutes were spent advertising the A110 sports car range and the models within it, the F1 car launch itself (hosted by Radio One daytime presenter Vick Hope) was very much focused on the history and hype of its new all French driver line-up in ex-Red Bull middle child Pierre Gasly and now Alpine F1 stalwart Estaban Ocon.
The A523 itself has retained the traditional Bleu de France (national racing colour of France) mixed with the pink of its title partner BWT (Austrian water filtration company) with black paint adoring some engine cover. The car also features a diamond mosaic towards the rear of the side pods and engine cover.
The team however like last year will race an all pink BWT livery for the Bahrain test and first three races of the year.
The car is similar to last year's car, but there is a new front wing design and a nose cone with a flatter upper section.
The team haven't copied the Red Bull lip but instead has more bulbous rear bodywork around its engine cover this is more identifiable with the black paint. Alpine instead of using bare carbon have redesigned their cooling system,
It is hoped its new driver line up will help Alpine sustain its fourth place in the championship from last year. However, while it is certain that Estaban will be a safe bet to help the team get there, there are one or two questions whether Pierre Gasly can perform well when freed from the Red Bull family in which he has been since his formula Renault days in 2011 and can he replace the speed and wiley old fox instincts that Fernando Alonso brought to the team
In terms of what team personnel thinks of their season hopes, Otmar Szafnauer, Team Principal said:
"This time of the year is often filled with both excitement and anticipation ahead of a new Formula 1 season. It was a fantastic feeling to reach our objectives in 2022 by finishing in a well-deserved fourth place in the Constructors' Championship; a healthy and significant milestone on our 100-race plan as outlined by Laurent at the beginning of the season.
"We have just under 80 races left on this mission, and I'm proud to lead the team on this journey. For 2023, the aim is simple: at a minimum, we must finish in fourth and in a much more convincing fashion.
"By that, it means, more finishes, more points and less unforced retirements. I have high expectations from everyone in the team – not least Esteban and Pierre – who will work collaboratively to deliver the best possible results for the team."
Esteban Ocon, BWT Alpine F1 Team Driver said:
"I am very excited for the coming season with BWT Alpine F1 Team, my fourth year with the Enstone-Viry family. We showed some great progress in 2022 and everyone in France and the United Kingdom has been working hard on developing the car for 2023.
"I cannot wait to get the season underway to continue the upwards trajectory from last year, and I am looking forward to testing the car properly in the pre-season test. The livery looks fantastic – it really stands out – and I'm sure it's going to look amazing on track. I have been working very hard over the winter to prepare for the start of the season, I feel like I'm in perfect shape and, right now, I'm certainly ready to go racing again."

Pierre Gasly, BWT Alpine F1 Team Driver said:
"It's incredible to be officially unveiled as a BWT Alpine F1 Team Race Driver, and I'm very much looking forward to this next stage of my career. I am eager to see the potential and capabilities of the A523 at pre-season testing and to continue getting more comfortable with the team.
"Experiencing the power of the A522 at the end of last season and seeing the developments the team is bringing for this year's car has made me excited for what is to come with Alpine. It is great to see the dedication that everyone at Enstone and Viry applies to their daily jobs in consistently pushing forwards, and I cannot wait to get started in helping the team to reach its objectives for the year."
What do you think of the A523 tweet us @Sports_Byte