SportsByte Number Crunch – Why you should care about the Ginetta Junior Championship. 
Over the recent Easter weekend, the 2023 Ginetta Junior Championship kicked off at Oulton Park, here are a few reasons why you should care about the championship. 
The car: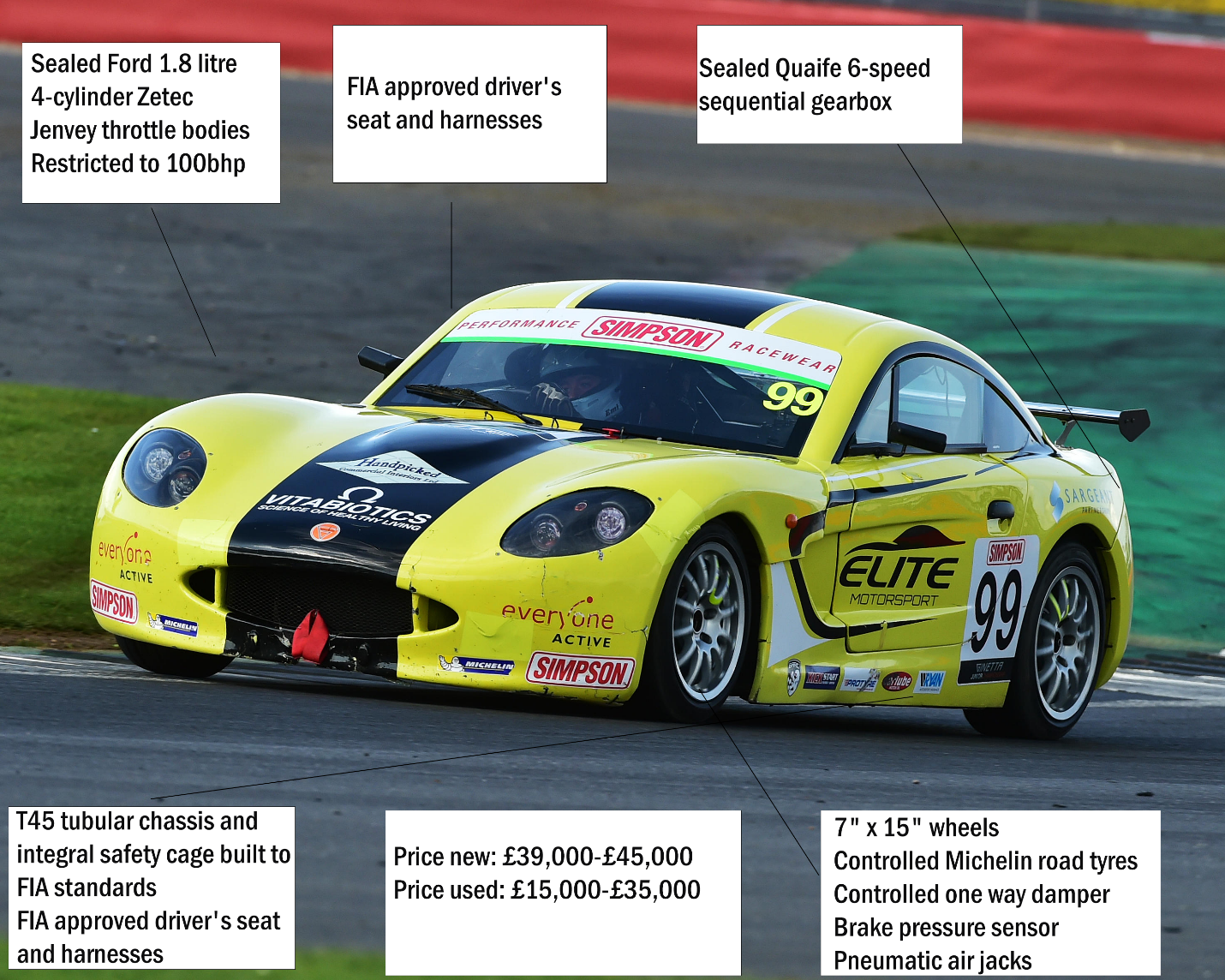 In the Junior category of Ginetta racing, they use the G40 model that is produced at Ginetta's factory in Garforth. The prices can range from £39,000-£45,000 brand new and £15,000-£35,000 used. 
The car is designed to be an introduction to car racing for those aged between 14-17 and those who have just left karting. 
The series uses a sealed (meaning no team can gain performance via engine upgrades) Ford 1.8 litre four-cylinder Zetec engine that produces 120 mph as well as a sealed six-speed sequential shift gearbox produced by Kent based specialists Quaife.  
The car is on thin 7×15-inch wheels and weighs 850 KG in total. This therefore provides a light and chuckable car which makes for brilliant racing. 
The series pedigree/history: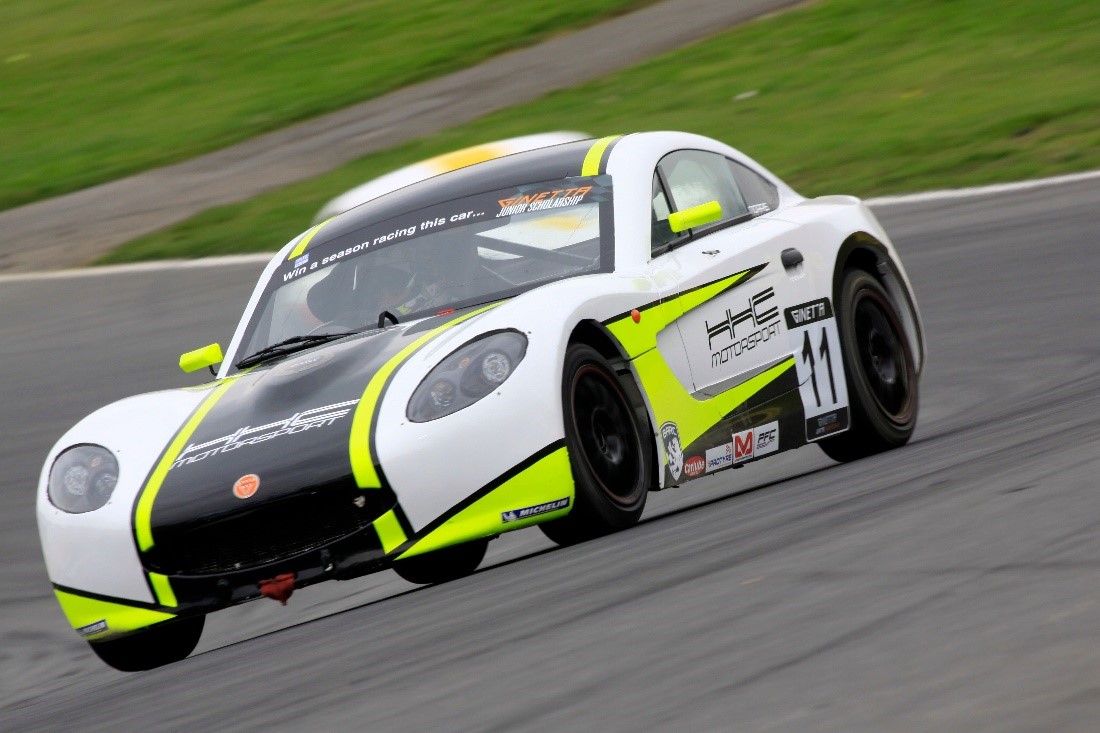 The series is famous for being the starting point for some of Britain's most famous national level and international level stars such as ex-W Series driver Sarah Moore and the reigning British Touring Car Champion Tom Ingram whom their titles in 2009 and 2010, respectively. 
Some drivers who have also competed in the series also include current Andretti Autosport Indy NXT driver Jamie Chadwick and McLaren F1 star Lando Norris who raced each other in 2014. 
For example, Norris finished third that year with an average finishing position of 5.14 and Chadwick finished eighth with an average finishing position of 6.42. 
This therefore shows that Ginetta Juniors is a tough championship even for those of such modern calibre as Norris and Chadwick 
The scholarship programme: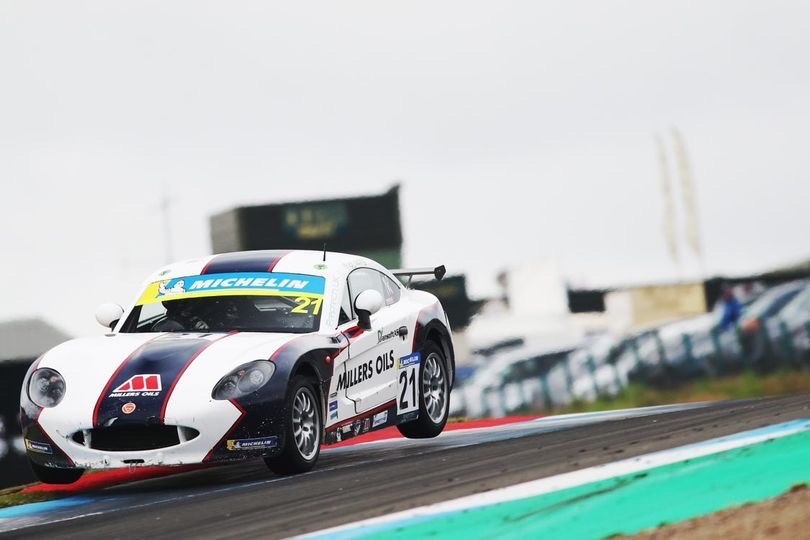 One of SportsByte's favourite parts of the series is the scholarship programme they have run for several years. This is regarded as one of the biggest prizes up for grabs at UK junior level as it ensures you have a fully funded season (£20,000 in real terms) in the championship by Ginetta themselves. 
This is significant as it removes one of racing's biggest barriers which is budgets and finding funding as other series such as GB4 cost £60,000 for a privateer to an anticipated £120,000 to £150,000 running with a professional team.
To win this championship drivers ranging from 14-17 apply to be invited to a three-day event in with they complete several driving, media, and fitness assessments. 
We spoke to Alisha Palmowski, the 2022 winner of the scholarship and friend of SportsByte about why the scholarship is so important. 
"The Ginetta Junior Scholarship was life-changing for me and without it, I would never have had the opportunity to make the transition from karts to cars. The budget required to race in cars is often higher than most families can afford, therefore the scholarship gives young aspiring racing drivers a chance to progress in motorsport that they would not have otherwise got!" 
The Prize:
Another exciting part of the championship is the end of season prize structure, for example, if you are champion, you get a fully funded G55 GT Pro car in the GT PRO category including entry, tyres, and fuel as well as a contribution to consumable costs this prize has a total value of £55k. 
Therefore, unlike some other series such as GB4, drivers get a guaranteed move up the ladder rather than just the money that could get them up the ladder if they can find a seat. 
How close the field is:  
However, the biggest reason you should care about the series is how close the pack is in terms of pace.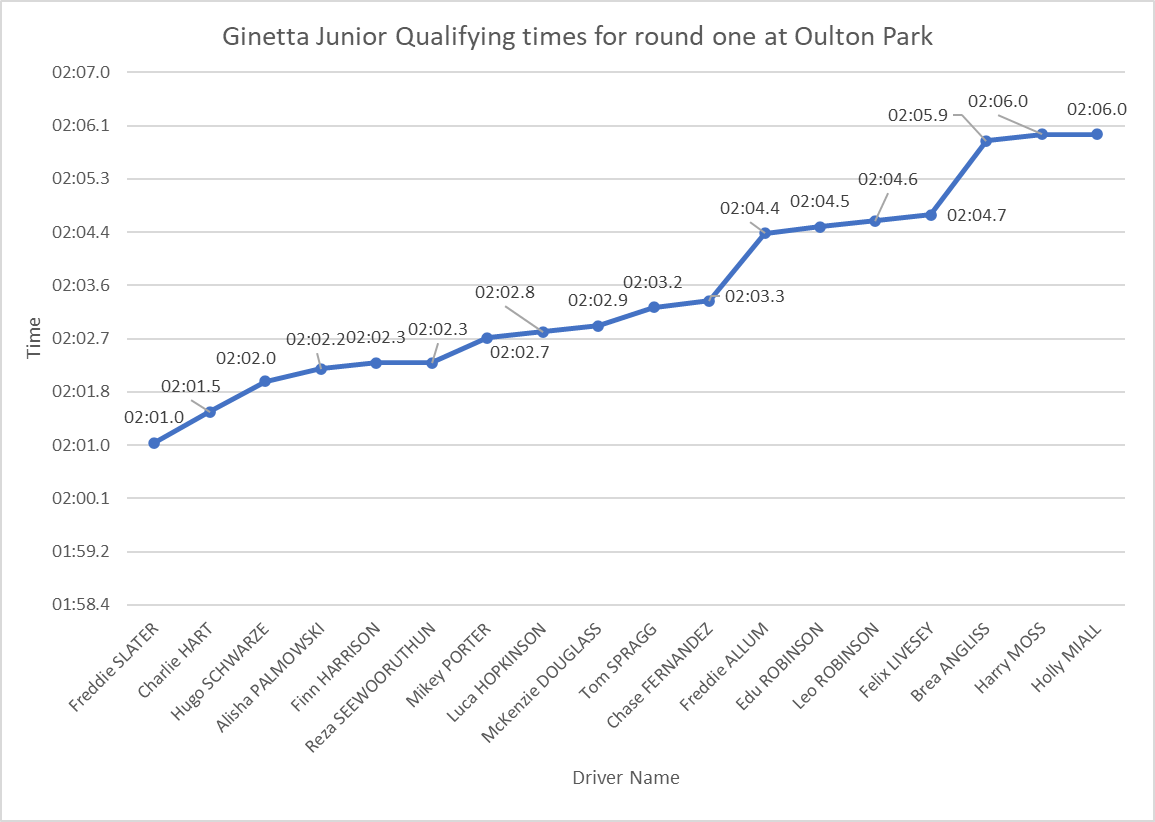 For example, as shown by the graph above positions first to seventh are covered by a field spread of just 1.7 seconds which for a championship that is single make is considered as extremely close.  
This tight field spread is also translated into race pace as if you look at the graph below
For example, over race if you exclude the leader, Charlie Hart. The fight for second was between three cars within a second of each other. This again proves that the racing within the category is close and frenetic which makes Ginetta Juniors one of the most exciting categories to watch around.  
Viewing figures on the rise: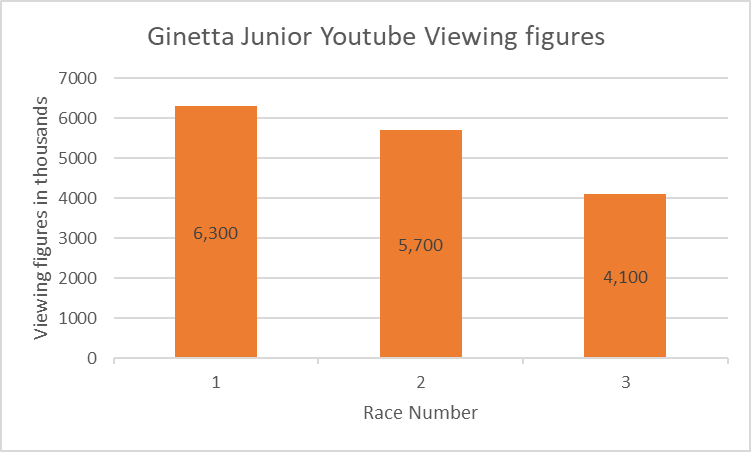 While the series has recently moved from the support bill of the BTCC (British touring car championship) which gave it guaranteed live tv billing via ITV4. This series has kept its viewing figure strength with an average viewing figure of 5.3 thousand over the Oulton Park easter weekend.
This is impressive as the series is now on the SRO support bill which show all their races via YouTube which of course requires a bigger social push and a dedicated audience to watch the races rather than channel surfers that would find the championship via ITV4. 
Driver to Watch:
In 2023 one of the drivers to watch is the driver mentioned previously Alisha Palmowski. 
For example, below if you look at her regular 2022 season results while they do look mixed, they looked hugely promising for someone in their first season in cars. 
For example, as the season progressed results became much more promising as for example from round 10 onwards, she took five top 10s. 
Her results became even more promising in the winter series in which she became vice champion. This was done by being both fast and consistent. 
As you can see here, while there were no wins thanks to two fourth places and two podiums, she became vice champion through consistency and steady pace. This is something you need in what is such as chaotic championship such as Ginetta Juniors.  
Going into 2023 there is a lot of promise with Alisha as when you combine her regular season results, and her winter series results you get an average finishing position of 8.896.
Round one of 2023 has also already taken place with her getting an DNF, a P3 and a P9. 
However, it has to be said the DNF came from a crash while pushing for a podium and the P9 was due to a late spin after sudden weather condition changes. 
The calendar: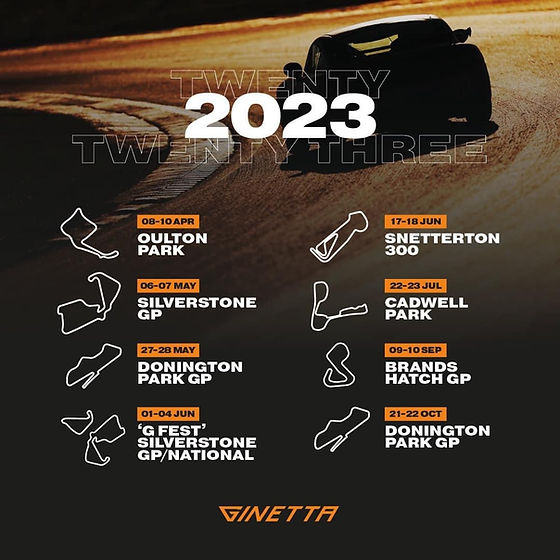 Round One – 08/10 April – Oulton Park (International)
Round Two – 06/07 May – Silverstone (Grand Prix)
Round Three – 27/28 May – Donington Park (Grand Prix)
Round Four – 01/04 June – 'G Fest' Silverstone (Grand Prix and National)
Round Five – 17/18 June – Snetterton (300)
Round Six – 22/23 July – Cadwell Park
Round Seven – 09/10 September – Brands Hatch (Grand Prix)
Round Eight – 21/22 October – Donington Park (Grand Prix)
To sum up Ginetta Juniors is seen nationally as the best starting point for those leaving karting and wanting to make a competitive yet more budget friendly start to their car racing careers.  
To us at SportsByte it's the perfect place to find a driver to support from the very start of their career