33 years, five cup finals and two European campaigns: Middlesbrough FC's wait for Chuba Akpom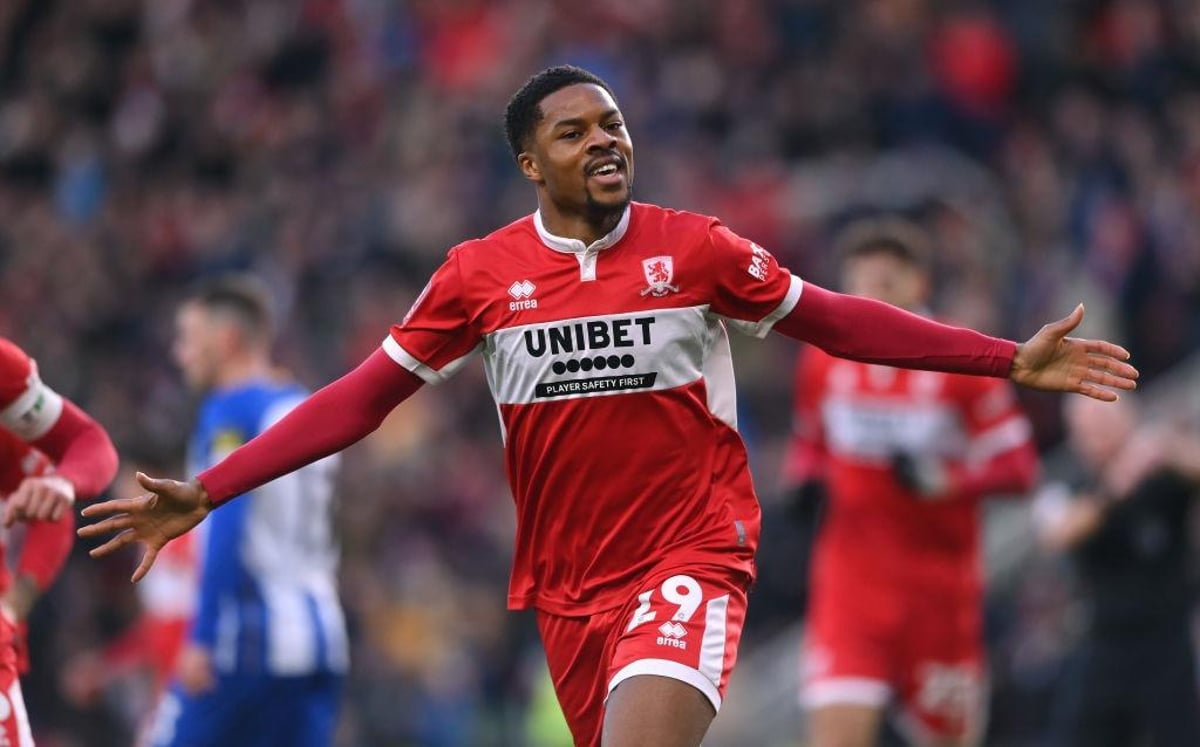 The England football team birthed their trend of losing penalty shootouts at major tournaments, Nelson Mandela was released from prison after 27 years of incarceration, Margaret Thatcher resigned as Prime Minister, and the world wide web was born.
The year is 1990, and in the heart of Teesside's industrial streets lies the rough around the edges Ayresome Park, the then home of Middlesbrough Football Club. And despite not having much to shout about in a season following relegation from the top tier of English Football and only just surviving in Division Two, the Boro faithful did have a little magician that drew fans to the Ayresome gates.
That man was Bernie Slaven, and little did he or those who celebrated with him behind the infamous Holgate End fence know, that his 21 league goals that season would be the beginning of a three decade-long wait for a Middlesbrough player to achieve a 20 league goal season again.
So, why the wait? Let's take a look at the journey of Middlesbrough FC since then, and it's long wait for the player to fill Slaven's goalscoring boots.
From Ayresome Park to the Riverside
Despite the best efforts of Slaven and his 16 goals, Middlesbrough's 1990-91 Second Division campaign was brought to an end by Notts County in the play-off semi-finals. However, Boro wouldn't have to wait much longer for a return to First Division football, as the following 1991-92 season saw the club seal second place and automatic promotion. It would be the Republic of Ireland international, Slaven, whose 16 goals once again were enough to make him top scorer.
It would turn out to be a historic promotion, as the 1992-93 season marked the inaugural Premier League season, and thus Middlesbrough were granted the honour of becoming one of the 22 founding members of the league. The festivities would be short lived on Teesside though, as Paul Wilkinson's 13 goals could only help Boro muster a 21st placed finish, meaning relegation back to the second tier.
1993-94 would be a season of change both on and off the pitch at the club, as the man who kickstarted the three decade-long wait for his goalscoring successor, Bernie Slaven, would leave the club in March, 1993, joining Port Vale on a free transfer after eight years on Teesside.
There was also significant change in hierarchy at the club, as come the end of the season in which Boro finished in ninth place, both manager Lennie Lawrence who'd been in charge since 1991, and chairman the late Colin Henderson, who'd taken on the role as chairman in 1986 after playing a vital role in saving the club from extinction, announced they would be relinquishing their roles at the football club. Paul Wilkinson would yet again top the scoring charts with 15 goals.
1994-95 was a bittersweet year for everyone connected with Middlesbrough FC. Under the new ownership of lifelong fan Steve Gibson, Boro were able to attract one of world football's biggest stars to join the club as their new player-manager, Bryan Robson. 'Robbo's' reds stormed to the Division One title, with Scotsman John Hendrie's 15 goals securing Boro's spot back in the big time. With that, however, the revered and feared terraces of Ayresome Park that had stood since 1905, was filled with Teesside voices for the final time.
New legislation from the infamous Taylor Report that was published in 1990 following the inquiry into the causes of the Hillsborough Disaster, required all top division football stadiums to be all-seater, something Ayresome Park was not, and could not become. And so, come the start of the 1995 season, a new home by the banks of the River Tees, which at the time would become the largest new arena built in England since World War II, was ready to usher in a new era on Teesside.
And so, 1995 meant a new age was born in the history of Middlesbrough Football Club. Meanwhile, on October 9 of that same year, a new baby boy was brought into the world in Canning Town, London, with the sole purpose of bringing decades of Teesside scoring bleakness to an end. His name? Chuba Amechi Akpom.
If at first you don't succeed…
In an unprecedented 1996-97 season that saw the arrival of elite talent and top goal scorer Fabrizio Ravanelli (16), Boro reached the final of both the League and FA Cup. But in typical Middlesbrough fashion, they would lose both to Leicester City and Chelsea respectively, whilst also being relegated from the Premier League on the final day thanks to a dubious three point deduction.
They'd come again however, as despite relegation and losing the likes of Ravanelli and the player who won Premier League Player of The Season in a relegated team, Juninho, 1998 saw the club attract even more top talent. Paul Gascoigne and Paul Merson were two of those to arrive, and remarkably the club would reach it's third consecutive cup final in a calendar year. Boro would fall short again though, losing 2-0 to Chelsea in extra-time.
But, if at first you don't succeed, wait until Juninho returns for a third time and try again. 2004 might not of ended the search for a 20 goal striker, but it would put an end to Boro's 128-year wait for silverware, as under the tenure of future ill-fated England manager, Steve McClaren, they lifted the Carling Cup thanks to a 2-1 victory over Bolton Wanderers at Cardiff's Millennium Stadium.
Get your passports and your sun cream ready…
With that trophy win came the prize of European football, and the honour of welcoming some of the continents biggest clubs to Teesside. Attracted by the allure of cup success and an upcoming UEFA Cup (Europa League) campaign, Boro's foray into Europe convinced a plethora of attacking talent to join the ranks.
Mark "The Wizard of Oz" Viduka arrived from Leeds United for a fee of £4.5 million pounds, with a record of 59 goals in 130 Premier League games at Elland Road. Following in his footsteps came Jimmy Floyd Hasselbaink, signing as a free agent from Chelsea having netted 69 goals in 136 Premier League matches.
A highly respectable debut campaign ended in the round of 16, as Boro succumbed to Sporting Lisbon by an aggregate score of 4-2 over two-legs. But thanks to a last minute Mark Schwarzer penalty save away at Manchester City in the final game of the 2005-06 season, the club secured a 7th place finish, meaning a second season in the UEFA Cup.
With Hasselbaink's 13 goals being enough to make him top scorer in 2005, McClaren looked to the transfer window again to further bolster his attacking options. Highly rated 22-year-old Portsmouth striker Yakubu was signed for £7.5 million pounds, having scored 16 and 13 goals respectively in his first two seasons as a Premier League player.
And despite the Nigerian netting 13 top division goals and becoming top scorer for Middlesbrough in 2006, Boro finished in an underwhelming 14th. They did however go all the way in Europe, including a miraculous pair of quarter and semi-final comebacks against Basel and Steaua Bucharest respectively, but ultimately fell short in the final. Running into a Sevilla side that was filled with future stars such as Dani Alves, Jesus Navas, Luis Fabiano and Javier Saviola to name a few, they were to lose 4-0.
Those days seemed a lifetime ago…
In the years that followed, a slow and frustrating decline began on Teesside. The aforementioned McClaren takes the England job at the end of the season, leaving the club captain Gareth Southgate swapping the armband for the manager's job at the Riverside.
A 12th placed finish in the 2006-07 season meant Boro's European adventure was over, whilst Viduka would swap Teesside for Tyneside, signing for Newcastle United on a free transfer. His replacement? *takes first of multiple deep breaths to come* Jason Euell, a £300,000 pounds signing from Charlton Athletic. The former Jamaican international lasted just one season with the club, racking up 20 appearances and zero goals.
The following season saw Boro go one worse, finishing 13th in the league, with local academy product Stewart Downing and his nine goals being enough to hand him the honour of top scorer, at what must've been a brief end of season awards night. That didn't mean the club hadn't stopped trying to find their goalscoring remedy however, as the club splashed out a then record £12.5 million pound fee for Brazilian striker Afonso Alves.
The forward came with a reputation of knowing where the back of the net was, having scored 45 goals in 39 appearances for Eredivisie outfit SC Heerenveen. There was huge excitement on Teesside, the club threw an unveiling party at the Riverside that rivalled the one Juninho received in 1995. Here's one for you, I even named my Guinea Pig after him.
Spookily, Alves was a master escapee, he'd make a break for it under my garden fence and into next doors on multiple occassions. Boro's Alves kept that tradition alive as well, as after just two seasons and 10 Premier League goals in 42 games, he too found an escape route (not under my garden fence incidentally).
That brings us to the end of the 2008-09 season, and it also brought Boro to the end of their 11-year stay in the Premier League, having been relegated in 19th position. It probably could've been different if the club hadn't of sold important central midfield players such as Lee Cattermole and George Boateng, before turning away future Premier League and FA Cup winning midfielder Nemanja Matic after two days on trial and letting Chelsea snap him up for £1.5 million pounds, whilst topping that off by spending a combined £10 million pounds on Justin Hoyte, Didier Digard and Marvin Emnes respectively. But that's all ifs, buts and maybes isn't it?
A master on the pitch, not so much in the dug out…
This is the segment of this piece in which any Middlesbrough fan reading will most likely furiously scroll past, if not, then welcome all, you've reached the Gordon Strachan era.
The season is 2009-10, and just three summers prior, Middlesbrough were contesting a European cup final. Now, Boro fans were waving goodbye to the final contingent of that era of players, such as Stewart Downing, but were treated to a summer war chest of spending that consisted of the signings of striker Leroy Lita and goalkeeper Danny Coyne respectively on free transfers, and midfielder Mark Yeates from Colchester United for an undisclosed fee to soften the blow.
Needless to say that season didn't go to plan, with an 11th placed finish. Strachan did the best thing he ever did on Teesside and ripped up his contract in the October of 2010, paving the way for club legend and current Sunderland manager Tony Mowbray to come in and settle the ship.
And that's exactly what 'Mogga' did, going close in 7th place in 2011-12, before a dissapointing 16th in 2012-13, before ceding his position to Jose Mourinho's former Real Madrid assistant manager, Aitor Karanka in the November of 2013. Most importantly, he signed future key contributors to a team that would earn promotion back to the Premier League shortly after, such as George Friend, Grant Leadbitter, Albert Adomah and Dimi Konstantopoulos respectively.
What both Mowbray and Karanka couldn't do however, was sign a player who'd score 20 league goals, despite coming close with the loan signing of Patrick Bamford in 2014, as his 17 goals in 2014-15 took Boro to a Wembley play-off final that they would ultimately lose to Norwich City.
It was during these years that Chuba Akpom was earning his stripes in the game, with multiple loan moves away from Arsenal to Brentford, Coventry City and Nottingham Forest respectively.
Just as though it looked like all hope was lost…
Middlesbrough's status as a Premier League club returned in the 2015-16 season, and went again in the 2016-17 season, as Boro were relegated in 19th place under caretaker manager Steve Agnew. Former Manchester City striker Alvaro Negredo was the man chosen to lead the line that season, but his team-topping nine goals tells the story of the reasoning behind the club's relegation. Whilst Patrick Bamford was signed permanently in January for £6 million pounds
Determined to break the spell once and for all, newly appointed for the 2017-18 season, Garry Monk decided to invest a club record transfer fee of £15 million pounds on Nottingham Forest striker Britt Assombalonga, and if that wasn't enough, a further combined £15.5 million pounds was spent on bringing forwards Ashley Fletcher and Martin Braithwaite to the Riverside.
That season Assombalonga would score 14 and Bamford 10 respectively, whereas Braithwaite took one walk down Linthorpe Road and thought it wasn't for him, leaving the club on loan in January before leaving permanently the following season. Whilst Fletcher also left the club on loan in the January transfer window to join Sunderland, as his Boro career consisted of multiple false dawns, before finally sealing a permanent exit in 2021.
In the years that followed between 2017-2020, strikers such as Jordan Hugill, Marcus Browne and Lukas Nmecha arrived but also effectively didn't, and seemingly any striker that arrived on Teesside with any promise would end up working the graveyard shift at the Riverside. But just as though it looked like all hope was lost…
The saviour that should never have been…
September 19, 2020, a day that few on Teesside would've believed would be a landmark day for the club when Chuba Akpom was announced as a Middlesbrough player, having signed a three-year deal from Greek side PAOK for £2.75 million pounds. Indeed, the signing brought with it comments from Boro fans tearing apart the very aspect of his game that he is now worshipped for, whilst also suggesting the club was now obviously shopping in discount stores as opposed to the swanky upmarket one's that had brought them fantastic success prior.
But this isn't one of those moments where you look back and say the rest is history, in fact, after a debut 2020-21 season that consisted of 38 Championship appearances and five goals, the very manager who'd signed him just the summer prior, Neil Warnock, was already by his own admission prepared to listen to offers for the former Arsenal man.
As it happened, a loan move back to PAOK was green-lit in the summer of 2021, with a somewhat successful spell of seven goals in 34 Greek Super League matches. But like that feeling you get when you're on holiday and you know you can't stay there forever, Akpom returned to Teesside in the summer of 2022.
In what is now the sliding door of all sliding door moments in Middlesbrough history, then Boro boss Chris Wilder saw no room for Akpom in his squad, and thus the he was initially training on his own that summer, away from the first-team squad, as he awaited news from his agent to let him know where he'd be leaving the club for.
Thankfully, a move never materialised, as due to an injury crisis in Middlesbrough's striking department and having missed out on multiple transfer targets, Akpom was called upon to leave his desire for a move away behind him, and lead the attack. And after netting a brace against Sheffield United in mid-August, the future Championship Player of The Season hasn't stopped scoring since, ending the 2022-23 season as the league's golden boot winner on 28 goals in 38 matches.
Now that is the moment in this story that you really can say that the rest is history, and after being paired with a manager in Michael Carrick that has truly been able to fit the right key in the Chuba Akpom lock that so many before him couldn't, his game has been taken to a level that is attracting some of Europe's elite clubs ahead of what will be a summer of undoubted interest in the 27-year-old.
So after 33 years, five cup finals and two European campaigns, Middlesbrough Football Club's wait for Chuba Akpom is over. The question now is not how desperate Chuba Akpom will be to leave Teesside this summer, rather, how much money Middlesbrough Football Club would require to allow him to walk out the door.