Bruno Guimarães vs Joelinton: Who is the real Brazilian maestro making the Newcastle midfield tick?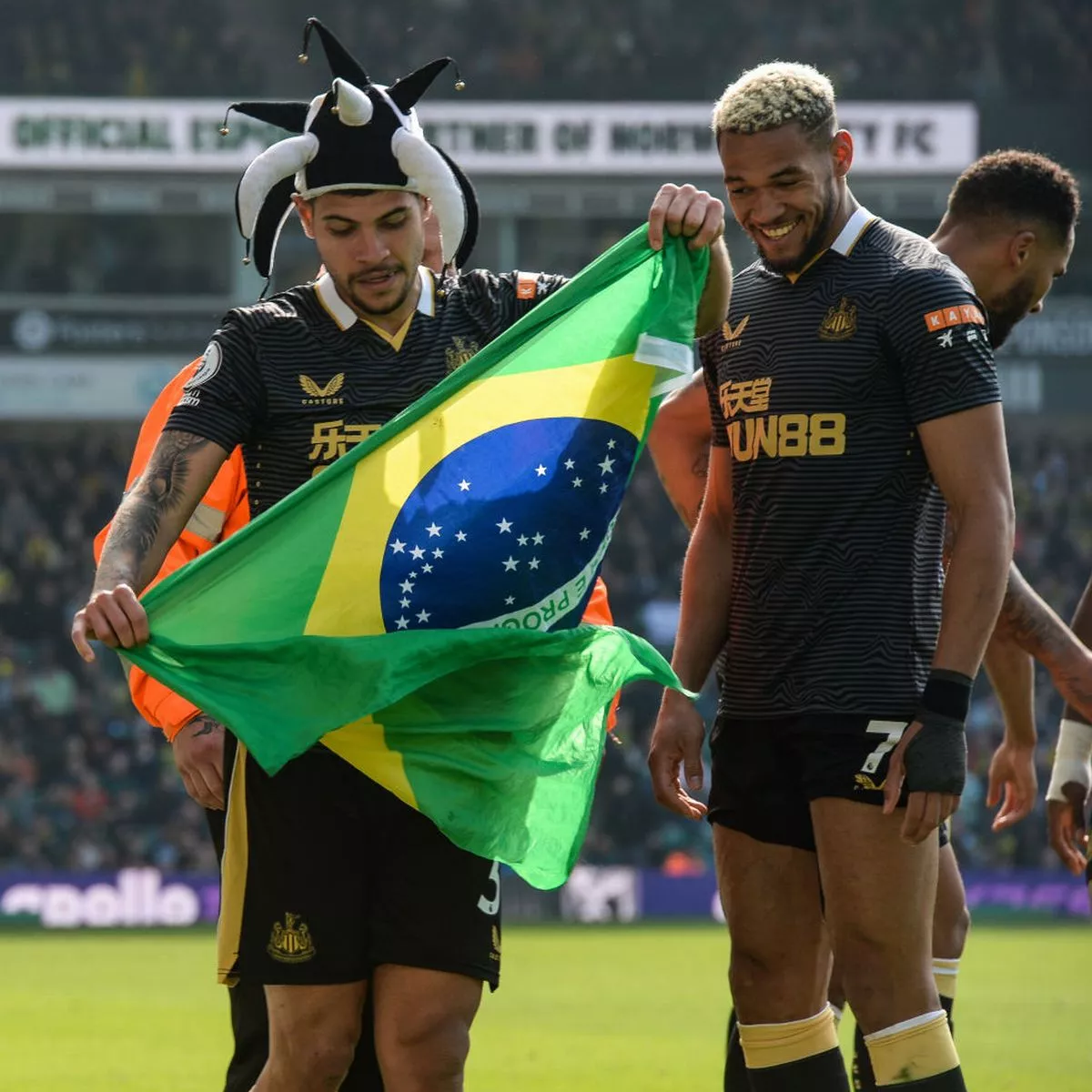 From the outset it might seem like a pointless debate and an unwinnable fight. In the blue corner, you have a player who has made the FIFA 23 Premier League Team of the Season for 2022/23, has earned the plaudits of the vast football fraternity and has even been continuously linked with a move to the footballing colossus that is Real Madrid. In the red corner is someone who has been reverted to a midfield role after producing one dismal display after another, registering only 6 goals in his first two seasons on Tyneside whilst dubbing the iconic number nine shirt, and we all know how much the Toon love a number nine.
But it really isn't. In ironic fashion, in comparison to the redemption arc of Joelinton's Newcastle United career, this isn't a Rocky style underdog fight.
Newcastle United fans are now finally seeing the best of Joelinton after two sour seasons since his move to midfield. His athleticism, power and his energetic front foot press have all been real assets in Newcastle's control of the midfield. The 26-year-olds transformation into a ferocious box-to-box midfielder has also been elevated by the much talked about arrival of compatriot Bruno Guimarães.
Since Guimarães' arrival in January of 2022 from Lyon he has shone seemingly effortlessly, which has cultivated in a much-deserved place in the FIFA 23 Premier League Team of the Season.
The Brazilian spoke to FourFourTwo magazine about the friendship between the two: "I'm more confident in talking to other players as well, although Joelinton still acts as translator sometimes. He's like an older brother to me and we're getting along well. When I arrived at the club, he showed me around, explaining how everything worked. Where I could find my kit and leave my boots."
Despite their bromance let's see how the stats compare the two against each other this season.
Attacking
Offensively Joelinton has a more efficient and fruitful output compared to that of Guimarães in a Newcastle United shirt this season. Joelinton has found the net six times this season compared to Guimarães' three.
The bigger Brazilian superior productivity is shown by his 0.2 goals per match as well as averaging a goal every 414 minutes of Premier League football in which he plays. This compares to Newcastle's number 39 who has put up an average of 0.11 goals per match, along with a goal every 791 minutes he plays in the league this season.
Joelinton's freer role allowing him to marauder forward more frequently than that of Guimarães' deeper role protecting the defence could help explain his greater offensive presence but his efficiency when in attacking areas shows his quality in front of goal which deserted him in his first two seasons on Tyneside. Being Newcastle's highest scoring midfielder also shows the impact he has had on the Toon's midfield this season as well as his own personal progression.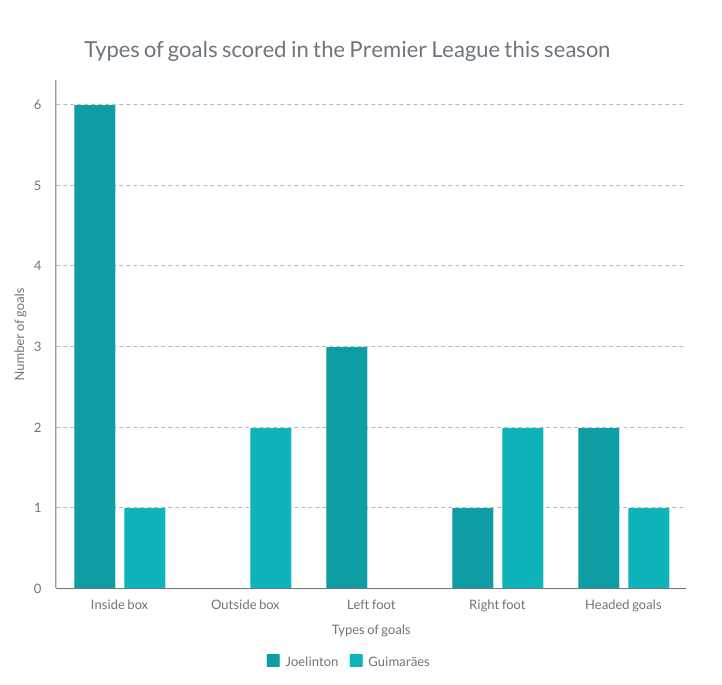 Defending
Both players compare a lot closer defensively and is somewhat a fairer commodity to assess both players by. They both have defensive roles to play within the team, albeit from different areas on the pitch, with Joelinton often tasked with defending more aggressively therefore higher up the pitch, often instigating the press. Guimarães' has mostly lined up as a number six as the deepest midfielder of the three Newcastle United play with which emphasis the defensive responsibilities he has within the team more so than those of Joelinton.
Their defensive similarities are shown by the number of clean sheets the team have kept with them in the team as Newcastle United have kept 11 clean sheets in Joelinton's 30 appearances whilst the club have kept 8 clean sheets in Guimarães' 28 Premier League outings. Neither have made an error leading to a goal or conceded a penalty showing that the Brazilian calmness both on the ball and in nervy situations is recapacitated between them.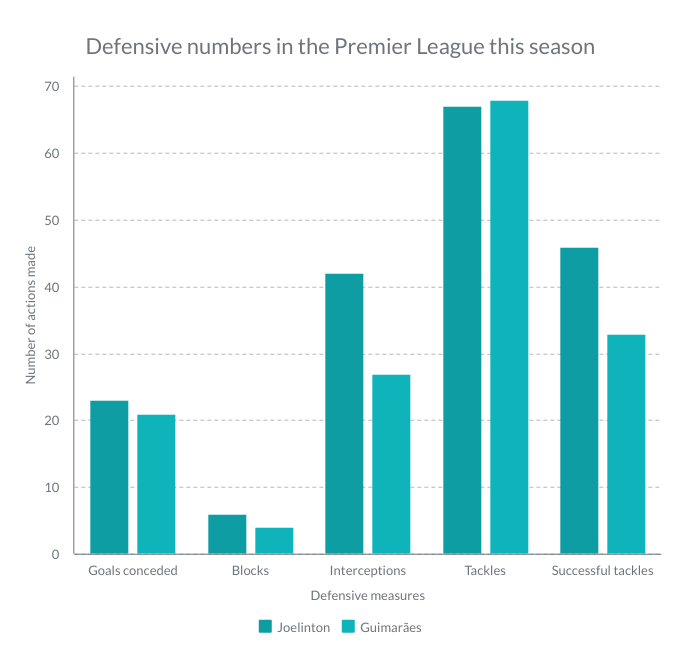 As shown in the data, Joelinton's individual defensive stats show a greater output which can be attributed to exemplary attitude when it comes to buying into the team aspect of the game which can't be under appreciated from modern Premier League stars.
The data also suggests that with Guimarães registering 68 tackles compared to Joelinton's 67 in two fewer Premier League games he tends to win the ball deeper allowing for him to be the catalyst for Newcastle attacks. His 22 through compared to Joelinton's three shows he looks to move the ball forward more quickly therefore defending in a more pragmatical approach. This is also reiterated by the fact Guimarães' has passed back 205 times when receiving the ball compared to Joelinton playing backwards and more negatively 238 times.
Summary
On the balance of the stats, I would argue both have an equally important role in Newcastle United sitting in 3rd place after 34 games this season. Guimarães' greater technical ability, calmness on the ball and that extra bit of quality in the critical moments would accumulate in him being the bigger miss if Newcastle were to be without either. If you also factor in that he has arguably been one of the best players in the Premier League since he's arrived, excluding of course that Norwegian goal poacher, it is no wonder the Toon's form stutters when he isn't in the team.
Although what the data does show is that Joelinton's importance in that Newcastle United midfield should not be underestimated, and the hard yards he selflessly puts in allows Guimarães' quality to flourish.