Team Sunderland Tennis come up short against Northumbria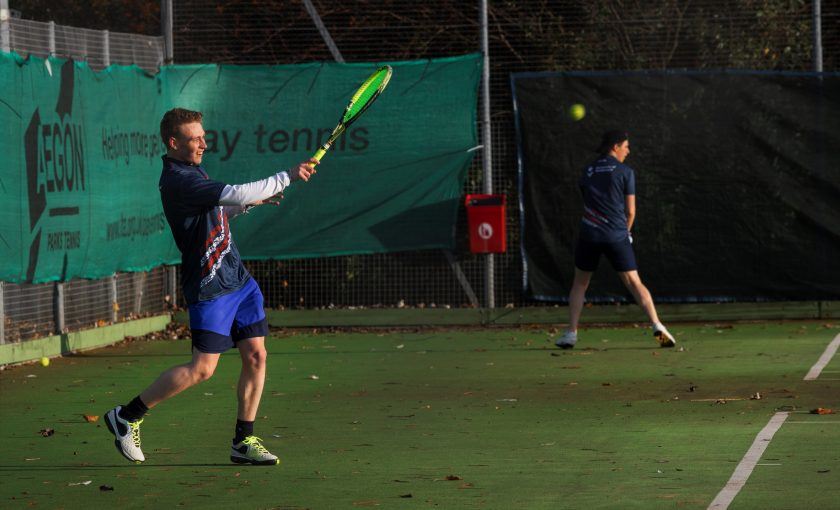 University of Sunderland Men's 1sts 2-4 Northumbria University Men's 2nds
Northumbria University extended their lead at the top of the league on Wednesday afternoon, with a 4-2 win over University of Sunderland.
Dan Bennett's singles victory (1-6, 1-6) and a doubles win with Alastair Peel (3-6, 6-4, 6-10), were damage limitation as Northumbria came victorious in the remaining doubles and singles matches to win 4-2 overall.
Both teams had to battle with cold conditions and a slippery outdoor court at Silksworth.
Valentin Poisson and Connor Emmerson were beaten in straight sets (6-1, 6-1), meaning Team Sunderland had it all to do to get back into the match.
Dan Bennett sought out on getting Sunderland on the points board, as he broke the serve of his opponent three times in the opening set to win 1-6.
It was more of the same for the former Louisville scholar, who rounded off an impressive performance with another 1-6 win.
In the other singles game, captain Alistair Peel took the first set 4-6 which put Team Sunderland in the driving set pull level in the overall match.
Northumbria's Richard Strong pulled level in the second set, winning 6-2 meaning it would be a tiebreaker to decide the game.
Strong completed the comeback to win the tiebreak 10-3, which pushed Northumbria into a commanding 3-1 lead.
Team Sunderland needed to win all three remaining games to win the overall match, as it is first to four points win the tie.
Unfortunately, Poisson and Emmerson were beaten in their singles games, 6-2, 6-1 and 6-1, 6-2 respectively, meaning Northumbria were crowned overall winners.
Bennett and Peel were playing for pride in the doubles, with the result already decided.
It did not stop Team Sunderland claiming the first set 3-6, with team captain Peel winning many decisive points at the net.
Northumbria duo Strong and Tarokh came from 1-4 down in the second set to win 6-4, leaving a tiebreaker to decide the final point.
Team Sunderland used Bennett's strong first serve to win the tiebreaker 6-10, meaning the final overall score was a 2-4 win for Northumbria.
Valentin Poisson had never played on artificial grass before the game, he said: "It was my first time playing on that surface, I didn't feel confident in either sliding or running to be honest."
"I was playing alright, just the opponent was better", said Connor Emmerson after two defeats
The surface was not ideal for Team Sunderland's style of play, as Emmerson said: "The court was hard to run on and was really slippery."
Alistair Peel praised his teammate Bennett when he said: "Thanks to Dan for winning a couple of matches but again, another tough day."
"A couple of tight matches, but you win some and you lose some.", said Peel after going to two tiebreakers in both games.
Dan Bennett flew the flag for Team Sunderland again with his two wins, but still had a frustrating afternoon: "It was tough to hit a good shot and I finally hit my first backhand winner at 5-1 up, which is a bit weird as I'm used to being more aggressive."
On his first serve: "It was one thing I needed to get better at and I have done since the last match."
Team Sunderland will have the opportunity to climb back up the BUCS Northern Tier 5 league when they host University of Hull next.