One year on: University of Sunderland Men's Football Northern Conference Plate Final victory – told by those involved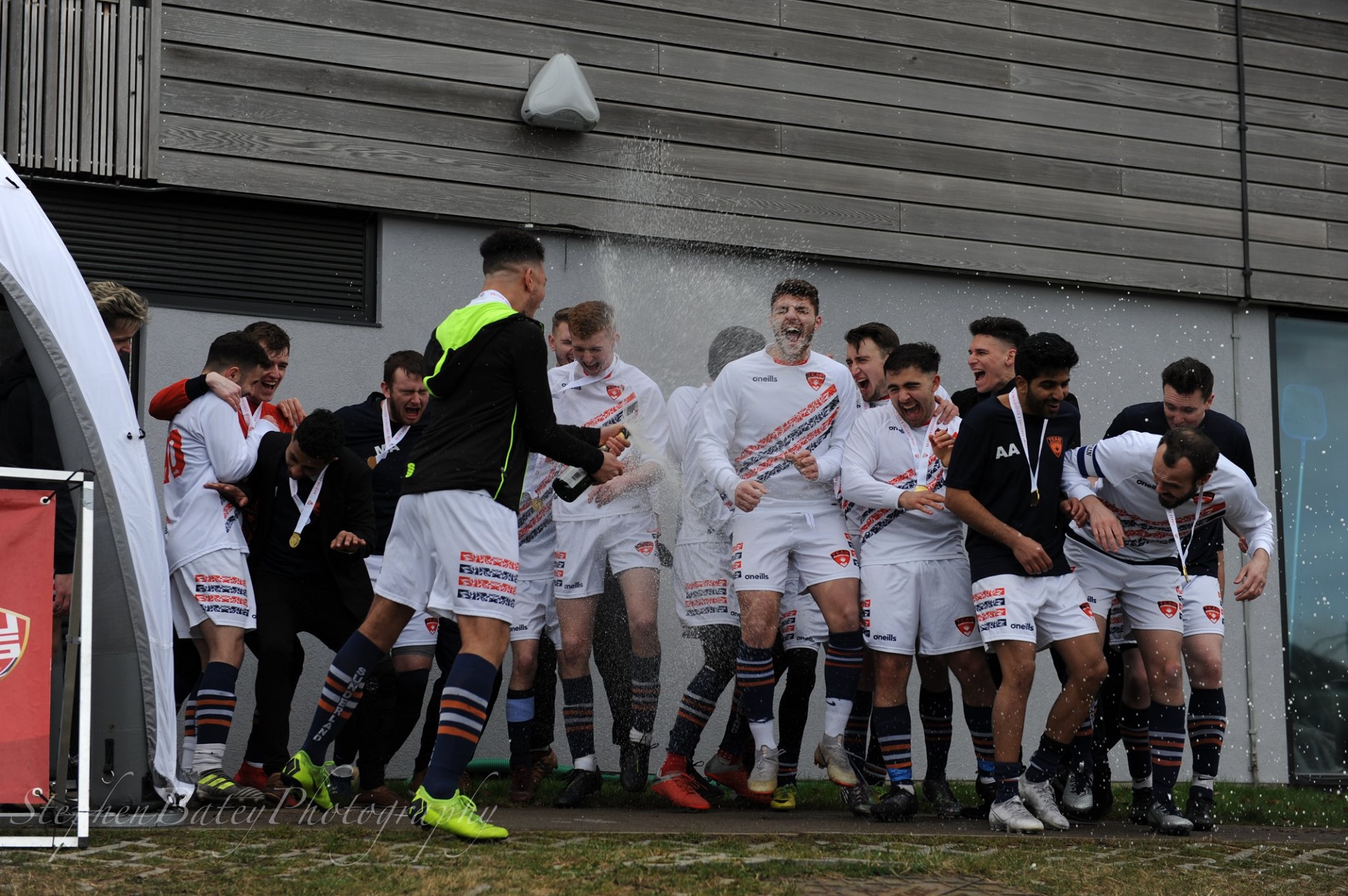 A year since University of Sunderland Men's Football 1st's overcame Salford University 2nd's 6-5 on penalties on a dramatic day in Durham, manager James Clark, captain Liam Jackson, right-back Harrison Rose, goalkeeper Karl Beggs and Team Sunderland's Chris Thornley share their memories of March 11, 2020.
"I said 'Right, who wants a penalty?' Everyone's put their hand up. Everyone's put their hand up. That's how much that they believed in themselves and wanted to do it for the rest of their teammates."
James Clark remembers the scene vividly, after the 90 minutes of normal time and 30 of extra time had finished goalless on a windswept spring day at Durham University.
Here was evidence of the collective mindset – and confidence – that he and the players had been building over the previous six months or so.
"I wasn't too nervous as I had a lot of faith in our keeper," Liam Jackson says of how he felt about the shootout, for instance.
It was well-placed faith. Karl Beggs saved three of the eight Salford penalties that he faced.
That meant that when Harrison Rose stepped up to take Sunderland's eighth spot-kick, he had the chance to win it. He displayed similar assurance in doing so – and delirious celebrations followed.
So much work and so many experiences, over the course of the season, had been what allowed them to truly maximise these few crucial moments.
The 2-1 victory over York St John in the last-four – just a fortnight earlier – had been one such landmark.
"The game I think that really made everyone believe was the semi-final," says Harrison. "Because I know, personally, I went into the game expecting to lose but how James prepared us and how we all just gave 110% and matched such a quality team made me think: 'Wow, we can win it.'"
James could link things back to the earliest stages of the year.
"I've sort of got to go back to minute one, when I first came to the university, and my first words in the very first training session were: "We will win the league and we will have a very good cup run," he remembers.
"And people probably thought I was stupid, or I didn't know what I was doing. You know, you had players who had been there for two seasons – in their third year or even after their first year – and had seen what had gone before and probably didn't understand that I didn't come into this with my eyes closed, I came in with them open.
"I knew there had to be lots of changes and we implemented it from minute one. We set the stall out of what we wanted, and we got a buy-in. And I think the buy-in was across the board from the first team all the way through to the fourth team."
Chris Thornley, Team Sunderland Communication Support, could see the value of the approach in place since September.
"The victory was fantastic, it's always great when any of our teams lift trophies and for Men's Football it really emphasised the progress the team had made over the year," Chris says. "There'd been plenty of changes to the set-up so to bring home some silverware was proof they were on the right path."
He also remembers how March 11 was a very busy one, from start to finish, for Team Sunderland.
"The day itself really was non-stop action, with Women's Futsal winning their final and then the drama of the Men's Football final before Men's Basketball sadly lost in the evening."
For those involved in the football final, the day started in Sunderland City Centre.
"The first thing I remember about before the final was meeting all the lads at Wetherspoons for breakfast before we got the bus down to Durham. I can recall looking around and I was pleased to see everyone in suits as we really wanted to look professional on the day," says Karl.
After a music-filled bus journey, the focus became that bit greater upon arrival.
"Once we were in that dressing room you could see how serious everyone was taking the preparation," Karl remembers. "Once we all got out on the pitch for the warm-up, any nerves that were there previously for me disappeared."
Although James had some tough calls to make on the selection front, that familiar, collective approach remained a key component.
"Coming into the day of the final, obviously I'd picked the squad, we still had injuries. I wanted everybody who'd been part of the first-team setup to be there because I thought it was important – whether they were injured, whatever it was," he remembers.
"The day of the game, we had some injuries that had come overnight and I had to make some big calls. Players that had played week-in-week-out ended up being dropped for that game, which is difficult. There's nothing nice about dropping a player but that's what I get paid for, that's what I'm there for."
Harrison remembered the positive feeling amongst the squad pre-match. "There was a good feeling between the lads and a sense of confidence after a good season. I think we all had the mindset that we'd work for each other and leave everything on the pitch."
The immediate build-up did, admittedly, leave a bit to be desired.
"The warmup was a shambles, like a proper shambles. I was furious, absolutely furious," recalls James.
"There was delays to kick-off, the weather was horrific, all the other stuff. But we'd planned everything. Everything was there. Everybody knew their roles, everyone knew what was expected, and they've gone out there, running around, doing what they wanted.
"I stopped the warmup and gave them a toasting. I was like: 'You go out there like this, like the hillbillies, we're going to get beat. We need to sort this out.'"
They did sort it out. The performance may not have been their very best – which was perhaps partly thanks to the weather – but Sunderland were the ones on the front foot.
"The first thing I remember about the match was how windy it was. It made it awkward for defending due to us having to anticipate the added distance the ball would carry," says Karl.
"We had a penalty scare in the first half with Marc [Atkinson] going for a shoulder-to-shoulder but catching him more in the back. However, over both halves we missed multiple great opportunities to take the lead. On another day we would have scored three or four."
The wind was, indeed, blowing rain, sunshine, and everything in between into the skies above the pitch. As ever, in such scenarios, adapting was the key.
"We played the conditions probably better than they did," says James. "They were probably one of the most physical teams we played against and that was something that we stood up well against – and we always gave back what we got.
"But it was a different one, and you could see certain players were nervous and making mistakes that they never usually would in any other game and it's just believing in those players and giving them enough to take it on – even if they had made a mistake."
Substitutions helped, as the clock ticked down.
"I thought when we brought Lewis Charlton on and we made a couple of other changes, it gave us a bit more fresh impetus, fresh legs and a different problem for them. And that's what it's all about – us creating a problem for the other team, not the other way around."
The latter stages of normal time inevitably brought additional tension, though.
As Chris remembers: "The game itself, I remember feeling really tense, you felt any goal for either side would probably be enough and this only increased as the game went on and eventually into extra time."
Extra time came and went, which meant penalties.
Karl saw it as an opportunity.
"As soon as the final whistle went in extra time, I began to prepare for the penalty shootout. I personally was excited for penalties. I do not feel pressure on me as it is a free shot from 12 yards out – realistically, they should score," he says.
"After a quick talk from James, I could see that some players were nervous and some excited. I remember feeling quite confident as, in that season, I had a rather good record in saving pens and could potentially be a hero after not having anything to do during the match."
James also had plenty of belief that this was a scenario Karl could thrive in.
"Karl Beggs – he thinks he's a centre forward – but he's a great goalkeeper to be fair. He is a great goalkeeper," says James.
"I always knew that he would save a penalty. There was no doubt in my mind, in that penalty shootout, he would save at least one. Little did I know that he was going to save three."
The goalkeeper, unsurprisingly, remembers those crucial few minutes vividly.
"After our first penalty was saved, I was not too worried as we had at least four more attempts. Then I managed to get a foot on their 2nd penalty to send it over the bar," says Karl.
"However, the Salford keeper was then able to make a great save for our third penalty. At this point I was still feeling confident as I had a gut feeling that their players were not confident taking the penalties.
"I remember after Ollie [Barnett] had his penalty saved, he came over to me and said a few words which showed me how much they believed in me to make another save – and that I did. After making the second penalty save and seeing my teammates all cheering me on it really did send my confidence to a new level.
"Then it went into sudden death. This was the best chance for me to get one hand on the trophy. I managed to get a strong right hand to the penalty and the feeling was incredible knowing all Harrison had to do was score for us to win the cup – and that he did."
That base of confidence came into it, once more.
"Watching the previous penalties was tense but when it came to me, and I was walking to the ball, in my head I knew I would score," says Harrison.
James had a go at not watching, but he couldn't resist.
"I literally heard the kick and I turned around to watch it and I just seen it hit the stanchion. And then everybody went off it, obviously, just went wild. It was just mental," he remembers.
"I kept my cool, to be honest, in a lot of respects. Straight over to their manager and their team."
After a moment of hesitation, Harrison, understandably, enjoyed it.
"At first I wasn't sure if we'd won so there was a bit of a delay but it was like something you see on TV when teams get promoted and there's a pitch invasion," he says. "Moments like that are why I love football."
Chris too was struck by the celebrations: "The scenes afterwards were unlike anything I've experienced during my time working at the university, so it will live long in the memory."
Asked what he could remember of the celebrations, Liam said: "Barely anything – too much excitement."
Once breath had been caught, the trophy had been lifted and medals had been received, everyone had a bit more time to take stock – and look ahead.
"Into the changing rooms, you can imagine, bear's flowing, music's blaring, everything else," remembers James.
"I told them how I felt about what they'd done, what they'd achieved, and what they should think about that. Told them to go and enjoy themselves and do what they had to do, with the words 'You've got a league to win next week.'"
Which they did. Any additional collective confidence gained from this latest winning experience was, as it turned out, applied very effectively in the two league games that they needed to win to secure a double.