Sunderland Ladies edge out 'Boro in FA Cup thriller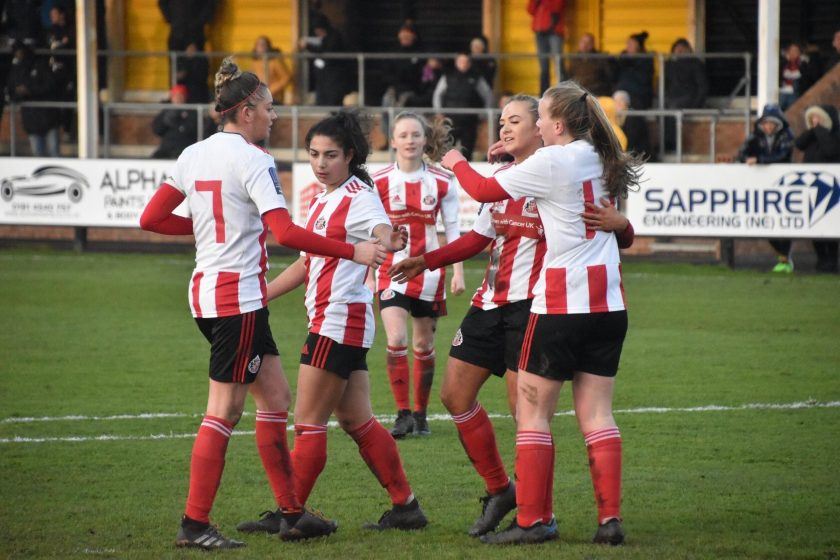 Sunderland Ladies progressed to the next round of the FA Cup at the weekend with a 4-3 win over an impressive Middlesbrough side.
Boro took an early lead on 10, but two quick goals put the Lasses into the lead, a Leonie Hutchinson own goal following a Bridget Galloway penalty. Tyler Dodds equalised instantly, but another own goal, this time from Olivia Watt, put the Lasses back into the lead. Emily Scarr levelled on 64, although Galloway won it in the 69th minute.
The win means Sunderland Ladies unbeaten run continues, winning all but one of their games this term.
Middlesbrough started in the ascendancy and took the game to Sunderland early doors and, aided by the wind, took the lead when Claudia Moan saved well from a windswept strike, but managed to smash her clearance off 'Boro's Dobson and into the net.
The Lasses got back into the game on 24 minutes though, with Maria Farrugia winning a penalty which top scorer Galloway dispatched. As the Lasses ramped up the pressure, women of the match Jess Brown hit the post after a Ramshaw free kick was blocked.
They took the lead shortly afterwards, however, when Louise Griffiths' cross was sliced by Hutchinson and looped over Wareham in the net. Dodds pegged Sunderland back once more though, with her corner swerving in the wind and landing into the net to restore parity at half-time.
As conditions worsened, the unlucky Boro turned into their own net once more, with Olivia Watt deflecting into her own net following another Griffiths cross from the right. Scarr's schintalating strike levelled scored shortly afterwards, but it was to be a red and white day as goal machine Galloway grabbed her second twenty minutes from the end, following tremendous work from Brown on the right once again.
It puts the Lasses into round two of the FA Cup and gives them their second derby win of the campaign