"Extremely grateful" Ohrdorf reacts to WBBL Player of the Month win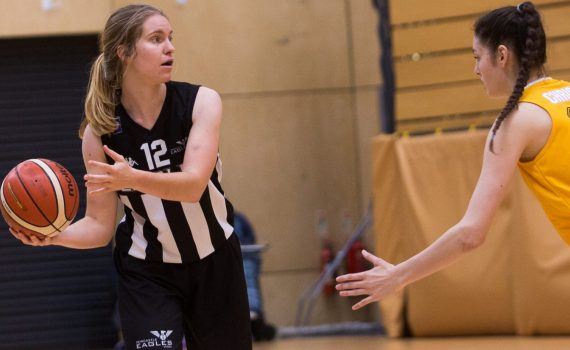 Georgia Ohrdorf speaks about winning her first WBBL award and the Eagles' outstanding start to 2019-20.
The Australian Centre took a double-double record for the month of November, averaging 18.5 points and 12.8 rebounds per game on her way to the award.
"I'm extremely grateful for the award, it's definitely not something I'd ever thought I'd achieve." said Ohrdorf, but she insisted it wasn't all her own work.
"I think it's a credit to my team this year for getting me into opportunities to succeed!"
Currently ranked top 10 for points (17 per game) and second in rebounding (13.2 per game) in the WBBL, Ohrdorf is also the most fouled player in the league, but the physicality is something she enjoys.
"My mentality going into games is definitely one of going into a battle when I play.
"It's fun to be in an environment that is competitive and you are allowed to get away with some physical play.
"It's definitely been something that has evolved but it is just through hard work and wanting to do my best for the team that helps my mentality."
It's been a great start for the Eagles, winning five of six League games so far. But with a lot of changes to the squad, Ohrdorf is delighted, if not surprised by the level of performance.
"It was definitely exciting coming into this season, we have a very different team to last year and it was hard to gauge how good we'd be. Pre-season I sensed the potential but until the rest of the teams play too, it's hard."
But the new group were quick to build a chemistry, that Ohrdorf sees as key to the success so far and moving forward.
"We've really just all bonded and come together as a team, enjoying playing together is important so I think our success is only limited by how hard we will work for each other.
"I really enjoy this team! We have a really funny bunch and we are comfortable around each other.
"It's fun to be able to joke around and not take the game so seriously sometimes, but we can turn it on when we need to!
"So, yeah, I'm confident we can make a push this year! The cup game on Sunday will be a test!"
Ohrdorf wasn't the only Eagle to taste success in November, as coach Chris Bunten's perfect month was rewarded with the Coach of the Month award. She paid tribute to the role Bunten played in bring the group together.
"Chris had definitely been the catalyst in bringing us together, he does a good job at finding people who will get along well with each other and have good chemistry.
"He also has a lot of experience within the league so it's good to have him know our opponents in such detail."
The Eagles Women continue their season with a huge cup quarter-final against the Manchester Mystics on Sunday, tip-off is set for 1pm at the Eagles Community Arena.