Andrew Fisher: TFT MMA head coach on UK MMA, coaching kids, and returning to Bellator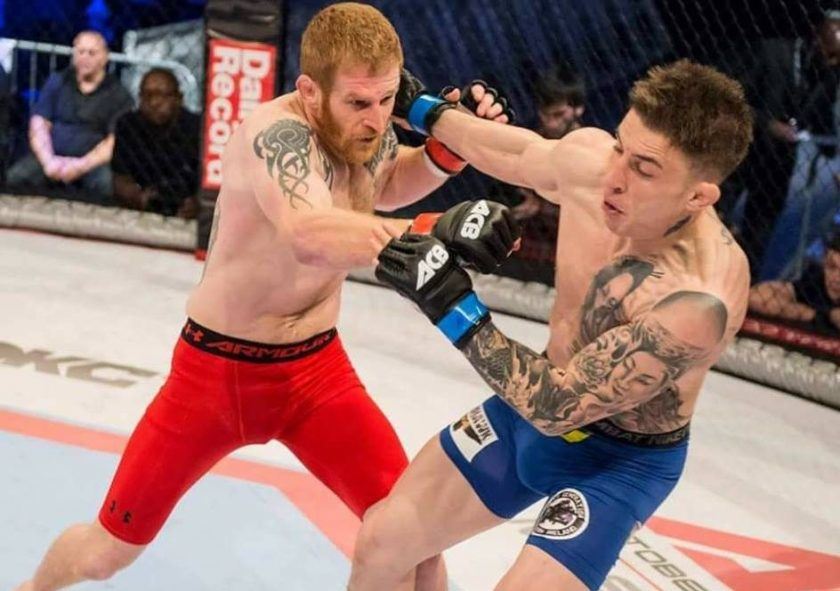 MMA has traditionally been quite a hotbed for MMA in the UK. Many of UK MMA's pioneering fighters were born and bred in the region. Ross Pearson, veteran UFC lightweight and Ultimate Fighter season 9 winner, was born and raised in Sunderland. Ian Freeman, trailblazer, Frank Mir-conqueror, the first ever British MMA fighter signed to the UFC, hails from Stanley. The historical milestones of British MMA run directly through the North East.
However, since the turn of the decade, the region is not quite the powerhouse it once was. As the rest of the country has caught up, blossoming into a global hotspot in the sport, the North East has flown under the radar. Now with only a handful of fighters in major organisations, North East MMA has quite the job on its hands to rebuild into the area of strength it once was.
Good job we have Andrew Fisher, then
Andrew Fisher is an MMA fighter and owner of TFT MMA in Seaham. Whilst the area may be in somewhat of a lull in terms of major league talent, TFT has flourished. Bellator have snapped up two of his most promising charges in Ryan Scope and Callum Ellenor, whilst former UFC veteran Phil De Fries is on the best run of his career as KSW heavyweight champion. Andrew, quick to downplay his success as a coach, was modest about the attraction of his gym.
"I'm not too sure… maybe I just started at the right time," Andrew said, "We've got quite a kind of chilled out atmosphere here, there's not a lot of rules.
"I think it's attracting more people from other gyms as well, and the better fighters we get, people are just getting better [because of it] as well."
Andrew himself has experience in the higher reaches of MMAs global hierarchy. Two fights in Bellator earlier in his career, coupled with a stint with Russian promotion Absolute Championship Berkut (now Absolute Championship Akhmat), Andrew feels like his experience in the big fight environment is invaluable when it comes to coaching young pros, who make it to a similar level.
"I think it helps massively, like when we started, there weren't really many coaches," Andrew said, "So it was just like me and my friends training together, I watched a lot of Youtube stuff cos I didn't really have a lot of guidance.
"I made most of my mistakes in fighting, learning that way. Hopefully I can now get my guys to make their mistakes in the gym,so it doesn't happen in the fight as much."
However, though coaching the next generation of North East talent may be his current priority, Andrew revealed to me that, despite it being over two years since his last professional contest, he isn't quite finished with the fighter's life just yet.
"Yeah I'm signed to Bellator again now, I've just signed a contract with them. I fought for them, I think it was 6 years ago I last fought for them," Andrew said, "If I'm honest I was probably a bit too young for the chance really, and I didn't do too good.
"I went on from there, went to ACB, and I was kinda killing it there. I've been injured for a bit, and my contract was running out with ACB, so Bellator snapped me up again. Let's see if I'm still young enough."
Despite his renewed commitments to a return to fighting, Andrew, like his friend and training partner Carl Liddle, places a lot of emphasis on training kids. Having regular children's classes at the gym, Andrew explained how the team helps kids realise their full potential whilst remaining in a safe environment.
"It's still got a bit of a stereotype to it [MMA] hasn't it. But especially kids classes, it's just about having fun," said Andrew, "Some of them like to compete and stuff like that, but it's definitely not pushed on them or anything.
"We don't like them getting punched in the head when they are young, so they just do a load of fun wrestling games."
Andrew embodies the very definition of a figurehead in the MMA community. A fighter, a coach, a promoter and a gym owner, Andrew takes an active role in almost every area of the sport. As of right now, MMA in the North East is not what it once was, but with people like Andrew spearheading the growth of the sport in the region, it won't be very long before the region is back at the top of the pile.