Morpeth Town 1-1 South Shields – Finnigan strikes to deny former club three points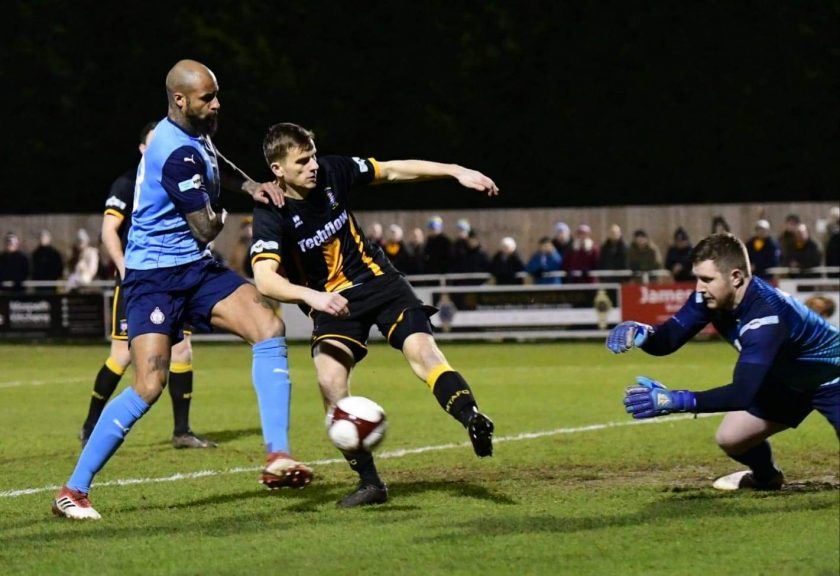 Carl Finnigan rescued a point for Morpeth Town as he lined up against his
former club South Shields for the first time on Tuesday night.
Jason Gilchrist had put Shields in front earlier as they looked to increase
their lead at the top of the Northern Premier League.
Shields, who led the league by one point going into this game had newest
signing, Darius Osei available from the bench. He scored two goals against
Shields last Saturday in his final game for Stalybridge Celtic which ended 2-2.
Morpeth went into the game in mid-table with plenty of games in hand and
wanting to play spoiler to Shields' title hopes in this local derby.
Shields were relentless in their pressure in the first 20 minutes.
Sefton Gonzales closed down Morpeth's goalkeeper as he attempted to clear
the ball, almost resulting in a goalscoring opportunity after two minutes.
Shields caused further problems throughout to Morpeth, peppering them with crosses from both flanks which their defenders had trouble clearing.
The best chance so far came on 15 minutes as a Nathan Lowe free kick was whipped in from the right of Morpeth's goal, Gonzales leapt highest but his header was cleared off the line by right back, Stephen Forster.
Lowe also had a chance from the right corner of box which Morpeth 'keeper Dan Lowson was unable to claim safely – parrying out with his legs.
A long ball played in down Morpeth's right forced on-loan York 'keeper Ryan Whitley into action – colliding with a Morpeth player just outside of the box.
Straight after this on 30 minutes, Sean Taylor's shot from the right of the
box forced Whitley into a save at his near post.
On the 55th minute the deadlock was broken. Jordan Hunter passed
to Lowe who played it back to Hunter, Hunter's cross from the right was played to the feet of Gilchrist who tapped in from inside the six-yard box.
Darius Osei came on for his debut on 59 minutes replacing Gonzales.
Despite most of the first half being in favour of Shields and being a goal
down, Morpeth fought their way back into the game.
A corner from Morpeth was firstly punched out by Whitley, Morpeth crossed back in and after a deflection the ball fell to Finnigan who tapped in from point blank range on 79 minutes.
Again Shields' inability to close games out has cost them as this was their
third league game in a row they have failed to win after taking the lead. Despite this Shields still lead the league and increased their lead to two points, now with one game in hand.
Shields' next game is at home to playoff contenders Nantwich Town on Saturday February 8.