"Only you can put the work in, no one else can do it for you," says former Newcastle United academy graduate Jack Robson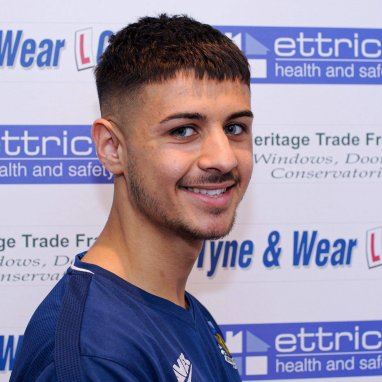 After signing a contract with Newcastle United's youth team at the age of 16, Jack Robson spent two years in the academy before venturing over to America for a new challenge after being recruited by Saginaw Valley State University as part of a scholarship.
A few months into his adventure across the water, Robson decided to head back to England after injury, homesickness and other issues struck. The tricky winger made a return to football in England by signing a contract with Northern League Division One side Hebburn Town.
After seven goals in 24 appearances in his first season at the club and becoming a regular starter for the Hornets, he then put in a transfer request and signed for his current side Morpeth Town in January of this year.
How much pressure was there to perform in Newcastle United's youth setup?
A lot of pressure was involved but you just have to remember the reason you started playing football in the first place was to enjoy it, the enjoyment can be drained out of you at academy level as you are always playing individually for your next contract.
What influenced you to move across the world to America? How was your time there?
New lifestyle, new scenery, new opportunities. It didn't plan out how I wanted it to as the location I was in was pretty boring and I faced an injury over there so I was pretty homesick and decided that I wanted to come home. Glad I tried it as I'd regret it more if I didn't do it at all.
After a successful 1st season at Hebburn what was the influence behind your transfer request?
As soon as I saw the opportunity to move to a club higher up the pyramid I had to grab it with both hands as you don't always get opportunities to play at a higher level so it felt like the best thing to do.
How has your experience been so far with Morpeth?
Tough. In and out of the team and lots of good players to compete with but it will all work out for me in due time.
What are your objectives for your future in football?
The main thing is to just enjoy my football. When I'm enjoying it I play much better opposed to inflicting too much pressure on myself. Who knows where I'll be, my main goal is to be happy in life so as long as I'm happy when I'm playing football that's all I care about.
What is the most valuable lesson you have learnt so far in your career?
Good question – the most valuable thing I've learned is that at the end of the day there are no excuses. Only you can put the work in, no one else can do it for you. You can either look for excuses and slip into your comfort zone or you can put the work in and even if the outcome for your desired goal was not what you expected at least you have no regrets because you worked as hard as you could.
Who has had the most important influence on where you are today and where you aspire to be?
The most important person in my life is my Dad and always will be. I could count on one hand the amount of football matches I have played that he has missed. In a sport where you cannot trust a lot of people, I can always trust his word and opinion. I always try to adopt his values in life as a lot of people respect him, love him and he has great morals.