Hartlepool United – 2019/2020 Season Review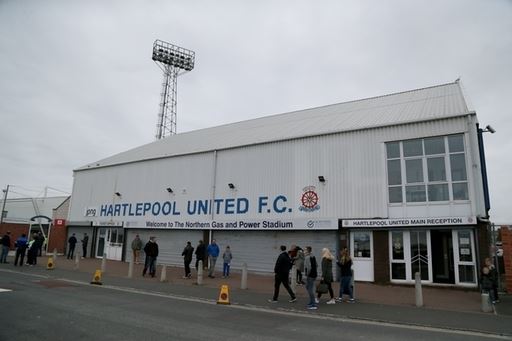 The 2019/2020 season had promised a lot for Hartlepool United fans.
In January 2019, Craig Hignett moved downstairs from the director of football position, back to the dug-out, and guided the team to a 16th place finish. 
After an impressive summer outlay which saw the club bring in a mixture of young promising players along with experienced Football League veterans, Pools were expected to be amongst the top teams in the Vanarama National League. 
However, by October, Hignett was gone. 
A season which was hoped to be a bounce-back year four months earlier, now needed another manager to save it. 
As Pools opened their new campaign at home to Sutton United, there was an air of optimism around the ground. Fans finally felt like they could trust higher management. After all, new owner Raj Singh had gone beyond his initial budget to try and give Hignett a squad capable of taking the club back to the Football League. 
They were soon brought back to reality when Pools lost 3-1 in a lifeless performance. 
Three days later, they were beaten away at Halifax Town 2-0. 
By the end of August Pools had just eight points from eight games.
It wasn't a great start, but it wasn't the end of the world. After all, there was still a long way to go. They opened September with a 1-0 win against Barrow, a 1-1 draw with Woking and a 3-1 defeat to Dagenham & Redbridge. Things were looking bleak. 
The tip of the iceberg came in Pools' 2-0 defeat at home to Dover Athletic on September 21, when Dover striker Inih Effiong was believed to have been racially abused by a group of Hartlepool supporters. 
Referee Joe Johnson had awarded the visitors a penalty for a foul committed on Effiong. The Athletic striker picked himself up and dispatched the spot-kick, before celebrating in front of the Town End. 
What followed was an 11 minute delay in restarting the game after supporters were believed to have racially abused Effiong. 
Things somehow got worse when Pools were denied two penalties in the second half, one of which led to Ryan Donaldson being sent off for his protests. 
Five minutes later Pools were down to nine when Nicky Featherstone was shown a straight red card. 
Hignett was also given his marching orders after he aimed criticism at the officials. 
This was one of the darkest days in the club's history. 
Pools' mediocre start to the season resulted in Hignett's sacking on October 10, after a 2-1 defeat at Stockport County. The club was 16th in the table. 
Anthony Sweeney was placed in temporary charge of first-team affairs. This decision was a smart one by Singh, as Sweeney is highly regarded amongst Pools fans and made over 400 appearances for the club.
While the search for a permanent manager began, Sweeney managed to win his first game 3-0 away to Aldershot Town. Following this, Pools won 1-0 against Brackley Town in an FA Cup Qualifying match, and 2-0 at home to Barnet. 
It was a positive start, and Sweeney was receiving praise for bringing back a feel good factor.
However, after a 2-2 draw away to Notts County and a 1-0 defeat to Solihull Moors, Pools had found Hignett's successor. 
Dave Challinor had recently departed A.F.C Fylde after almost eight years in charge. Challinor was a huge part in the club's rise to the National League, but left after a poor start to the season. 
Still, he was experienced in the lower leagues, and had previously won trophies. 
It seemed to be a good fit. 
Challinor had a mixed start to his Hartlepool United career. While the team produced great performances, such as the 5-1 away victory over Chesterfield, there were also dreadful moments. The three defeats at Harrogate in the space of a month stand out in particular. 
Still, though, the quality of football was improving. 
The next few months were largely promising with mostly exceptional performances at home such as the 2-0 wins over Stockport County, Aldershot and Notts County. 
When the National League was officially postponed on March 16, Pools were in 9th place, just three points from a play-off spot. There was genuine belief that the club could be one of two teams heading to Wembley Stadium to play in the play-off final.
Perhaps the most impressive part of Challinor's reign since joining the club has been his activity in the transfer market. The 44 year-old has made several key additions who have been vital in the club's play-off push.
In December, he managed to complete the loan signings of former Pools defender Gary Liddle and midfielder Mark Shelton. Liddle has brought stability to a leaky defence, whilst Shelton has scored some vital goals. 
After losing star player Peter Kioso to Luton and striker Nicke Kabamba to Kilmarnock in January, Challinor was quick to replace the two. 
One addition was full back Macauley Southam-Hales on loan from Fleetwood Town, who has become a fan favourite for his pace and attacking prowess. 
To replace Kabamba, Challinor managed to sign Rob Harker on loan from Burnley, as well as the permanent signing of Aidan Keena from Hearts. 
Challinor's shrewd use of the loan market didn't stop there, as he managed to sign Norwich defender Timi Odusina, who has carved a strong partnership with Liddle.
These signings, along with a strong run of form from players such as Gavan Holohan, and the 13 goals of top goalscorer Gime Toure, have allowed the team to push on and give the fans optimism for the future.
Challinor managed to salvage what many Pools fans thought was a lost season when Hignett departed.  
While he hasn't set the world alight, the atmosphere around the club is a lot more positive, and this bodes well for the next season. With the Coronavirus forcing the National League season to be cancelled, Challinor has the summer period to make further changes to ensure the club is at the top half of the league once again.