What the Newcastle starting XI could look like in a couple of years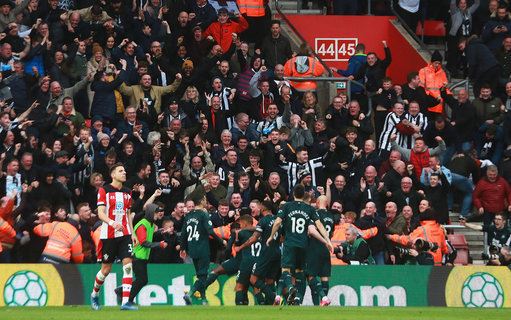 The word on every football fans lips at the moment is that Newcastle United are on the verge of the biggest takeover in their 127 year history as a football club. Tynesiders are on the cusp of waving goodbye to their current owner and business tycoon Mike Ashley, who acquired the club in July of 2007 after he splashed out £134 million. It's no secret that the Magpies dislike the Sports Direct owner, barraging him with years of protests inside St. James' Park, outside of his shopping outlets across the nation, and even in some cases, die hard Geordies have loitered outside his house making their voices heard.
Speculation over the last few months has pointed out that a consortium of investors backed by Saudi Arabia's sovereign wealth fund have been sniffing around the prospect of taking over the Premier League side, and documents revealed earlier in April finally confirmed some movement to materialisation of the rumours. The BBC revealed that the group's leader Amanda Staveley (who also assisted the takeover of Manchester City) has sorted out the legalities to propose a £300 million takeover, more than double of what Ashley paid for the club 13 years ago.
Although Ashley has dealt with Staveley in the past and described her in 2018 as "a waste of time" after her last proposed takeover, this occasion looks far more promising as the Saudi Investment Fund had built up £313 billion in assets by the end of the last calendar year.
With all of the speculation and excitement on Tyneside at an all-time high, we thought we would compile a list of how the Newcastle side could line up in a couple of years' time, following an injection of money into the club and a future Manchester City like reputation attracting big names to the North East.
Martin Dubravka:
Marting Dubravka is a world class goalkeeper and statistics showed that in the 2019-20 campaign he ranked first on the Premier League's list of saves made throughout the season with 117 recorded, 13 more than the next best Bernd Leno – who plays for Arsenal. The Slovenian also managed to keep 9 clean sheets in the same campaign, which puts him at joint 3rd place for this statistic, alongside the likes of Ederson, who last year won the league title with Manchester City. Tynesiders love Dubravka and he has attained an almost cult following in his short time at the club, as well as making a name for himself and getting on the radars as a target of arguably bigger clubs.
Danny Rose:
This one is rather controvetial to say the least as Danny Rose in conflicted with himself at his time with the Magpies. Rose spent a season on loan at rival club Sunderland in 2012 and fell in love with the club during his time there. During an international break in 2016 which seen Rose side-lined with a groin injury, he decided to spend his rare weekend off at the Stadium of Light watching the Black Cats in their 1-1 draw with Wycombe Wanderers. He has admitted that he is comfortable up North, being closer to his family and actively getting game time at the Magpies, and you could definitely see him negotiating a deal to stay at St. James' given the impact he has had on the Newcastle side.
Jamaal Lascelles:
The heart of Newcastle and the heart of their defence. Jamaal Lascelles was handed captaincy by Rafael Benitez in 2016 following the departure of Fabricio Coloccini, given his team spirit, leading attitude and ability on the pitch. Lascelles joined NUFC in 2014 from Nottingham Forest and has became a hero on the Tyne. We can't see him going anywhere any time soon.
Kalidou Koulibaly:
The first name through the door under the new era could well be Kalidou Koulibaly. The Senegalese centre half has been linked with moves to the Premier League for years now, with Manchester United and Chelsea chasing his signature to no avail in the past. However, in recent times Koulibaly has stated that he is ready for a new challenge and NUFC are discussing making an "audacious" bid for him according to Talk Sport.
Thomas Meunier:
Allegedly Spurs are favourites to acquire Thomas Meunier to their side, desperately seeking a new right back for the new season. However, should that fall through Newcastle would be well within their right to make a bid for the PSG veteran, as they also look to strengthen their fullbacks. Meunier joined after Paris' domestic quadruple in 2015-16, where they took home the Ligue 1, Coupe de France, Coupe de la League and Trophee des Champions all in the same campaign.
Scott McTominay:
As shocked and saddened as NUFC fans would be to see Sean Longstaff depart the club, a swap and money deal for Scott McTominay could well be on the horizon. It's no secret that the Red Devils have been eyeing up the Geordie lad and even considered an alleged £50 million bid to secure him last year according to many tabloids. However, a deal failed to materialise but in his form and with his promising career ahead of him, the Magpies may be willing to negotiate a swap for a similarly budding Scott McTominay, who has had a huge impact on the Mancunian side since his debut.
Matty Longstaff:
Although Tynesiders will be upset to see his older brother depart, Matty Longstaff could still be flying the black and white flag seasons from now. Longstaff made a name for himself by scoring against Manchester United in his debut adult appearance for Newcastle last year, and has made waves ever since, regularly getting game time. The younger brother can only get better with age and at only 20 years old, the world is definitely at his feet.
James Maddison:
James Maddison has took the Premier League by storm this season, bagging 13 goals and 10 assists in his 2 year stint in the division. His hard work and endeavours earned him the England call up in 2019, which most football fans would argue was overdue. Although there will be many clubs interested in Maddison this transfer window – including Spurs who have failed to really replace Christian Eriksen since his departure for Inter Milan – if Newcastle can outbid the competition with the financial injection that is alleged, they could well be onto a winner in signing the Englishman.
Allan Saint-Maximin:
Allan Saint-Maximin has a very impressive CV when it comes to past clubs, playing for the cream of the crop over in Ligue 1 (St Etienne, Monaco and Nice) before crossing the channel to the UK. The Frenchman who is most known for his Gucci headband and blistering pace has shaken defences in the league this season, and his Adama Traore style of play has made him an absolute nightmare to play against. The wing isn't really a position NUFC need to improve as they have a couple of strong choices, and Saint-Maximin doesn't seem like vacating his position any time soon.
Dries Mertens:
On the other side of the pitch to Saint-Maximin is arguably the biggest longshot in this whole XI in Dries Mertens. The Belgian often nicknamed "Ciruzz" has alike most of Napoli's players had enough of the club and is out of contract this summer, and hasn't made his intentions clear just yet. Many clubs around the world will be keeping a close eye on snapping up the 32-year-old, who has never graced the English leagues. However, don't let his age fool you, at 32 he is still in the prime of his career, netting and setting goals up consistently. Newcastle surely would be silly not to express their interest in accommodating Mertens, especially if they can get him on a free.
Moussa Dembele:
A man that needs no real introduction, Moussa Dembele has smashed it out the park with every club he has been a part of. He is tearing up Ligue 1 with Lyon currently and at 23 years of age he may well be on his way to the most competitive league in the world. Manchester United are among the clubs seeking the signature of Dembele, however Newcastle may be able to swoop in for him if negotiations fall through. Although with that being said, who aren't Manchester United linked with? NUFC admittedly need more versatility up front and are lacking a real goal scoring threat as it stands, Dembele could definitely be the man to step up to the plate.
The line-up:
How do you think the line up looks? Be sure to leave a comment with your starting XI.