Gateshead 2013/14: the team that nearly guided the Tynesiders back to the football league and where they are now?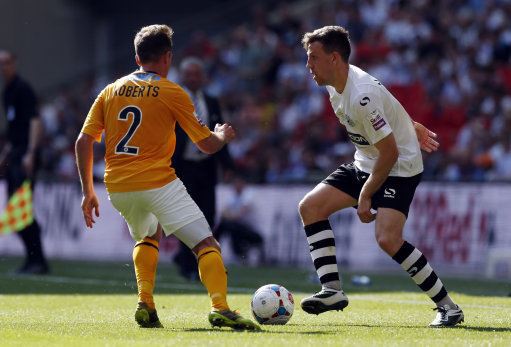 6 years ago, Gateshead FC finally got their chance to climb back into the football league for the first time since they were voted out in 1960, after defeating Grimsby Town 4-2 over two legs in the 2013/14 Conference Premier play-off semi-final which meant their first trip to Wembley for the play-off final where they ended up facing Cambridge United.
The first leg was a tense display of affairs ending 1-1 in Grimsby after Craig Disley headed home in the 24th minute to cancel out Colin Larkin's seventh minute strike that put the Heed one-nil up. 
The second matchup also got going early on when James Marwood's 22nd minute shot was spilled into his own net by James McKeown giving the home side the lead going into the second half.
Town skipper Disley equalised in between red cards for Scott Neilson and Sam Hatton leaving Grimsby one apiece but two men down. Relentless pressure from the Heed eventually paid off six minutes from injury time when Marwood curled his effort into the top corner to send the home fans wild.
The tie was then sealed when JJ O'Donnell rounded the Grimsby goalkeeper and slid the ball into the net in the fourth minute of injury time causing fans to flood onto the pitch.
Gateshead starting XI:
4-3-3

Gary Mills (Manager): Mills first came into the Gateshead dressing room in late 2013 with the side 19th and one point off the relegation places. By the next season in October he won his first manager of the month with Gateshead as they went on to win all five matches in that month, conceding only one goal. This form continued throughout the season and he helped the Heed army reach their highest finish since being voted out of the football league in 1960, finishing third and granting them a meeting against Grimsby Town in the semi-finals of the Conference Premier play-offs.

After the heartbreak of losing to Cambridge United in the play-off final, Gary Mills joined many of his playing staff in leaving Gateshead when he left for Wrexham the next season only to be dismissed in October 2016 after a run of four defeats in six matches leaving them in 15th. He then became manager of York City F.C where he formerly managed with the club hanging just above the relegation zone of the Conference Premier but couldn't save his former side as they dropped into the Conference North division and despite an FA Trophy win in 2017, he was soon dismissed after leaving the club seventh in the Conference North.
Adam Bartlett (GK): This was his second season for the heed and he retained his number one spot throughout the majority of his heed career spending a total of three years in Gateshead making 138 appearances and keeping a total of 38 clean sheets and 12 within their play-off battle season in 2013/14.

He then left for then League Two side Hartlepool United in 2015 as a backup goalkeeper before an injury to their usual number one, Trevor Carson, meant more gametime for the Newcastle-born shot-stopper before once again finding himself moved down the pecking order for Middlesbrough loanee Joe Fryer. In an attempt to get more gametime he moved down the leagues playing for Darlington, York and Whickham, where he remains now.
Craig Baxter (RB): The Newcastle born full back began his second spell with the club in the 2013/14 season, resigning him from Beddlington Terriers after he was first released by Gateshead in 2012 after his sixth season with the club. In those six seasons he helped the Tynesiders climb up the English tiers, gaining back-to-back promotions into the Conference Premier.
He continued his solid career with the Heed for a few more years in England's fifth tier before signing for Northern Premier League high-flyers South Shields in 2016 where he is now at the age of 33, hoping to help them also gain promotion through the leagues.
Ben Clark (CB) (C): Like many in this starting side that beat Grimsby in the promotion chase, Clark struggled to break through the starting XI at a higher up team and in his case it was Sunderland and after battling for a place in Hartlepool's starting XI, he moved to Gateshead in 2010 where he immediately became captain and partner in crime to longtime servant James Curtis as centre-back. Within his first season at Gateshead he only missed three games and was voted player of the season. He made a total of 280 appearances for the Tynesiders ending his playing career with the Heed in 2016.
He became a co-caretaker manager in 2015 temporarily whilst playing his final season in the North East and attempted a short comeback to playing football becoming dual-registered for Gateshead F.C. and South Shields only to injure his groin after four matches for the Mariner's forcing his retirement in September 2016. He became Gateshead manager in January after ex-Newcastle United player, Steve Watson left for York. This was before being allegedly sacked via email in late April 2019 along with the majority of staff when the Heed army owner at the time left the club in financial turmoil.

James Curtis (CB): Curtis joined the Tynesiders in 2003 and has seen multiple promotions, play-off heartbreak and became the longest-serving player ever for Gateshead racking up 597 appearances for the club over the span of 13 years and broke the record in the conference play-off final in 2014 after the dramatic semi-final win against Grimsby Town. Despite being one of the best players consistently for Gateshead, he stayed loyal to the Heed army even after just missing out on promotion to the football league and his loyalty was rewarded with a testimonial against Newcastle United XI.
He was released in 2016 by then manager Neil Aspin and is now joined up with former teammate Carl Magnay at Spennymoor Town and is an integral part of their defence at the age of 38.
Carl Magnay (LB): Magnay joined the North East side in 2011 from Chelsea after numerous loan spells and not being given any chances for their first team. The versatile defender consistently played throughout his two seasons for Gateshead making 71 appearances for the Heed, leaving the season after the play-off final for the side they defeated in the semi-finals.
The next season Magnay was a part of the lineup that beat Gateshead 6-1 in their own ground in late August and once again reached the play-off final but once again to be defeated, as Grimsby Town lost to Bristol Rovers 5-3 on penalties after they finished 120 minutes with one goal each. However, Magnay's heartbreak was soon wiped once he joined Hartlepool in the 16/17 season and finally got his chance to play in the football league but was soon relegated with the Pools straight into the National League once again. He now plays for Northern League North side, Spennymoor Town at the age of 31.
Jamie Chandler (CM): After being let go by Sunderland and a successful two year period at Darlington in the Conference Premier, the box-to-box midfielder then signed for Gateshead in 2012 and scored on his debut in an FA Trophy match against Braintree Town. The next season he was named vice-captain and was a fan favourite whilst playing at the Gateshead International Stadium. 
At the end the 2015/16 season, Chandler announced that he was going to leave Gateshead and became a coach helping Sunderland's youth sides. In 2016 he became one of many Gateshead players to play for Spennymoor Town and is still a regular in the starting XI to this day at the age of 31.
John Oster (CM): Oster was one of the most experienced players in this squad, playing for the likes of Sunderland, Everton, Barnsley, Grimsby Town, Leeds United, Burnley, Reading, Crystal Palace, Doncaster Rovers and Barnet before playing back in the North East with Gateshead. The Welsh-capped winger made a total of 496 appearances throughout his career and retired with Gateshead in 2015 after two seasons there at the age of 35 scoring three and assisting nine in his time with the Tynesiders.
Phil Turnbull (CM): After developing in Hartlepool's youth system the South Shields born midfielder got his first taste of Gateshead FC when he joined for a brief loan stint in the 2005/06 season. However, he later joined Gateshead on a free transfer after a one-month loan in February 2008, putting pen to paper with the Heed after York released him at the end of his loan spell in March. Within his first two seasons he helped the club gain back-to-back promotions which landed them in the Conference Premier.
Seven years on and over 300 appearances later, Turnbull left Gateshead to play part-time football with Darlington so he could also have the time to teach P.E.. Nowadays, Turnbull still remains a part-time footballer and part-time teacher, except he is now playing with former Gateshead team mate Craig Baxter at South Shields.
Colin Larkin (ST): The Irish born forward only spent one season in Gateshead but within that season he was one of the top goal scorers with nine goals and grabbed six assists too. The ex-Chesterfield veteran also netted in the first leg against Grimsby Town to give the away side an initial lead, that was quickly cancelled out by Craig Disley's equaliser.
Larkin left Gateshead for Harrogate Town before being released and then putting pen to paper with West Auckland. He now plays for Sunderland RCA in the Northern League Division 1 at the age of 38.
James Marwood (RW): The man that sent Gateshead to Wembley for the first time ever by scoring a brace including a spectacular second, as he bent the ball into the top corner passed the outstretched Grimsby goalkeeper to make it 2-1. After signing with Gateshead in 2010 and playing one season he then left on loan to Halifax Town in October 2011 and played one month there before returning to Gateshead and becoming a regular in the first team. In the 2013/14 Conference Premier season he managed to find his final product scoring 12 and assisting 10 on their way to Wembley despite having one goal in 77 league appearances before then manager Gary Mills came in. 
Marwood left Gateshead after the heartbreak in the play-off final and his good performances warranted him a move to SPL side St Mirren where he spent half a season up in Scotland but was unable to recapture his form from the season before. He then signed for Forest Green Rovers in January 2015 where he scored once and assisted twice as they reached the play-off semi-finals only to lose 3-0 on aggregate to eventual play-off winners Bristol Rovers. Like a fairytale story Marwood returned to Gateshead only to be struck with bad luck with an ankle injury keeping him out for the majority of the season before being released at the end of the 2015/16 season and is currently without a club.
Marcus Maddison (LW): Marcus Maddison was Robin to Marwood's Batman in the 2013/14 promotion fight, playing on the opposite wing he scored nine and assisted two in 29 games. He then started the next season as a hot prospect at the age of 19 with clubs in the football league in the hunt for his services. He certainly earned his move to Peterborough United for the alleged hefty price of £500,000 after he started the 14/15 season with Gateshead scoring four goals and assisting three times in five games. 
He now has 249 appearances for United with an impressive return of 62 goals and 92 assists. He joined Hull City in January 2020 on loan and is expected to return back to Peterborough at the end of the season.