CitySpace Fitness Open from 7th September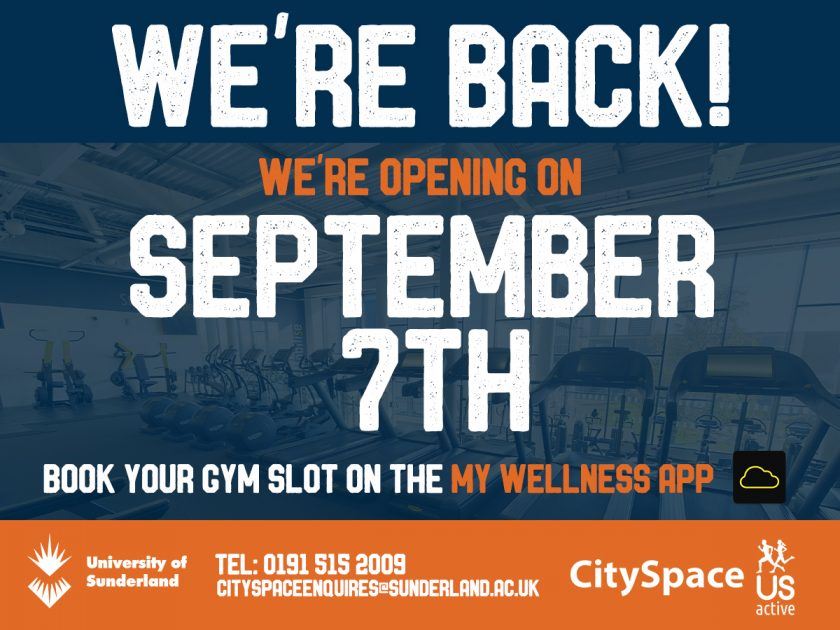 We are pleased to announce that CitySpace Fitness will reopen on Monday 7th September
We've enjoyed supporting our students and staff with online content and advice over the lockdown period, but we are looking forward to reactivating our Campus fitness facilities and programme.
In line with Government and UK active guidance, we have introduced a number of measures to keep our users and staff safe.
These include:
An increased hand washing and cleaning regime
Social distancing signage and protocols
Fitness equipment spaced out
Booking system in place to manage numbers and record attendance
Group exercise classes and fitness suite capacity reduced
Restriction on length of time spent training
Encouraging and promoting our outside activity programme
Although the CitySpace team will be working hard to ensure we can provide a clean, safe and comfortable environment, we are asking our members to support us to ensure we can remain operating.

Therefore, we need members to:
Stay at home if you have any symptoms of the Coronavirus
Take all reasonable measures to comply with social distancing and hygiene measures at all times, before, after and during physical activity.
Arrive at the facility in sports kit and where possible to travel home to change/shower. Use of changing rooms and showering facilities should in general be avoided where possible.
Pre-book all activity preferably online
Arrive on time for their session to avoid queuing, grouping to observe social distancing
Whilst we are introducing an enhanced cleaning regime, the only means of minimising contact transmission is cleaning of equipment after every user.
Therefore we will be asking our members to disinfect equipment before and after exercise, using the products made available from our cleaning station.

We will also be asking users to bring their own equipment where possible, however there will be a limited number of items available for sale.

Users can continue to use our online provision to engage with instructors around personal programme reviews, booking and paying for classes, sports hall and memberships, home exercise tips and workouts.

We look forwarding to seeing you, in the meantime our free CitySpace app can be downloaded from the App Store.
This will enable you to book and pay online, as well as view our virtual tour, review our Covid 19 Safety protocols and receive up to date push notifications regarding news and updates.
If you haven't already, why not register for free with us with a MyWellness account, to enable you to track your activity both inside and outside the gym environment, receive free advice from our experienced team of fitness professionals or take part in our live and on demand fitness classes.
Register first http://Mywellness.com/cityspace
Download the MyWellness App
If you have any other queries contact us at cityspaceenquiries@sunderland.ac.uk or drop us a message on our social media pages @UoSCitySpace on Facebook or @cityspace_uni_sunderland on Instagram.