SHOULD Harry Maguire take a break from playing for England?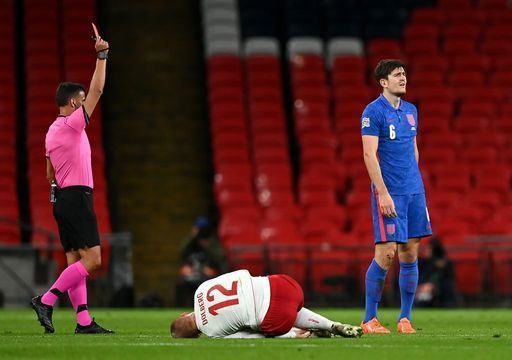 Why performance can drop when psychological factors take hold
"Maguire has been a giant in both boxes throughout this tournament…..He's an excellent player and his use of the ball is as good as any " – Gareth Southgate, England Manager World Cup 2018.
Maguire was arguably England's best player at that World Cup in Russia, back in 2018, with equally strong claims for the player of the entire tournament, no wonder Southgate was so keen to heap the praise on his rising star.
So when Manchester United, who desperate to shore up their defence signed Maguire for a reported 85 million pounds in August 2019, it came as no surprise to many in the football world. This price tag made Maguire the most expensive defender in the World….ever!
Fast forward to a Covid deserted Wembley stadium October 14th 2020 and Maguire is seen walking off the pitch, red carded, head lowered, shoulders drooped and looking a broken and tormented soul. Dismissed for two separate yellow card offences, for tackles so late you would be more likely to see them executed by a fifteen stone, forty something playing for a Sunday morning pub team. Certainly not what you would expect to see tackling wise from planet earths costliest centre half.
So was Maguire's dismissal and poor performance an isolated incident? A brief moment of madness, or two moments of madness to be more accurate?
With Manchester United currently having the second most conceded goals in the opening four games of the Premiership, a woeful record only beaten by newly promoted West Brom, it would appear not.
Rather than Maguire's presence turning United's defence into a fortress, eleven leaked goals sees United languishing in a lowly 16th in the table.
It is entirely fair to link Maguire's breakdown to external factors. When a bigger moment of madness, but this time off the pitch, on a debauched, alcohol fuelled night in Mykonos according to Greek prosecutors, he became involved in a violent altercation. A fight that would see him receive a twenty one month suspended jail term. Maguire is currently appealing the case as he fights to maintain his reputation.
A leading expert in sports psychology Laura M Miele Ph.D in psychology said: "Negative external or internal psychological factors can lead to mental blocks, causing breaks in focus and preparation, poor performance and, at times, injuries to the athlete." The Professor goes onto say "They can produce physical disruptions such as muscle tightening, shaking, and increased perspiration."
Maguire seemed to be displaying these exact physical symptoms at Wembley last night, slipping and grabbing his thigh as his muscles appeared to tighten early into the first half. His touch totally deserting him, this leading to the lateness of his tackling and ultimately his dismissal.
The Professor added: "If not dealt with, these factors may not only affect the athlete but the team as a whole."
This is the case at United currently, where Maguire not only has the responsibility of marshalling the defence but is also the club captain, which when you are following the likes of characters such as the legendary Roy Keane, comes with a huge amount of pressure.
An interesting comparison is when you look at another sports star who has been in the news recently for very different reasons. Tennis ace Rafa Nadal last week equalled Roger Federer's twenty grand slam lifetime victories, to become jointly the most successful tennis player in history.
However Nadal has had periods of loss of form and experienced how external factors had a huge affect on his form on court. He attributes his loss of form a few years back to his parents separation in his latest book Rafa: My Story, which said: "They were the mainstay of my life and that pillar had crumbled. I was depressed, I lacked enthusiasm. I had lost all love for life," he wrote.
Interestingly like Nadal, by all accounts, Maguire has an incredibly close relationship with his own family, a family he was on holiday with on that fateful hot night in Greece back in the Summer.
So where does Maguire go from here?
Should he take a break, or more to the point should his managers protect their player by enforcing him to take a break? Southgate could rest Maguire from forthcoming England duties and Ollie Solskjaer at United could give the Captains armband to another member of the squad, even if temporarily.
So how does Maguire re-find his form?
Professor Miele has a few techniques to physical problems caused by pressurised external factors "To combat these powerful effects, coaches and athletes can focus their efforts on tactics such as goal setting, routines and visualisation."
To increase England's chances of qualification for next years final of the UEFA Nations League, and Maguire's inclusion, his managers, coaches and advisors need to take the right course of action.
Setting some realistic goals may help him get back to the World beater he undoubtedly looked at that World Cup in Russia 2018, where for a moment, he looked like the next Bobby Moore. A player capable of bringing glory back to England's national sport, but two years on, is England's success the added pressure Harry Maguire needs right now?