Team Sunderland remembers one year anniversary of double winning season
A blustery night at Silksworth on Monday March 16, 2020 saw the University of Sunderland Men's Football 1st team secure the Northern Tier 5B League title – and a double – with a dramatic 1-0 victory over Sheffield Hallam 4ths.
More than a year on, it remains the last competitive match played by the team. Manager James Clark, captain Liam Jackson, right-back Harrison Rose and goalkeeper Karl Beggs spoke to SportsByte about the match.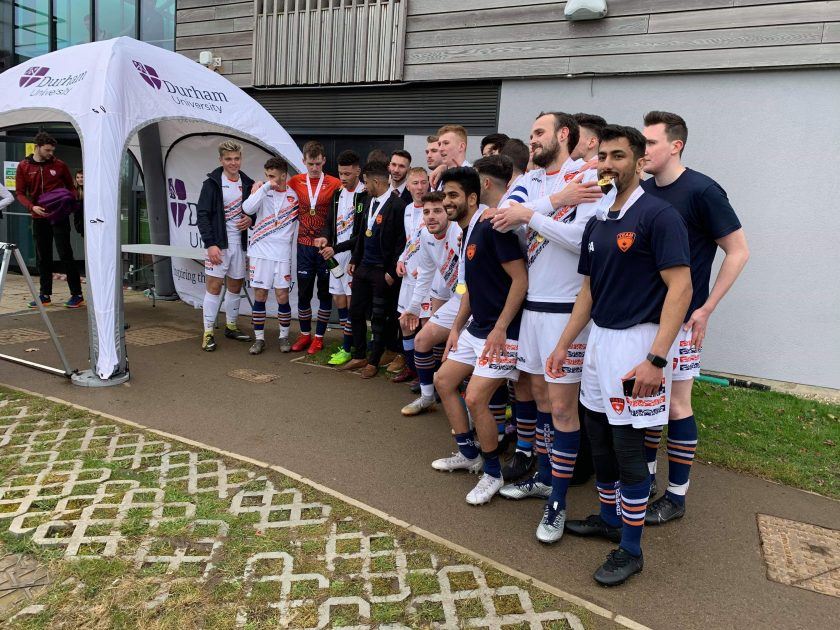 It came a week before the Prime Minister announced the first national lockdown in response to COVID-19 and proved to be an evening that, arguably, has become all the more valuable a memory as time has passed under various levels of restrictions since.
At the time, it still felt highly significant, of course.
After overcoming Salford University on penalties to win the Northern Conference Plate the previous Wednesday – and squeezing in a 2-1 league win at York on the Friday – this represented the culmination of a busy few days and an impressive double-winning season for coach Clark and his team.
They were due to play their final league match – a game in hand at Huddersfield – that Wednesday, too. Come the 16th, though, it was relatively clear that the pandemic was going to see that one cancelled.
Which meant that the meeting with fellow title-chasers Sheffield Hallam – for whom this was their genuine final league fixture – became additionally weighty. Only three points would guarantee Sunderland the title. Similarly, only victory would keep their opponents' hopes alive.
"We were told beforehand that this would be the last game and the final decider," remembers Jackson – who, like centre-back Marc Atkinson, was playing his final match for the university.
That extra pressure to win may well have galvanised the squad further, as Beggs explained: "I feel like that worked to our advantage as we knew that we did not have a second chance to do the double. It was all or nothing."
If the circumstances surrounding fixtures almost simplified things, the conditions undoubtedly offered a complication. Mid-March was making its case for full-blown winter status.
"The conditions were one of the worst I've played, just constant wind made it hard to play passes or even run properly. But, after the previous game with Sheffield, we had a little bit of a rivalry with them and knew he had to give everything to win," said Harrison.
Sunderland had, indeed, suffered a rare defeat in the South Yorkshire reverse fixture earlier in the campaign.
"We got turned over big time in Sheffield," recalled James.
"The poorest we've played. And I got in the changing rooms after that game at Sheffield, didn't shout and kind of give them the beans – I just told them how disappointed I was.
"They were shouting at each other, because they were pissed at each other, you know. Cause they knew what they'd done. So I didn't have to say anything."
That, in itself, felt like another impressive reflection of the team's collective mindset.
As did their commitment levels going into the decisive match.
"We had people running through brick walls – not just for me, but for their teammates, for everybody else," recalled Clark.
"You know, and little niggles and we'd try and look after players. Probably some of those players shouldn't have played 90 minutes and shouldn't have done whatever but – when you're that close – it's almost: 'Hey, you can rest in a week's time. You know, we can do what we need to do."
There was – perhaps unsurprisingly, given the weather – relatively little in the contest.
"The game itself was really drab," said James.
"They had the little quick boy playing wide – caused us problems. Karl's made a couple of good saves. But, again, nothing major. We've had half-chances, they've had half-chances.
"We sat back on that game. I don't know why. Every week, we pressed, pressed, pressed. We put pressure on, we forced mistakes, we'd do whatever. And I don't know whether they were nervous, whether they remembered the game where we got caught out."
The hosts did improve as the match progressed. Jackson came close with a couple of long-range attempts and a header, while Connor Gant's in-swinging corner caught the wind and clipped the bar. Hallam did also threaten, however, when a point-blank shot was fired over late on.
It was after a puzzling moment – when the referee appeared to blow for full-time a little early – that things were really stepped up, though.
It was agreed that another five minutes, plus any stoppages, still needed to be played – and Clark was determined to ensure the time would be maximised.
"So I've obviously got all the lads in. I've said: 'You've got five minutes. Give them hell,' basically. 'You know, everything you've got. Five minutes. This is the season. Done. We can get it done here and now.
"For five minutes, we've played like we had done all season. As we should have done. Balls being pumped on them. Pressure. A couple of corners. They never had another sniff for five minutes."
Then, in the game's dying embers, came the decisive moment. Substitute Sotiris Kyriakou's cross was controlled by Lewis Charlton in the box and he teed up another replacement, who did the rest.
"The ball's popped out and Ewan James has just turned on a sixpence and smashed it in the top corner and I'm like, it was a worthy goal to win any game, but to win a league, it was unbelievable," said Clark, with a smile.
"I just knew at that moment that everything we worked for over the season had paid off and we deserved what happened in that game," said Harrison.
Captain Jackson said: "It felt like a big sigh of relief and all the pressure gone.
"As you can imagine, the scenes were mad on the sidelines," he continued.
"And I'm probably the calmest person on there because the first thing I'm thinking is: 'You've got time to play. You kill this bloody game now. Sort it out.'"
They did just that. The remaining moments were managed assuredly and the final whistle cued the let-off – from both those on the pitch and the significant numbers on the touchline, most of whom could just about still feel their toes.
"The celebrations after the game were great. Just like the final, everyone was relieved after leaving it so late," said Beggs.
"However, this time it was more special, as that game was to seal the double and was the last one for a few players that were essential for the success we had that season."
Having targeted the league title from the start of the campaign, this was an immensely pleasing moment for James.
"It was surreal. You know, because you say you want to win, you say you want to do all these things – but then to go from actually saying it, to achieving it. Because we knew, as soon as we won that game, that was it, the league was done, regardless of whatever happened."
What followed over the next few weeks and months, of course, was unlike anything most had seen before as COVID-19 took an increasingly strong hold over the UK and the planet.
Football, amongst many other things, has been put into stark perspective over the last 12 months or so. Although its value – in so many senses and at so many levels – has simultaneously been brought into sharper focus, of course.
Only a few weeks of Men's Football training sessions – between late September and early November – have been possible in the 2020/21 academic year so far. Even so, uptake was impressive – more than 80 attended the penultimate session on November 2.
Inter-university competition may not have been possible this year but, as it stands, it is hoped that training could restart in mid-April. Something, as ever, which will be subject to government guidelines.
The Team Sunderland Men's Football social media pages will be the best place to find updates on that front, while the Team Sunderland pages will offer updates on multiple university sports.
"I've missed it – 100 per cent, missed it," said Clark.
"And, yeah, I want more. You know, the minute we finished, I was thinking: well, who's leaving? What do we need? You know, what's the next steps? How will we get there? And, you know, the group chats and the lads were buzzing and I genuinely believe, if we got started, we'd have been at it.
"It's going to be difficult to re-motivate them and get them back in and get them back into that mindset and routine but, again, I believe in the players that have won it. If I'm picking the players coming into that squad, into that mix and that group – I believe in that player. But, once across the white line, it's all about them."
Quantifying the impact of the likes of football, at its best, is tricky. Karl did offer up a neat summary when describing the reaction to that winner 12 months ago, though.
"If that moment – when we all celebrated after the goal – was photographed, it would have shown exactly how much it meant and how close all the lads were and still are."
Where to find UoS Men's Football and Team Sunderland on social media:
Facebook: Team Sunderland Men's Football / Team Sunderland at University of Sunderland
Twitter: @UosMens / @team_sunderland
Instagram: @uos_mens_football / @team_sunderland