One Kick Away: The impact of a Play-Off Final defeat
Play-off finals are often described as the biggest games of the season and in the Championship edition, it has gained the tagline of 'the richest game in football' with victors diving Scrooge McDuck style into the lucrative Premier League TV money pot.
But what about the losers? What about the sides that taste defeat on the big occasion? What happens to them?
Some prosper, using the setback as motivation to right the wrong of the previous campaign, whereas others never reach those heights again.
One such club who experienced hardship after a final defeat is Leyton Orient. They faced Rotherham in the 2014 League One final.
A frantic game saw the O's surrender a two-goal lead as penalties would decide their fate. Rotherham would seize promotion to the Championship in the shootout to the heartbreak of Orient fans, supporter Daniel Slawinski talked about the day:
"Obviously, it's a game of football but it really did hurt. Ended up going back to Green Man in the end and sod's law the geezer who misses the penalty Baudrie comes in and starts crying his eyes out and bought everyone drinks."
Leyton Orient would subsequently fall through the divisions, relegated twice and lost their Football League status. Mainly the actions of distant owner Francesco Becchetti) led to this, but this can be seen as a turning point. Daniel said:
"It's difficult to put a finger on it, there definitely was a hangover in the next season. Some of the stories from that season and the following are horror shows. You'd hear the staff weren't being paid, you wouldn't wish it on anyone."
Witnessing your team lose a final can be a heart-breaking, especially when Wembley try to kick you while you're down, Dan said:
"They started playing Happy in the stadium, can you imagine that? Feeling like that and hearing that song? I still hate that song to this day."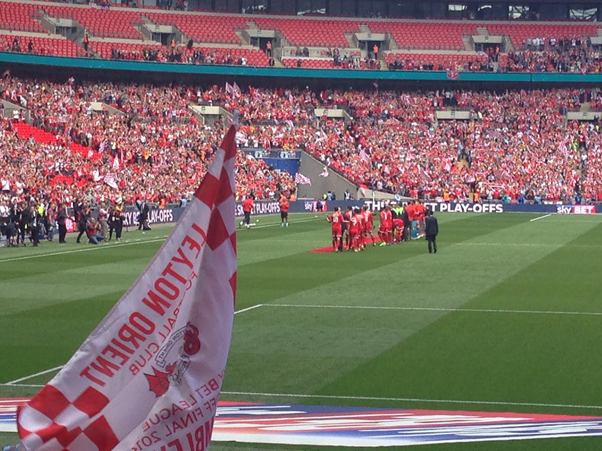 A side that certainly don't leave the play-offs happy is Sheffield United. They and Brentford share the record for most play-off final defeats (four). Blades Pod host, Ben Meakin spoke about the unwanted statistic.
Teams have responded in different ways depending on a plethora of reasons, but recent years have suggested clubs often suffer a slump post defeat.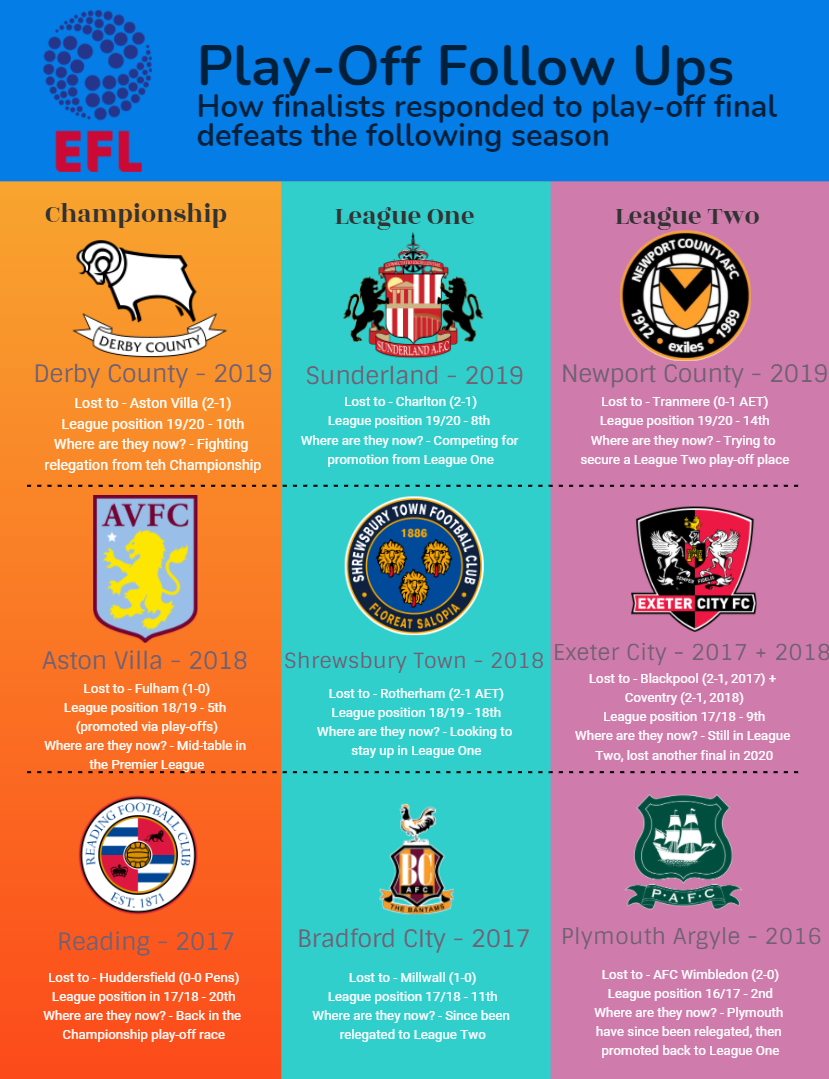 The 1998 Division One final is widely regarded as the best of all time. Charlton Athletic went up against Sunderland and after 120 minutes the sides produced a 4-4 draw, upping the drama and sending it to penalties.
After 13 perfectly taken spot kicks, boyhood Sunderland fan Michael Gray missed the decisive shot.
Then Sunderland captain Kevin Ball spoke about the play-off campaign, including a terrific volley in the semi-final against Sheffield United:
"One of my biggest skills was being able to play with both feet. When you look at that goal, you've got to have a bit of technique because if you couldn't kick with your left, you couldn't do that, I timed the volley."
With the Black Cats behind after the first leg, Ball recalled an expert piece of man management from Peter Reid that helped turn things around:
"On that particular game I thought I played well, and we go in the next day, and when you speak about man management and timings of bollockings, Peter Reid gave the team what I would class as the best bollocking I've ever known.
"I've walked in about five seconds late to the meeting, and the manager has looked at me and he said 'You alright skip? You were magnificent yesterday. You can sit down' and I thought thank f**k for that. He proceeded to question our desire, our integrity, everything about if we wanted to get promoted. He touched your soul and your football integrity when he said it. If we'd have played Sheffield United again that afternoon, I'd have been brilliant again. That's how good I felt."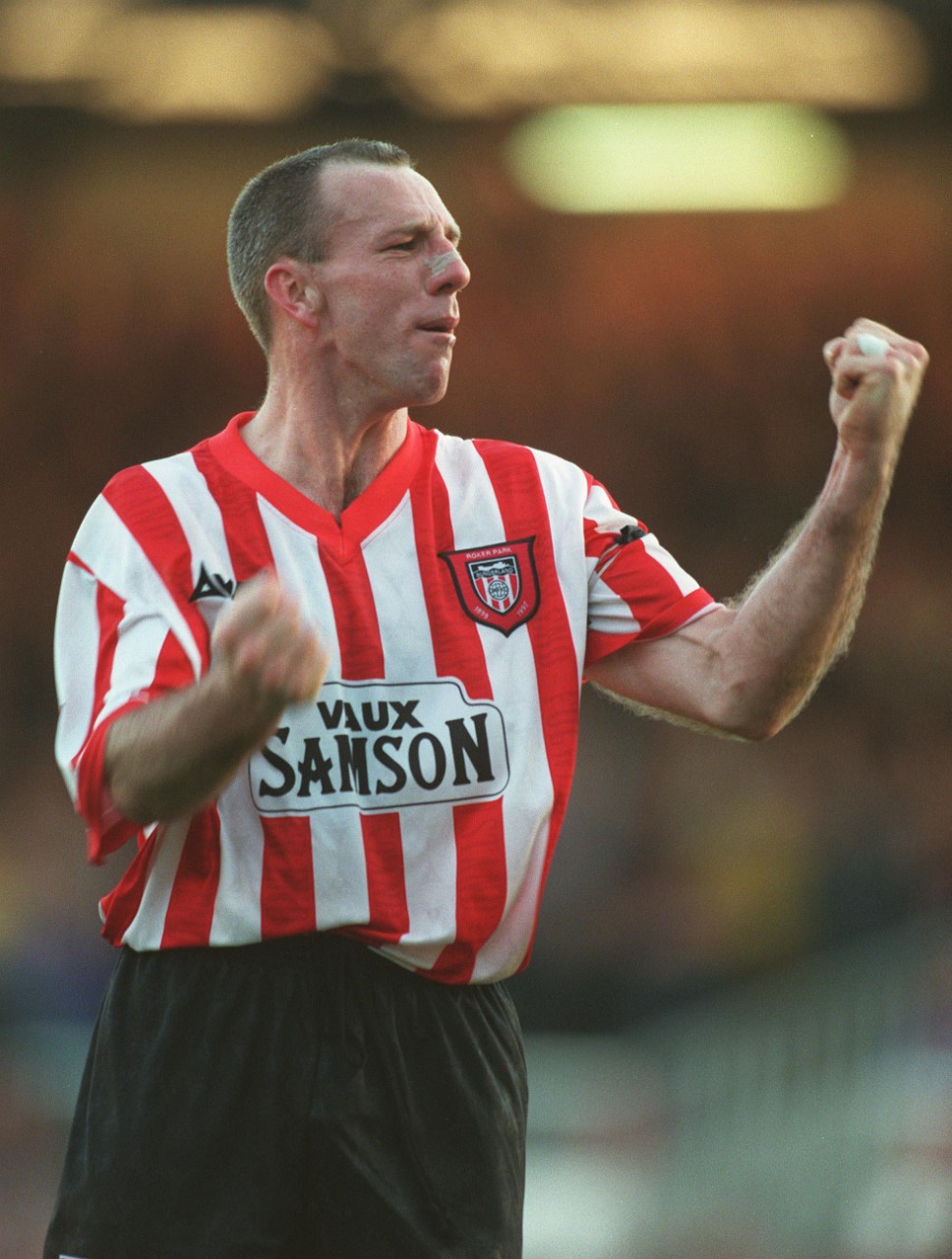 An own goal and a Kevin Phillips winner turned the tie on its head at the Stadium of Light and Sunderland were going to Wembley.
Ball spoke about stepping up to the spot when the shootout came:
"I wasn't on the list to take a penalty, but I'd prepared just in case. I actually had a dream that I'd taken a penalty, missed it and it cost us promotion. I knew that meant I had to practice.
"I knew as captain that I had to volunteer. I focused like there was nobody else in the stadium when I stepped forward, I was confident but was there a feeling of relief when I scored? Most definitely."
In the aftermath of a crushing defeat, Ball remembered how the side coped in the following hours:
"On the way back, Lionel Perez was on the steps of the bus smoking, and I could tell he was hurting. I went for a chat and had a smoke with him, my teammate didn't need a shoulder to cry on, he just needed someone to have a fag with. I knew he needed that, and I didn't like smoking, but it was the right time to do it."
The following season, the Black Cats would have no such misfortune as they romped to the title with 105 points. Ball looked back fondly on how the final impacted the club:
"It was an occasion that was disappointing, but it was also a catalyst for a fantastic time at Sunderland.
"Expectations were high and that helped because the stadium was bouncing so you wanted to play there and you knew if you didn't perform you weren't going to play.
"I remember sitting in the changing room after the final game with a cup of tea that Audrey brought me and thinking, yeah, we've done it."
This Sunderland side proved that regression wasn't an inevitability after a play-off final defeat, they used it to make them stronger. Ball said:
"The biggest thing I learned was that the feeling you get when you win, is something you want again. The feeling you get when you lose, is not something you want to repeat."