Nikita Mazepin: More than a pay driver?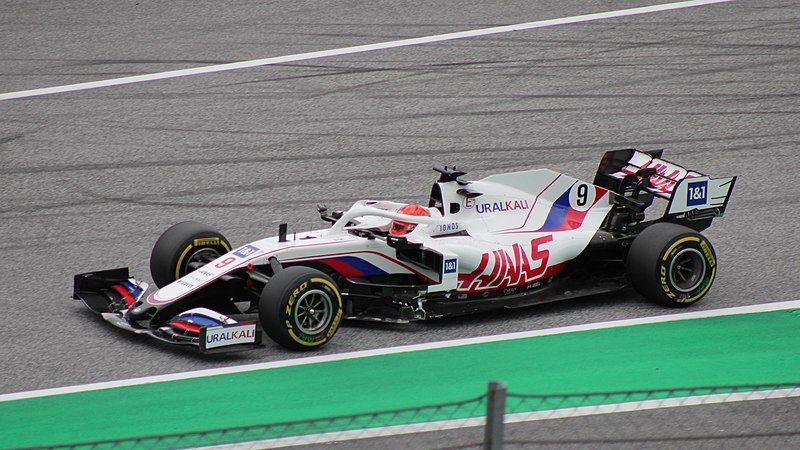 First impressions matter seldom more than for Nikita Mazepin, who is still trying to overcome the barrage of disapproval many gave when he became an F1 driver for Haas.
Within a week of his team announcing Mazepin's place on the 2021 grid, a video surfaced of Mazepin inappropriately groping a woman, to which he apologised and retracted in nine days.
A year has passed since that incident and with Haas set to endure its first pointless season this year, it is a good time to assess whether Mazepin is more than the pay driver many suggest he is.
---
What is a pay driver?
A pay driver is a driver who has taken a seat in F1 predominantly because they bring large sums of money the team responsible for contracting them. Although a pay driver might have considerable talent behind them, it is the money which stands out.
Mazepin's father, Dmitry, is the majority shareholder and chairman of UralKali, Haas' 2021 principal sponsor. That influence brought both Mazepins to the Haas team, with future hopes of buying a F1 team not denied at this stage.
Team principal Guenther Steiner has admitted in recent months that without Mazepin's money, the team wouldn't survive.
He said: "Sometimes you are forced to make decisions, even if you don't like them at all. As a result, it was a choice tied solely to economic reasons. There was no anger or dissatisfaction.
"The alternative was that we wouldn't be here today, and that's something people need to understand."
But becoming a F1 driver has always been Mazepin's dream whatever the public perception of him is.
When his seat was confirmed in December 2020, Mazepin said: "Becoming a Formula 1 driver is a lifelong dream come true for me. I really appreciate the trust being put in me by Gene Haas, Guenther Steiner, and the whole of the team. They're giving a young driver an opportunity and I thank them for that.
"I'm looking forward to starting our relationship together, both on and off the track, and I'm naturally keen to continue to demonstrate my abilities after a strong Formula 2 season.
"The team will be looking to me for feedback and inputs in order to refine its package for 2021 and beyond. I will take that responsibility on and can't wait to get started."
The team cannot be judged for its 2021 efforts, knowing both Mazepin and team-mate Mick Schumacher are rookies. Not only that, but Steiner has on record claimed that development for the 2021 car was halted early so the team could concentrate on its 2022 car when big regulation changes come into play.
Steiner said: "We are preparing to be better, but I don't know what the reality will be. We know it could be tough, but we will manage it. That's one of reasons we took two rookie drivers, this is a transition year and we plan for better days in 2022.
"We are bracing ourselves for a tough year. You always work to get best out of it that you can, but you also need to be realistic and not dream that all of a sudden everything will be good.
"We struggled last year and the car is basically the same so why would it be a lot better? I don't think the others will make big mistakes going forward as they have good packages to take forward."
---
Mazepin vs Schumacher in 2021
Both Mazepin and Schumacher are rooted to the bottom of the drivers' standings with one race of the season remaining (Abu Dhabi this week), collecting 0 points together.
To get a point in F1 a driver must finish within the top 10. Mazepin's highest finish this season was 14th, which was at Azerbaijan.
In contrast, Schumacher's highest finish was 12th at Hungary and actually picked up a 13th place finish at Azerbaijan.
Mazepin has finished a race ahead of Schumacher, when both racers have finished, only three times (Monaco, Great Britain and Sao Paulo).
The remaining 11 races have finished in Schumacher's favour, even if often by one grid position.
Mazepin's mode (most common) finishing position was P17, achieving it six times over 2021.
Schumacher's most common finishing position is tied between P16 and P18, on six finishes apiece.
Mazepin has never made it out of Q1 (first qualifying round of three, where the bottom five drivers are eliminated after 15 minutes trying to set the fastest lap possible).
Making Q2 represents 0% of Mazepin's drives this year.
Schumacher did make it out of Q1, but has only drove in Q2 once because of a crash in France meaning he couldn't compete that round. His successful Q2 drive came in Turkey.
Making Q2 represents 10% of Schumacher's drives this year.
According to Race Fans, Mazepin is on average +0.915 (slower) than Schumacher in 'the last part of each qualifying season where both set a time.'
Not to mention that in terms of qualifying times, Schumacher cruises in the team-mate comparison (which is the only fair conclusion as you can't judge cars beyond Haas, and Schumacher is a rookie too).
According to Lights Out Blog, Schumacher is 19-0 up against Mazepin in the qualifying stage, assessing raw pace over one lap in terms of what is called a "fair battle."
In races it is different, meanwhile, with Schumacher instead 15-5 in favour.
Schumacher has set a faster sector time 51 times compared to Mazepin's seven this year.
There is no contest that Schumacher has driven the Haas far better than Mazepin this season, who still is trying to laugh off the internet memes that came in the wake of his infamous spin three corners into his debut race on the first lap.
---
Overall verdict
Mazepin is a vastly inferior driver compared to Schumacher going by their rookie seasons.
But to his credit he has remained consistent in recent weeks, barring Jeddah in which his engineer believed "he was a passenger" whereas Schumacher has been less strong that way.
A big year is ahead for Mazepin to become comfortable with the new regulation changes, which Steiner believes will haul Haas into point-scoring debates.
He won't have the rookie card to fall back on, so this year's preparation will do him the world of good if he wants to prove the pay driver arguments wrong.
Mazepin is absolutely a pay driver and with the level of talent in F2 who hasn't made it in (Oscar Piastri has all-but-won F2 in his rookie season yet is Alpine's reserve driver for 2022, for example), he may feel very lucky to be where he is knowing the backing behind him.
Steiner has admitted that the team wouldn't survive without his father's money and it is fair enough for a team to operate like that, it's what Alfa Romeo seem to be doing.
(Valtteri Bottas from Mercedes represents the more talented name, comparable to Schumacher, whereas the big money influences of Guanyu Zhou – allegedly backed by $30m though denied by team principal, Fred Vasseur – and Mazepin seem too hard to turn down.)
But for a driver that did win races in F2 last season and finished fifth last season, there is more to come from the Russian driver, and he may have to fight the uphill battle alone.