Why Newcastle fans should remain hopeful despite indifferent start to Premier League season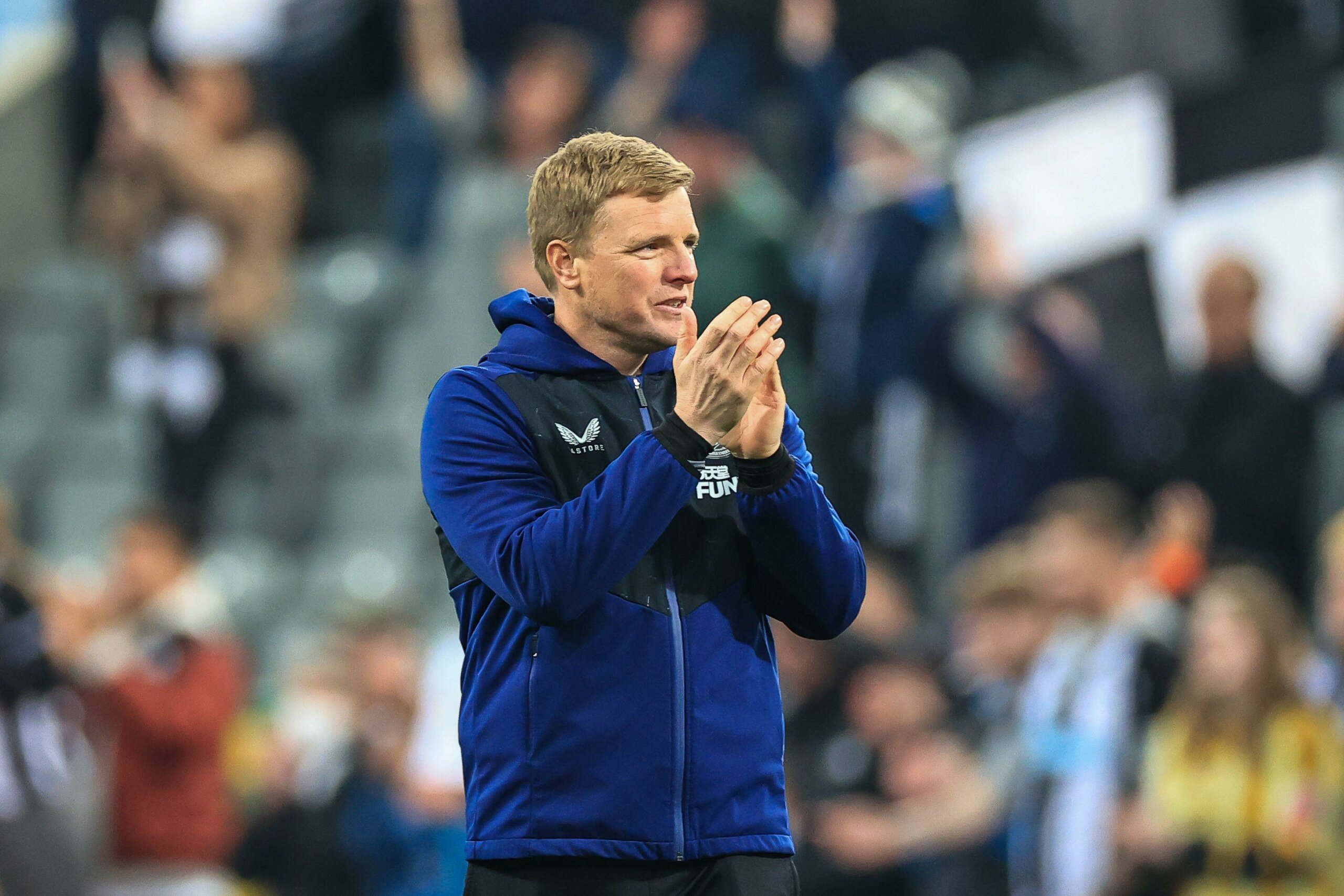 There is no denying Newcastle have started the season uneasily, picking up only one win in seven Premier League matches played.
And while on the surface that might suggest cause for concern, the underlying figures, however, show that Eddie Howe's side have little to fear.
SportsByte takes a look at how, despite the five draws in seven games, things aren't as bad as it might seem across the football club.
---
Expected goals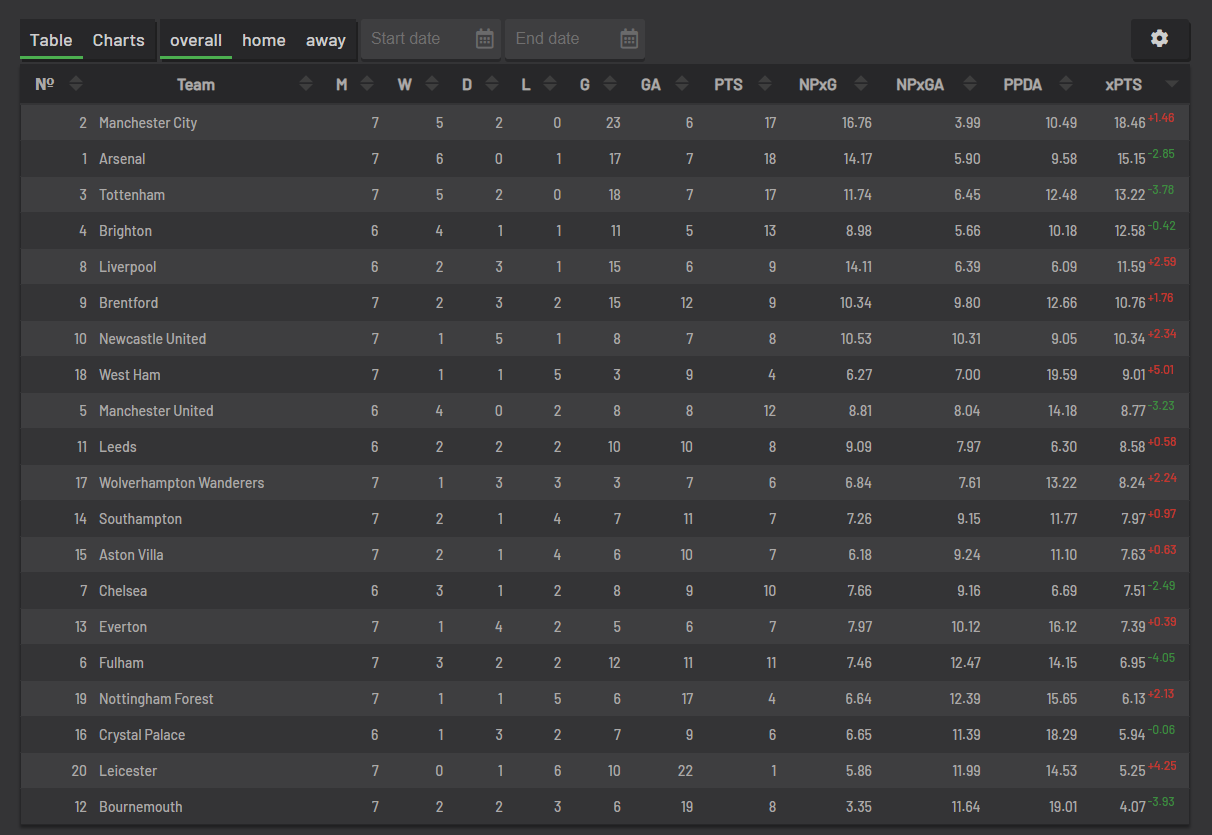 Newcastle find themselves 10th in the actual Premier League table, which accounts only for results. And although it is results that matter most in football, it is hard to ignore that things should be better with a little more luck.
Naturally you need luck in football but when sorted by a metric called expected points (xPTS), the Magpies sit pretty in seventh, with an expected points total of 10.34 points.
The fact Howe's side have eight points thus far suggest they have underperformed relative to what is expected of them, given the quality of chances they create game-on-game.
Newcastle aren't outliers in recent memory: Brighton in the 2021/22 season drew a staggering 12 games between the end of September and end of February, from a possible 17 games.
Brighton stuck with Graham Potter, in part because their underlying numbers were so encouraging and it paid off – although their former head coach has since left to join Chelsea earlier in September.
What this table shows is that fans should be patient and, so long as the club aren't imminently in a relegation fight, the early signs are welcoming for the Toon if things remain as they are.
If there is anything to raise comment over it would be the non-penalty expected goals against metric (NPxGA) where Newcastle find themselves sixth-highest.
It is an area the club should look at mitigating because allowing the opposition many clear-cut chances naturally tends to more goals against, without relying on a superstar keeper to rescue them.
---
Pressing metrics
The above table from Understat shows quite possibly the biggest difference when comparing Newcastle this season to last year, and the many campaigns before that.
The Magpies look now to be taking teams on, rather than sitting back in a low block hoping to counter, as was the case with Newcastle's last two managers, Steve Bruce and Rafa Benitez.
Understat define PPDA as the 'passes allowed per defensive action in the opposition half.' It is typically the sign of an aggressive-pressing side to limit the opposition to fewer passes before making a press or tackle.
The fact Newcastle have been the fourth most aggressive side in terms of pressing so far this season is certainly encouraging. It is another measure by which Howe is transforming the side into a more versatile and front-thinking one.
Last season, by comparison, Newcastle had a PPDA of 13.18 since Howe was appointed, perhaps borne out of necessity to guarantee safety by however means possible.
This team is in transition and it will take time to become the swashbuckling side some fans hope it can be. And while results – and only results – aren't promising seven games into the season, a lot is being done to ensure in good time the team can represent the city and wider region with pride.
---
Structural changes at the club
Lest we forget the changes off the pitch to ensure Newcastle's healthy future, too.
The arrivals of sporting director, Dan Ashworth, and CEO, Darren Eales, in addition to the coaching appointments made on Howe's appointment, will do wonders when it comes to commercial growth.
Newcastle recently announced a luctative sleeve sponsorship with "the Middle East's homegrown online marketplace", Noon.
All aspects of the football club are under review and will be prioritised accordingly to give the club the greatest chance of future success.
The future is unpredictable but it is measures like these which should give supporters hope that the Magpies can compete for silverware, which they haven't done for decades realistically.
The overhanging wait for a first major trophy since 1969 (1955 FA Cup domestically) dominates people's thinking. There is no guarantee trophies will be won, but by planning ahead and thinking smartly it may be a possibility in the somewhat near future.
This goes for the Newcastle United Women's side, who became part of the club over the summer. They became full-time as well and fans are hoping they can compete like the men's side for silverware in the future.
There is an ongoing plan to transform the side into a Women's Super League outfit, and while it is extremely ambitious, the plan isn't outlandish when you envision the direction women's football is headed.
Hosting games at Kingston Park, home of Newcastle Falcons' rugby side, has helped tremendously in getting the word out there for the women's team and building a fanbase as committed as the men's.