Deep Dive: How derbies are won and lost – Sunderland Women v Durham Women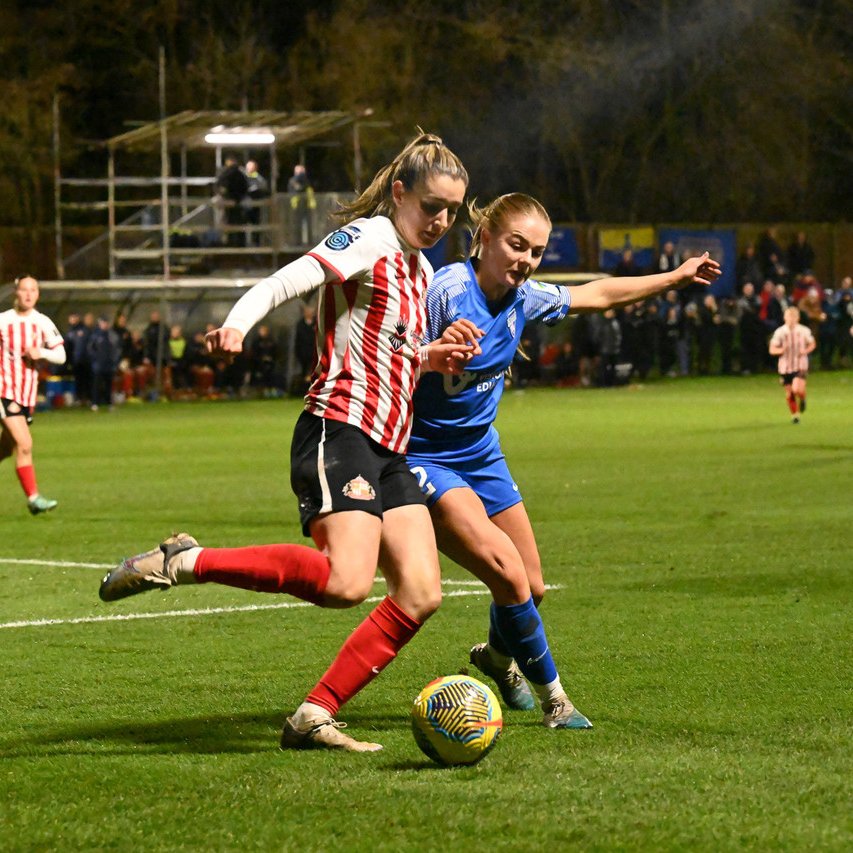 A bitterly cold Eppleton Colliery under the floodlights played host to the second River Wear derby of the week, this time in the Continental Cup, Women's Football's League Cup.
Both teams were much changed from the weekend, with Durham only able to name four substitutes. A club official confirmed this was because of "knocks."
Having won the weekend's fixture, Sunderland came into the game yet to lose this season in all competitions. Any talk of promotion has been quickly calmed by those inside the club, with players and staff insisting they are taking the season "a game at a time."
So how do you win a derby and how do you lose one? SportsByte were at both River Wear derbies this week to answer that question.
Fuel in the tank
In the first game, Durham tried to restrict Sunderland from playing the passing game they wanted to, but were unable to keep the ball away from the Black Cats' midfield and ultimately were made to pay the price for this. Buoyed by the home crowd, Durham were able to press for the first half, but Katie Kitching's goal on the stroke of half time, a wonderful whipped effort into the top left, seemed to knock the wind out of Durham.
Energy is important in any football game. In a derby it is all the more important and being able to dig into the reserves to power through is something that any team wanting to win a derby must do. To their credit, both teams found a second wind at Maiden Castle and Durham ended that game brilliantly and were perhaps unfortunate to not see themselves awarded a penalty in the last seconds for an alleged handball.
In the cup match replay three days later, Sunderland's wingers stayed wide and tried to stretch the pitch, perhaps to try and wear Durham down. To this end, Sunderland played three centre backs in order to stretch the pitch, but this lasted as long as the game remained a stalemate – five minutes. The best laid plans…
Durham exploited the space in the channel with a through ball to Mollie Lambert who slotted home to give Durham the lead. Sunderland switched to a more conventional back four immediately, only switching back once they were level.
The midfield
There is a clichéd view that midfield is where games are won and lost, but when a cliché can so aptly prove a point it is worth addressing. It was definitely the case at Maiden Castle where Sunderland grew in effectiveness once they were able to bring the ball down to the ground and play through the midfield with a more dynamic passing style along the floor.
Durham were able to find themselves ahead early in Wednesday's cup game via a brilliantly timed through ball. Poppy Pritchard's ball to Lambert was well-weighted enabling her to pull the ball past an outstretched Megan Borthwick between the sticks.
As the cup game's first half progressed, Sunderland retained more possession and looked better money for it, fashioning more half chances and restricting Durham with Mollie Rouse playing as the base of the midfield. Although still as combative as you would expect a derby to be, the bite would be felt in midfield more so than anywhere else on the Eppleton pitch.
Set pieces
A well-worked routine can make or break a game. By the end of the first half at Eppleton, all of Sunderland's goals of the week had been down to them.
Kitching's free-kick has been well documented by SportsByte, but the technique to get the ball into the top corner from a crossing position was exquisite.
A corner and a wide free-kick would see Sunderland turn the game around in their midweek cup derby, both hung up to the far edge of the six-yard box, both nodded in by obliging red and white shirts. It looked straight off the training ground.
Spirit
"You can't really beat it," said Sunderland's Mary McAteer about the winning derby feeling after their league victory. It makes sense then, that neither team knew when they were beaten.
When Durham went behind at home they continued to press, creating a few chances but lacking a clinical edge.
When they went behind after going ahead at Eppleton, they came out fighting in the second half with a slew of chances from Abby Holmes and Amy Andrews. More tackles were made by the impressive Sarah Wilson in the middle of defence and Lambert continued to win free-kicks.
In the same vein, Sunderland also exhibited a never-say-die attitude. When they fell behind against Durham in the cup game, they took all of ten minutes to level. Their shape shifted while trailing, but reverted to type as they equalised and then as they led. Sunderland had a noticeable gameplan that evolved with the game and they looked to have executed it well, surviving a handful of waves of Durham pressure in the second half.
Sunderland 'keeper in the cup, Megan Borthwick, took a big knock midway through the first half. She managed to play through the pain and ended the match – again the grit and determination to emerge victorious visible.
Games are won and lost in small moments around the pitch. Derbies are won and lost in reactions to moments.
Durham reacted at Eppleton where they did not at Maiden Castle. They did not let the cup tie die and took the game to penalties after a scramble in the box fell to the feet of Saoirse Noonan who dispatched.
In what proved to be a tale of two 'keepers, Naoisha McAloon ended up saving three penalties in a row to secure an extra point for Durham.